Restaurants in Mukilteo
---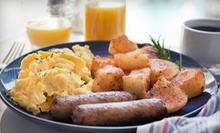 Breakfast scramblers, lemon-poppy-seed pancakes, and chicken-curry croissant dishes sate morning and lunch diners in a 1920s-era building
Use Monday 8:00am - 11:00am
---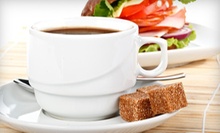 Baristas concoct hot & cold espresso drinks accessorized with paninis made from artisan bread
Use Today 6:00am - 9:00pm
---
Recommended Restaurants by Groupon Customers
---
Not much has changed since Lovie Yancey opened the first Fatburger in 1952. Since then, the chain has expanded, but the food has stayed the same: 100% USDA lean beef burgers grilled to order and hand-scooped ice-cream shakes. Each restaurant stays true to Yancey's vision, even down to retro-influenced digs with jukeboxes blasting old school favorites designed to make listeners flash enthusiastic thumbs-up signs. Inside the kitchen, cooks stack burgers from 2.5-ounce burgers to 24-ounce triple burgers on toasted regular or gluten-free buns as fresh onions crisp inside fryers filled with cholesterol-free oil. Diners can also enjoy Fatburger's signature chili made with a secret blend of herbs and spices or milkshakes topped with dollops of whipped cream that resemble fluffy, white clouds shaped like marshmallows.
18530 33rd Ave. W, Suite B
Lynnwood
Washington
425-673-4309
As a community-supported agriculture farm, Eat Local Produce focuses on putting organic produce into locals' hands with a weekly delivery service. Workers harvest fresh fruits and vegetables—grown without chemicals, GMOs, or other harmful acronyms—and pack them into boxes that can be delivered to customers' doorsteps or picked up directly from the Lake Stevens farm. Since the farm features a rotating selection of more than 50 crops throughout the year, each box comes with storage tips and recipes to help customers properly preserve and prepare each piece of produce they receive.
Eat Local Produce extends its healthy-eating efforts to all socioeconomic statuses by making weekly donations to the local food bank and even accepting electronic-benefit-transfer (EBT) food benefits. The farm also supports the community and environment with living wages for its staff and organic-farming practices that implement renewable and recyclable resources.
18027 Highway 99, Suite E
Lynnwood
Washington
425-743-4150
The Mukilteo Lodge Sports Grille combines the atmosphere of a majestic deep-woods lodge with that of a sports bar, with a flat-screen TV mounted on a tall stone fireplace and old-growth fir beams stretching throughout the spacious interior. Bartenders pull from 35 beer taps from a 65-foot bar top mounted on another beam that sits beneath shelves of rustic raw wood. As another example of the timber theme, they open hand-built solid wood doors to snag bottles from a beer cooler, or they slide glasses slide down a bar made from Ponderosa pine, which also hosts loaded potato chips and sliders. Booths host heartier meals that may include barbecue baby-back ribs, thick beef or buffalo burgers, and steaks aged for 28 days before prep—10 times the duration of William Henry Harrison's presidency. NFL games and other sports air over 11 HD plasma TVs mounted throughout the lodge. In a more modern section of the bar, punctuated by oak barrels and neon signs, and chatter from families enjoying early evening meals.
7928 Mukilteo Speedway
Mukilteo
Washington
425-374-3333
---