Things to Do in Mukilteo
---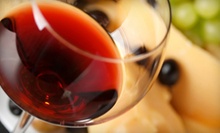 Boutique winery casks wines made from global grape varietals such as tempranilla & couniose, grown & tended in Washington State climate.
Use Saturday 12:00pm - 5:00pm
---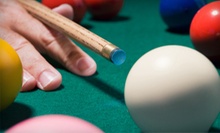 Emerald ranks of Hollywood pool tables stretch beneath hanging lamps; walls of liquor bottles pair with gyoza and egg rolls
Use Saturday 4:00pm - 10:00pm
---
Recommended Things to Do by Groupon Customers
---
Prose in both Lushootseed and English caption the displays inside the 23,000-square-foot Hibulb Cultural Center and Natural History Preserve, chronicling the journey of the Tulalip people in honor of those who have passed. The Tulalip represent the successors to the Snohomish, Snoqualmie, and Skykomish tribes, as well as other signatories to the 1855 Point Elliott Treaty. Exhibits on their traditional territories, the importance of the cedar trees, and their seven value stories extend viewers' eyes to the distant past to learn their culture.
Historic canoes and archaeological remains provide tangible proof of the lives of the people remembered, and 50 acres of forests and wetlands preserve the natural landscape they called home. Back inside the museum, a life-size Tulalip longhouse expounds upon these artifacts and tales with recordings by Tulalip storytellers. Progressing to the present day, the exhibit Warriors: We Remember details more than a hundred years of veteran service, from the warrior spirit in ancient military traditions to recent sacrifices by men and women in the U.S. Armed Forces.
6410 23rd Avenue NE
Tulalip
Washington
360-716-2600
If you've never stood on top of water, or if you've stood on it and want to further defy the laws of viscosity and velocity, then strap in to Northwest Riders' line of Slingshot Sports boards and bindings, designed to give you a blend of comfort and performance that most only experience during sleeping-bag races. As you're towed along by a 21-foot Malibu vRide boat, the experienced nautical navigators on board will tame the wake to fit your desired degree of difficulty.
6100 NE 175th St.
Kenmore
Washington
Traxx Indoor Raceway measures out adrenaline in seconds. It takes a go-kart just 23 seconds to careen around the indoor 1/5-mile track once, and 45 seconds for it to crest the 1/4-mile outdoor track's hill and swoop around its smooth turns back to the starting line. Drivers can reach speeds of 35 miles per hour in the SODI GT2 gas-powered karts, so the track provides helmets, jumpsuits, and notes from their mother to keep the racers safe. All contests last 20 laps or up to 15 minutes, except for the Traxx 100, a monthly marathon when 10 drivers rumble around the outdoor track 50 times.
Although drivers on the main track must be at least 14 years old, the team is committed to spreading the excitement around. Kids aged 3–10 gear up and hop into electric cars, zipping around their own four-turn track under the watchful eyes of attendants. Among other carnivalesque distractions, the colorful facility boasts an arcade and a 24-foot climbing wall to thrill jaded teenage thumbs, as well as a checker-themed banquet hall that seats up to 150 people for parties and team-building events.
4329 Chennault Beach Rd.
Mukilteo
Washington
---