Things to Do in Mukilteo
---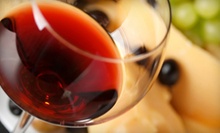 Boutique winery casks wines made from global grape varietals such as tempranilla & couniose, grown & tended in Washington State climate.
Use Saturday 12:00pm - 5:00pm
---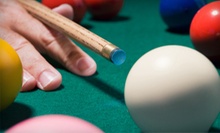 Emerald ranks of Hollywood pool tables stretch beneath hanging lamps; walls of liquor bottles pair with gyoza and egg rolls
Use Saturday 4:00pm - 10:00pm
---
Recommended Things to Do by Groupon Customers
---
On a childhood fishing trip with his dad in the San Juan Islands, Shane Aggergaard noticed a group of orcas swimming toward his boat. Rather than steering clear of human contact, they swam directly under the boat—one even looked Shane right in the eye. It was a moment of whale-human connection he never forgot, and nowadays tries to approximate through Island Adventures. The whale-watching tour company, which Shane founded with his wife, Jennifer, brings passengers into close contact with the aquatic mammals of the Pacific Northwest.
Depending on the season, wilderness-savvy guides—who've led more than 6,000 collective wildlife tours during their careers—can introduce passengers to minke whales and the San Juan's three resident orca pods, migrating gray whales, or humpbacks. Their 101-foot vessel, The Island Explorer 3, boasts a large bow pulpit and a viewing deck with more than 400 feet of railing, ideal for seeing whales in their entirety, from their tails to their trusty sets of water wings. The team backs each tour with a whale-sighting guarantee and strives to ensure future sightings by making sustainable choices, from its ecofriendly cleaning products to the boat's cabin floor made from recycled tires.
1726 W Marine View Dr.
Everett
Washington
800-465-4604
In 1985, as ends meet became harder to make, the Carleton family sold its cows and closed its nearly 30-year-old dairy farm. Not to be deterred, Mary Carleton began selling pumpkins and sweet corn from a roadside stand three years later. Today, the Carletons continue Mary's efforts by cultivating 60 acres of produce, including english peas, zucchini, and green and purple beans. Along with their own veggies, the Carletons stock their farm market with organic raw milk, grass-fed beef, local honey, and handmade pies.
After a summer spent selling their produce, the Carletons unwind with guests for nearly two months of autumnal fun starting in September. A corn maze with stalks more than 9-feet high snakes through a 4-acre field in a different shape each year. Come dusk, a cornfield eerily transforms into the haunted swamp, which dares guests aged 12 and up to creep through its creature-filled labyrinth. The pumpkin patch teems with various-sized pumpkins ripe for plucking, while the pumpkin cannon launches gourds into the air in hopes that one will transform into Cinderella's private jet. The fenced kids' area further entices youngsters with a zip swing, tube slides, and a rope maze, and the play area inside the barn intrigues them with a rope swing and hay maze.
630 Sunnyside Blvd. SE
Lake Stevens
Washington
425-334-2297
Prose in both Lushootseed and English caption the displays inside the 23,000-square-foot Hibulb Cultural Center and Natural History Preserve, chronicling the journey of the Tulalip people in honor of those who have passed. The Tulalip represent the successors to the Snohomish, Snoqualmie, and Skykomish tribes, as well as other signatories to the 1855 Point Elliott Treaty. Exhibits on their traditional territories, the importance of the cedar trees, and their seven value stories extend viewers' eyes to the distant past to learn their culture.
Historic canoes and archaeological remains provide tangible proof of the lives of the people remembered, and 50 acres of forests and wetlands preserve the natural landscape they called home. Back inside the museum, a life-size Tulalip longhouse expounds upon these artifacts and tales with recordings by Tulalip storytellers. Progressing to the present day, the exhibit Warriors: We Remember details more than a hundred years of veteran service, from the warrior spirit in ancient military traditions to recent sacrifices by men and women in the U.S. Armed Forces.
6410 23rd Avenue NE
Tulalip
Washington
360-716-2600
---