Museums & Galleries in Muncie
---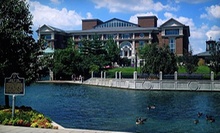 State history explored through 3-D re-creations of photos and events with historical actors, interactive experiences, and a conservation lab
---
Recommended Museums & Galleries by Groupon Customers
---
More than 50 years old and 8,500 members strong, the Percussive Arts Society (PAS) strives to promote percussion through education, research, and performances across the world. To carry out this mission, the organization includes more than 50 chapters in the US and 28 chapters abroad, all of which communicate online via resources such as lessons, free practice exercises, and annual events. Each year PAS hosts the annual Percussive Arts Society International Convention—the largest of its kind in the world—in which exhibitors convene to showcase the newest developments in percussion technology, instruments, and publications. The convention also includes over 120 clinics and performances with lauded artists covering all genres and styles of music.
110 W Washington St., Suite A
Indianapolis
Indiana
US
317-275-9030
The Willamette Heritage Center at the Mill preserves slices of valley history by word and deed, keeping up 14 historic structures and filling them with historical tours and living history displays. The Jason Lee house represents the oldest building on campus, built in 1841. The structure also boasts the title of oldest surviving wooden frame house in the Pacific Northwest, and its interior sports the period appropriate furnishings right down to an iron stove and a snoring, bonneted grandmother. Nearby stands the Thomas Kay Woolen Mill, and piece of the Industrial Revolution that has survived since 1896, earning recognition as an American Treasure by the National Park Service. Workers keep the buildings clean and sound for tours and rentals, while actors keep the ground vibrant with living historical portrayals.
1001 North Washington Street
Marion
Indiana
US
765-664-4637
Every time the Darke County Historical Society unearths a new finding, there's a good chance that the public's first look at it will come in the exhibition halls of Greenville's Garst Museum. More than 300,000 American artifacts fill the museum's six wings, many of which were discovered—or rediscovered, as the case may be—over the course of the society's archeological digs, genealogical research, and historic preservation activities.
Among the century-spanning exhibits, the softer side of sharpshooter Annie Oakley unfolds in the Coppock Wing, and antique cannonballs and Humvees speak of the wartime exploits of General "Mad" Anthony Wayne. Down on the first floor, a painting of Chief Tarhe, Grand Sachem of the Wyandots, presides over a collection that focuses on America during the 1700s but leaves room for anachronistic elements such as mastodon bones. The newest exhibit, "Diversity in Darke County: The Story of Longtown," celebrates local history with its visual chronicle of a tri-racial settlement in Greenville.
Aside from the main two-story brick Colonial home—which was built as an inn in 1852, according to Touring Ohio—the society and the museum maintain several properties of historic note. A free, self-guided tour of Bear's Mill and its 800-foot water channel can be capped with a cup of gourmet coffee, and the Lowell Thomas house provides insights into the childhood of the broadcaster and adventurer who once famously dined with the Prince of Wales inside an actual whale.
205 N Broadway St., Greenville
Greenville
Ohio
Red steel plates that seem to be taking flight, a warped obelisk, and a dome made of metal dragonflies—these are just a few of the 64 statues nestled among the gardens and meadows at Pyramid Hill Sculpture Park. In addition to delighting visitors with massive objects d'art, the 265-acre outdoor museum exhibits the naturally occurring beauty of wooded thickets, seven lakes, and flowers that have never undergone plastic surgery. After wandering along the hiking trails, driving along paved roads, and peering into the remains of a stone house built by pioneers, guests can visit the 10,000-square-foot Ancient Sculpture Museum. The museum showcases Roman, Egyptian, Greek, and Etruscan statuary, which was chiseled before mankind invented the frames that forced all art to become flat.
In addition to curating sculptures, the park hosts a slew of activities relating to art and the environment. Its Summer Concert Series beckons music lovers, and a Summer Series for Kids organizes programming such as puppet shows for little ones.
1763 Hamilton-Cleves Rd., State Rt. 128
Hamilton
Ohio
US
513-868-8336
After walking through the doors, visitors find themselves surrounded by treasured sports memorabilia and artifacts from colleges across the nation. On the first floor, 23 interactive kiosks each immerse users in a different NCAA sport. Interactive screens illuminate with stories of past champions, trivia questions, and footage of Bobby Knight screaming in different arenas. After a stroll up to the second floor, visitors immerse themselves in simulated and actual athletic competitions, such as throwing a virtual football and measuring their vertical leap. A fully realized 1930s-style gymnasium invites modern folks to shoot hoops just like their grandparents did—uphill both ways in the snow.
700 W Washington St.
Indianapolis
Indiana
US
---