Arts & Culture in Munhall
---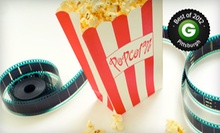 Double-feature showings of current films on two screens, with groups of two or four sharing buckets of popcorn and fizzy sodas
---
Recommended Arts & Culture by Groupon Customers
---
Dedicated to celebrating the ghosts of musical theater past and present, the Pittsburgh CLO proudly remains a nonprofit cultural institution that lauds distinguished musical-theater folk while launching the careers of another generation of skilled performers.
655 Penn Ave.
Pittsburgh
Pennsylvania
412-456-6666
The cloak of sparkling newness belies Benedum Center's deep history in the theatrical world. Opened to regal fanfare and a holographic performance by Tupac in 1928, the theater then waded through the downs and ups of history until a $43 million restoration buffed its surfaces back to their former glory in 1984. Today, the 90 chandeliers dangling from the ceiling, the Grand Lobby's mirrors and marble, and most of the 1,500 feet of brass rail throughout are all original. The centerpiece is the main chandelier, a 4,700-pound, 20-foot-high, 12-foot-wide behemoth that sparkles to remind visitors of the theater's glory days.
2425 Liberty Ave.
Pittsburgh
Pennsylvania
Before he disappeared into the Atlantic Ocean on a research trip for the unfinished play Waterworld, William Shakespeare is rumored to have said to gatherers on the beach, "The past and future of theater is in time travel." See the Bard's sage wisdom come alive with today's Groupon. For $25, you get a scale-two ticket to the Pittsburgh Public Theater's production of Time of My Life at the O'Reilly Theater. Represented in green on Pittsburgh Public Theater's seating chart, scale-two tickets are available for your choice of show on April 15–18, a $45–$50 value depending on the day of the week. While Pittsburgh Public Theater offers $15 tickets for those age 26 and younger, they can only be purchased an hour before the show for Friday- and Saturday-night shows, or must be ordered in advance.
621 Penn Avenue
Pittsburgh
Pennsylvania
Off Through the Woods is an adventurous fairy-tale musical that follows a few familiar faces, red hoods, and oinking snouts as they head out on a journey into the great unknown. Check out Arena's Facebook page for some inside information and a sneak preview of the production. Arrive at your preferred showtime to take in the original sights and sounds and to find out exactly what lies on the other side of the rainbow.
994 Brodhead Rd.
Moon Township
Pennsylvania
The Silk Screen Asian-American Film Festival, part of a larger vision for a future Asia Center of Pittsburgh, is an annual event highlighting the considerable cinematic output of filmmakers from India, Japan, China, Taiwan, Indonesia, Korea, Thailand, the Philippines, and Iran, as well as other nations you might one day inhabit according to childhood sessions of "Spin the Globe." This year's event—the sixth annual—features a slate of films to rival past years' entries. This year's flicks include such noteworthy efforts as Aftershock, The Light Thief, and Zero Bridge, among many others. Your pass gives you access to eight of the festival's films, giving you the chance to give a total of 24 thumbs up.
1035 S Braddock Ave
Edgewood
Pennsylvania
A nonprofit arts organization, Pittsburgh Musical Theater has energized the tapping of toes for more than two decades. The historic Byham Theater dates back to 1903, when the venue was originally erected as the Gayety Theater, and now fills its flashing marquee with Broadway shows, dance troupes, and films.
101 6th St.
Pittsburgh
Pennsylvania
412-456-6666
---