Munhall, PA Drs and Health Practioners
---
Drs & Health Practitioners Deals
---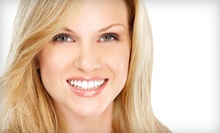 Complete Invisalign treatment corrects teeth with transparent aligners
---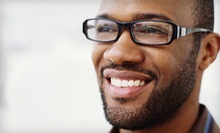 Customers can assemble stylish pairs of glasses with Guess, Vera Wang, or Dolce & Gabbana frames
---
Recommended Drs & Health Practitioners by Groupon Customers
---
Dr. David Petti knows firsthand the importance of a camera-ready smile. He saw it up close from Jack Nicholson and Danny DeVito when he played a news reporter alongside the actors in the movie Hoffa. When he isn't showing off his pearly whites on film, he's helping others maintain healthy grins with assistance from his staff. He performs general and cosmetic dentistry on patients in need of checkups, cleanings, whitening treatments, or help finding an alternative use for clothes knit from dental floss.
777 Pine Valley Dr.
Pittsburgh
Pennsylvania
724-733-3958
East Side Laser Center's owner, Bridget Miller, keeps current with skin-perfecting techniques and technologies and has compiled a collection of services that employs lasers, peels, microdermabrasion, and intense pulsed light. Bridget's lasers excise the body of unwanted accouterments such as hair or a tattooed map of the place you used to hide your Junior Mints. Photofacials and peels reduce age-related blemishes such as wrinkles and age spots and inspire skin to regenerate in a younger-looking incarnation.
5750 Centre Ave., Suite 180
Pittsburgh
Pennsylvania
412-327-6630
At The Birch Center for Health, acupuncturist David Sokulski uses the skills that he mastered at New England School of Acupuncture— the oldest acupuncture school in the United States. He delicately inserts hair-thin needles into predetermined spots across the body, stimulating the flow of energy to treat ailments such as fertility issues, depression, and physical pain. He also practices cosmetic acupuncture, a technique that increases circulation to restore a healthy glow to the skin. Birch branches and miniature smiling Buddhas adorn their peaceful studio.
1931 E Carson St. , 2nd Floor
Pittsburgh
Pennsylvania
412-381-0116
---