Restaurants in Munhall
---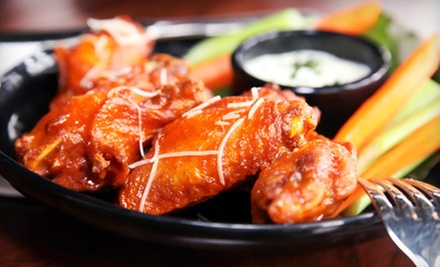 ---
Recommended Restaurants by Groupon Customers
---
The "wood-fired pizza has us fired up about Bella Luna Trattoria," declared the Pittsburgh City Paper after its reviewers sampled the thin-crust pies pulled from the restaurant's blazing oven. Chefs adorn these doughy creations, available in sizes ranging from an 8-inch mini to a 14-inch large, with red or white sauces and an arsenal of traditional and inventive toppings. On the stovetop, freshly made angel hair, fettuccine, and linguine bathe in marinara, bolognese, and alfredo sauces, and the frying pan imbues cutlets of hand-breaded eggplant parmigiana with a golden tan worthy of the Italian Riviera.
5060 William Penn Hwy.
Monroeville
Pennsylvania
724-733-2662
Saga Hibachi Steakhouse & Sushi Bar's chefs appease appetites with freshly rolled maki as well as classical Japanese entrees that come to life on tableside hibachi grills. After scouring the oceans in a conjoined diving suit, chefs utilize their fresh seafood to transform sticky rice into such visions as the rainbow roll, filled with spicy crabmeat and crowned with a spectrum of tuna, salmon, yellowtail, and tobiko. Sushi disappears from plates inside the dimly lit dining room, where exposed-stone sections of wall flank bamboo plants brightened with little spotlights.
Patrons seeking dinner and a show can order something off of the hibachi menu, then gather around black-granite-topped counters inside a room with rich wooden accents. Before each hungry audience, chefs sear salmon, chicken and scallops, or lobster and filet mignon before accessorizing meals with two pieces of shrimp, soup, salad, vegetables, rice, and noodles.
145 Mall Circle Dr., Suite 710
Monroeville
Pennsylvania
412-372-8888
In business since 1959, Rudy's Subs specializes in one thing: freshly prepared subs. Of the more than 30 varieties, combos such as the cheesesteak, meatball, or ham and cheese can be ordered as half or whole subs, folded into a wheat, spinach, tomato, or plain wrap, or loaded into a slingshot and fired straight into the customer's mouth. Rudy's franchises span three distinct concepts—sub-only stores; stores offering subs, fries, and Vincent's pizza; and those with a license to sell alcohol.
1794 Golden Mile Hwy.
Monroeville
Pennsylvania
724-325-1060
Nancy Pursh set aside a 20-year career as an administrative assistant to pursue her life's passion by operating a Victorian-style tearoom. Within a stately Springdale home, she hosts refined afternoon-tea services, pouring gently steeped cupfuls of loose tea that she personally selects from local merchants. Now joined by chef Brian Boring, she pairs teas with a seasonal selection of housemade sandwiches and baked goods. Relying on handpicked fruits and herbs from the gardens, Brian creates refreshing finger foods to accompany tea, such as almond and coconut macaroons or cinnamon-pear scones. Although the tearoom's china saucers and lace tablecloths evoke the elegant tearooms of an earlier era, Nancy's goal was simply to create "a cozy, warm, welcoming house where friends could sit and chat, relaxed and unrushed." :m]]
931 Pittsburgh St.
Springdale
Pennsylvania
724-274-4490
Katana's chefs draw inspiration from Thai, Chinese, and Japanese culinary traditions, creating faithful renditions of iconic dishes from each culture. Teppanyaki chefs thrill diners by searing cuts of lobster or filet mignon amid the towering flames of hibachi grills that adorn the tabletops of select seating areas. In contrast, sushi chefs studiously avoid open flames as they roll more than 15 kinds of specialty maki, which can include smoked salmon, mango, or piquant chili sauce within a cylinder of individually peeled grains of rice. The rest of the menu spotlights the seemingly disparate flavors of Thailand and China, listing aromatic curries along with meat-laden orders of lo mein or fried rice.
3229 W Liberty Ave.
Pittsburgh
Pennsylvania
412-388-1800
Kaleidoscopic Egyptian tapestries hang on the stone walls of both Sphinx Cafe locations, while tendrils of jasmine- and mango-scented smoke drift up to high, vaulted ceilings. Though it was once a church, the space now exudes an aura of opulence and leisure that matches the warmth of the coffee houses in Egyptian owner Remy and Syrian Amera's native homes. "Hookah bars are different from the norm [in the U.S.], which is either a restaurant or a bar. It slows you down. You just relax here."
Plush cushions help patrons relax at both of Sphinx Pittsburgh locations, as do more than 30 imported tobacco flavors that servers can enhance with creative add-ons such as wine, fruit syrups, and talking caterpillars. On some nights, belly dancers, fire eaters, and live musicians wind their way between hookahs. On quieter nights, Ms. Andrawes says you can find people playing card games, chatting, and sampling platters of homemade hummus and kibbeh.
401 Atwood St.
Pittsburgh
Pennsylvania
US
---