Murfreesboro Health and Fitness
---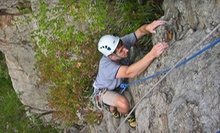 AMGA-certified instructors equip climbers with rented gear and teach techniques during custom climbing trips across Lookout Mountain
---
Recommended Health & Fitness by Groupon Customers
---
Dr. William Fitzgerald, who honed his topnotch dental skills at the University of Tennessee at Memphis, shepherds a squad of skilled technicians trained in a variety of services. Dr. Fitzgerald offers gift cards for services, and the office's treatment rooms feature mounted televisions, iPods, and the ghosts of tartar past, all of which entertain patients during cleanings, porcelain veneers, root canals, and teeth-whitening services. Prior to cosmetic work, Dr. Fitzgerald boots up a dental-imaging software program that shows patients a preview of their results and what they would look like if they had never lost their baby teeth.
819 S Church St.
Murfreesboro
Tennessee
615-896-7582
A Touch of a Feather Day Spa owner Connie has loved helping people look and feel their best since she was a child. Today, guided by a focus on her clients' whole experience, she pours that passion into the diverse array of facials, massage, and nailcare services she performs. In an effort to continually expand her abilities, Connie recently added face-lifts and anticellulite treatments to her skill set.
Connie's team lavishes classic spa treatments and specialized services, such as oncology massage therapy, onto patrons in a dimly lit atmosphere. They even allow guests to customize their treatments by using an add-on menu, which includes aromatherapy and scalp massages.
207 Uptown Sq.
Murfreesboro
Tennessee
615-867-0017
After more than a dedicated of experience as a critical-care nurse, Warm Springs Wellness Center owner Quinn Raines discovered the healing powers of the heated mineral springs in Warm Springs. Instantly enchanted, she promptly became a certified colon hydrotherapist, and together with her son Curt set up a holistic healing center with the goal to enhance their clients' health through water-therapy-based services. Their tranquil retreat, outfitted with elegant décor complimenting the space's black and tan hues, houses all the amenities needed for healing water therapy, including ionic footbaths and colon hydrotherapy, alongside purifying mud therapy, acupuncture, and chiropractic treatments to treat pain and settle squirmy spirit animals.
567 Cason Ln., Suite C-1
Murfreesboro
Tennessee
615-426-0472
Evolve Weight and Age Management's knowledgeable staff helps patients find their most effective path to weight loss through detailed consultations and a range of minimally invasive treatments. A trio of weight-loss regimens empowers patients to take pound shedding into their own hands, letting them stave off calories with appetite suppressants, boost energy levels with HCG injections, or impose order on unruly diets with Optifast meal replacements. The staff also fends off wrinkles with Botox injections and helps muscles get as lean as their muscle T-shirts with men's testosterone-replacement therapy.
330 Mayfield Dr., Suite C-4
Franklin
Tennessee
615-628-8135
As she watched the dancers of Canopy Studio Repertory Company twirl and flip using a long cord of aerial silks during their evening performance, Amy Powell knew she wanted to do the same. Less than a year after joining the studio and taking classes, she was asked to perform in one of the company's shows, drawing from former gymnastics training and a natural affinity for high-flying dance to hone her abilities. More than a decade later, she now helms Chattanooga Aerials, located inside Scenic City Dance Center, as the director and head instructor and passes on her skills on silks, slings, and trapezes to all levels of students and budding telephone-company workers under the high ceilings of Scenic City Dance Center.
Amy instills students with a solid aerial foundation while also working to advance abilities toward graceful dancing and strength conditioning. She starts exercises at the lowest possible height to assuage first-timers before teaching dancers to work in tandem, using each other's bodies to perform coordinated moves. She and her fellow teachers can pinpoint the root cause of many of their students' physical limitations and inhibitions and often revise the curriculum or help students with their fears directly, perhaps by doing floor work that translates to the air. Muscles that have grown accustomed to more traditional workouts awaken in each class, and Amy's Something New workshop challenges students further with hybridized methods including aerial yoga and outdoor sessions using trees as aerial gear. When not teaching, she and her staff frequently perform for the community in programs for the children's Creative Discovery Museum and for Nightfall, a downtown concert series.
6435 Lee Hwy.
Chattanooga
Tennessee
423-521-2359
As a junior player in the United States Hockey League, Stephen Thiesing had grown accustomed to taking hard hits. Nothing could have prepared him, however, for the full-speed collision that left him convulsing on the ice with a severe spinal-cord trauma. Much to his surprise and disbelief, a subsequent visit to the doctor revealed nothing damaged or out of order. Still in pain, Steven was sent on his way.
This unfortunate visit planted the seeds of Steven's interest in alternative modes of healthcare. Years later, after he had begun his career as a chiropractor, he discovered the source of his pain in a compression fracture in his neck. Bolstered by this discovery, he continued training to find a solution for his aches and eventually founded Thiesing Family Chiropractic Center to provide others with the kind of care that was missing from his own youth.
Doctor of Chiropractic Steven Thiesing now draws from his training and personal experience to craft specialized treatment plans based on his patients' needs. Spinal adjustments are a central focus of his practice, as they can reduce nervous-system disruptions and help the body right itself naturally. Through a series of targeted adjustments, Dr. Thiesing works to relieve pain and stress resulting from injuries, headaches, allergies, and repeatedly carrying one's boss from his office to the lunchroom. He further advises his patients to use the same system he adheres to in his own life, focusing on regular sleep, exercise, and a healthy diet.
506 N Garden St.
Columbia
Tennessee
931-490-0606
---