Restaurants in Murfreesboro
---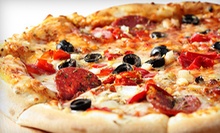 Fresh hand-made pizzas and grits piled with tomatoes, cheese, and spices
---
Recommended Restaurants by Groupon Customers
---
To surprise diners with a new dish on a daily basis so that they don't resort to playing soup-can-recipe roulette, The Mad Platter's changing menu showcases new options every day. Appetizers such as the fried green tomato with gulf shrimp in a lemon-herb emulsion ($7), "chili mac" (blackened beef tips and ricotta gnocchi in a three-cheese sauce drizzled with white-truffle oil, $7), and hand-picked chef's cheese composition ($8) give the taste buds a drum roll as the curtain rises on dinner dishes such as black-iron pork loin ($18), artichoke risotto ($18), and caramelized salmon with a mango-rum glaze ($19). A wide selection of wines offers soothing sips with every bite, especially when paired by the knowledgeable staff. Lunchtime gourmands, meanwhile, can dazzle their fellow UPS workers with the curried-chicken quesadilla ($5.50) and Tuscan grilled-chicken stew ($10). Both meals can be crowned with a dessert of crème brûlée ($6), bananas foster ($6), or chocolate Elvis ($6.50), the size of your portion depending on its point in Elvis's career.
1239 6th Ave. N
Nashville
Tennessee
The Family Wash offers a small yet robustly flavorful menu of fresh, hearty dishes. Start your sensory escapade with the gorgonzola chips ($6), kettle-cooked potato chips smothered in gorgonzola cheese, bacon, and cheddar, designed to soak up booze and smother the face of unruly patrons. Melt your tongue with the mama-approved meatloaf ($12) served with mashed potatoes and a choice of side salad or seasonal vegetable. The vegetarian shepherd's pie ($11) is fan flavorite, with a helping of lentils and vegetables layered under a blanket of mashed potatoes and extra-sharp cheddar cheese. If you find yourself getting too comfortable with the gusto of comfort entrees, lighten up with a mixed green and roasted beet salad with toasted walnuts, goat cheese, and a shallot vinaigrette ($11).
2038 Greenwood Ave.
Nashville
Tennessee
Tully's is the realized brain baby of executive chef Tully Wilson, a graduate of the prestigious Culinary Institute of America. This villa of victuals features classic American favorites presented in a French-influenced, aesthetically pleasing manner. Menu options vary, though sample dinner items include two pounds of fresh Prince Edward Island mussels ($12) served in a white-wine-butter sauce, and pecan encrusted chicken tender salad ($12), a sprightly summer salad that evokes thoughts of William Blake's romantic salad-inspired poetry. Savorlicious steaks gratify meat-believers, like the eight-ounce filet mignon ($19) and the 10-ounce Cajun rib eye ($23) with grilled shrimp and Creole sauce that can be shared with your significant other or an insignificant identical twin. Climb a mountain of chocolate with Tully's six-layer chocolate cake ($9), slipping and sliding on the fudge icing along the way.
333 Broadway
Hartsville
Tennessee
615-374-4243
The gleeful sounds of tickled ivories permeates Whitfield's Restaurant on Wednesday–Saturday nights when a piano player regales diners with masterful tunes. Stepping around the curved, tile-fronted bar, the wait staff deliver dishes of seafood and steaks to diners perched in crimson booths beneath the glow of amber pendant lights. Led by owner William Dewayne Johnson and head chef Matthew Smith, the kitchen sears scallops and salmon and grills lamb chops with aplomb. Diners can choose to eat alfresco under the guard of bright-red awnings and stars blinking their choices from the menu in Morse code.
106 Harding Pl.
Nashville
Tennessee
615-356-5450
The story of Sperry's Restaurant began in Jacksonville, Florida, with famed restaurateur and hotelier Burton W. Sperry, whose reputation for fine food and sterling service made him the toast of the South in the late 1800s. Fast-forward to 1974, when Sperry's descendants—eager to uphold their great-great-grandfather's commitment to dining excellence—started their own restaurant to honor his memory. Since opening its doors more than three decades ago, Sperry's Restaurant has expanded to two locations and developed a loyal following thanks to its continued dedication to cooking palate-pleasing steaks and seafood entrees and bending over backwards for its guests.
Sperry's dimly lit dining room creates an old-world ambiance with its dark wood decor, ornate persian rugs, and sparking chandeliers for gentlemen to hang their stovepipe hats on. The aroma of Alaskan king crab legs and bacon-wrapped filet mignon converge to form a culinary siren song for diners sitting at tables made from the hatch covers of World War II Liberty ships. The restaurant's bartenders sling libations down a hand-carved bar sporting a unique epoxy resin finished for a mirror-like shine, and a stone fireplace occasionally serenades guests with its crackling flames.
650 Frazier Dr.
Franklin
Tennessee
615-778-9950
Nearly every day for more than 25 years, the owner of That Sub Place—a locally-owned, independent business—has worked in the store, hand-selecting the meats, cheeses, and produce he gets delivered to the sandwich shop each morning. After getting pumped up for the day with a few wind sprints, staff members pile bread with 40 different customized combinations of roast beef, honey-baked ham, and avocado for their regular 6-inch portions or their stretched-out 15-inch sandwiches, which diners can order cold, oven-baked, or steamed. Baked onsite daily, eight types of fresh-baked bread bookend cuts of chopped steak, chicken, and roast beef drizzled in 1 of 15 sauces, such as horseradish and chipotle mayo. Along with these subs, cooks custom-build salads with an array of lettuces, cheeses, and veggies such as sprouts and banana peppers.
1203 Murfreesboro Rd., Suite 537
Franklin
Tennessee
---