Things to Do in Murfreesboro
---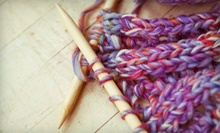 Handmade-clothing boutique hosts one-hour crocheting classes; all materials included
---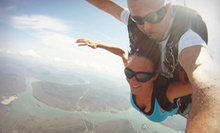 Professionals pair with clients in a tandem jump over Sequatchie Valley and capture the flight on a digital video recording
---
Recommended Things to Do by Groupon Customers
---
Perched atop an 80-foot bluff overlooking the Tennessee River, Hunter Museum of American Art hosts collections ranging from colonial times to contemporary America. The permanent collection includes historical works by renowned painters such as Thomas Cole, Mary Cassatt, and Winslow Homer as well as contemporary pieces in less traditional mediums such as filmmaking, which artists turned to after paintbrushes went extinct. Educational programs guide visitors through these core works as well as temporary exhibits, which have included Depression-era photographs by Dorothea Lange and the sculptural installation art of Beverly Semmes.
Hunter Museum's buildings are as much a work of art as the paintings they house. An outdoor sculpture plaza and a sleek structure of steel and glass built in 2005 give the compound a contemporary edge. In contrast, the massive fireplaces and hand-carved woodwork inside the original edifice—a classical revival-style mansion built in 1904—recall the days when horses still chauffeured their owners around in Ford Model Ts.
10 Bluff View St.
Chattanooga
Tennessee
423-267-0968
Live goats scamper across a verdant vista dotted with farmhouses and open prairies at Lady-K Farm, a working dairy farm. Its owner, Karen, spends much of her days shepherding the farm's goats. She supplies bottles of their milk for local families and also uses it to create fresh-smelling bars of natural soap. In addition to wrapping bars in pristine packaging for wholesale, Karen has taught soap-making classes for 15 years to help others harness the milk's skin-softening benefits. Karen also sponsors an annual Goat Husbandry Conference to teach prospective goat owners how to care for the animals, especially when they dress in sheep's fur in blundered searches for their own identities.
1239 Walter Head Rd.
Cedar Hill
Tennessee
615-445-9581
The whinnies of quarter horses ring out across Barnfly Stables, where a trainer with more than 15 years of experience coaches steeds to take their riders' lead. The teacher breaks animals through groundwork and exercises in accordance with a training curriculum molded around ranch-riding and ranch-trail techniques, as well as reversing horses' rebellious behavior or sarcastic retorts. In addition to priming horses for riding or shows, staffers also breed affection for four-legged friends during lessons. Pupils of all ages master safety, grooming, and proper trotting techniques during sessions built on effective communication between the rider the ridden. They also season competitors for battle by honing techniques, such as barrel jumps, atop horses gussied up with stylish tack from Barnfly Stables' online shop.
6015 Hwy. 76 E
Springfield
Tennessee
615-210-6530
---
---
Things to Do Deals - Recently Expired
---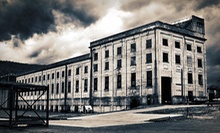 Paranormal investigators lead groups of up to 15 through Chattanooga's most haunted locales on two-hour ghost-hunting tours
---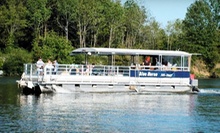 Seasoned captain pilots 40 ft. pontoon boat along Cumberland River, affording views of area birds and wildlife
---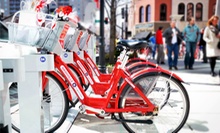 Bikes at 20 kiosks throughout the Nashville area whisk riders through the city, reducing car emissions and boosting health
---
---