Tours in Murfreesboro
---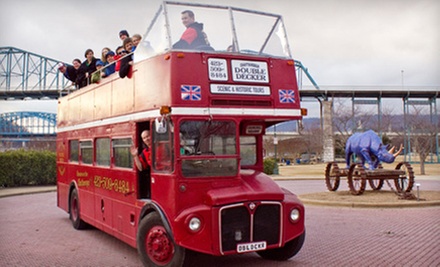 ---
Recommended Tours by Groupon Customers
---
Cheekwood's assemblage of botanical gardens stretches across more than 55 acres of verdant land, inviting members to explore its natural nexus of wooded streams, gentle pools, and stone grottoes. Visitors can appreciate Mother Nature's leafy hairline by weaving through Japanese, wildflower, and perennial gardens and cruising down avenues of crepe myrtles in lilac-powered lowriders. Green-thumbed guests can also admire each display's unique gardening style and exchange salutations with bursting seasonal flora. Guests can venture inside the 30,000-square-foot Georgian mansion to find Cheekwood's collection of decorative arts and Visions of the American West, a Wild West exhibition on display until May 4. The video-installation galleries explore Buffalo Bill's life and his legacy as Wild West icon and fearsome ventriloquist.
1200 Forrest Park Dr.
Nashville
Tennessee
US
When surveyor Aaron Higgenbotham discovered Cumberland Caverns in 1810, he couldn't see its majestic pillars of dripping rock, its flowstone curtains, or its subterranean waterfalls. Stuck on a small ledge in the dark, Higgenbotham was as blind to the cave system's features—one of them a 2,000-foot-long cavern hall—as the eyeless crayfish that live there. His initial discovery nevertheless paved the way for nearly 200 years of speleological findings. Today, guides preserve this 32-mile National Landmark cavern by leading daily tours through its passages.
During tours, guides point out artifacts left by pre Civil War–era saltpeter mines, tunnels filled with rare gypsum deposits, and mysterious inscriptions reading "Shelah Waters - 1869" and "Millard Fillmore + Stacy." They lead guests among stalagmites and stalactites to a sound-and-light show that dramatically retells Bible stories, or into a domed hall that houses a hand-cut crystal chandelier rescued from a historic Brooklyn theater. It's in this last space that staffers organize banquets, weddings, and monthly live bluegrass concerts, or hold burial services for broken fax machines. They also lead visitors through the tight passageways of lesser-seen cavern segments during daytime or overnight spelunking trips.
1437 Cumberland Caverns Rd.
McMinnville
Tennessee
Gray Line's Homes of the Stars trip includes a cruise past downtown, historic Second Avenue, the State Capitol, Fort Nashborough, and Ryman Auditorium. The tour lasts about three hours, and you will be able to see the homes of such stars as Alan Jackson, Ronnie Milsap, Dolly Parton, the late Hank Williams, Lorianne Crook, Little Jimmy Dickens, and several others—with the exception of Roger Moore, who lives in a station wagon floating in the river. Gray Line is an established Nashville business that organizes several tours, shuttle services, and group trips, providing guests a hassle-free way to explore the city's rich celebrity history.
2416 Music Valley Dr.
Nashville
Tennessee
Founded with the goal of transforming downtown Nashville into a compelling, culturally rich urban center, Nashville Downtown Partnership fosters a sense of community via fun-filled initiatives that showcase the city's finest offerings, such as the tenth annual Downtown Home Tour. Participants on the tour get a chance to see a variety of chic private spaces, ogling unique floor plans with an emphasis on ultramodern design that whisk guests into the future without the disheveled hairdos inherent with leaps through the time-space continuum. The Partnership creates such interactive experiences to help introduce locals to the benefits of living in the center of Music City, such as having easy access to its hundreds of restaurants as well as sports and entertainment venues.
421 Church St.
Nashville
Tennessee
A U.S. Hang Gliding and Paragliding Association–rated master pilot, Matt Taber has been soaring through the skies since 1978, during which time he's managed to design several of his own gliders. He's also devised and constructed other contraptions, such as glider-towing equipment and lightweight tow planes—both of which his company, Lookout Mountain Flight Park, uses to teach new recruits how to surf the skies. Matt leads a team of USHPA-certified pilots and instructors that coaches students of all levels in basics and advanced maneuvers through on-the-ground training and hands-on tandem flights, during which plots safely guide their charges over the scenic mountains and blurry bushes of Lookout Valley at altitudes of up to 4,000 feet. Conducted on a 55-acre private training facility, lessons can include the overnight use of amenities such as a pool, volleyball court, bathhouse, and cabins.
7201 Scenic Hwy.
Rising Fawn
Georgia
800-688-5637
After spying his first electronic bike while teaching in China, owner Garnet Caldwell vowed to bring the unique and potentially revolutionary vehicles to his hometown. He told the Times Free Press, "These bikes are for people who just want to get out and ride," explaining that they can go about 20 miles before needing to be charged and, like a championship racewalker, can reach speeds of up to 20 miles per hour.
The bikes, available at the shop for rental or sale, come in all sizes and run off a battery that is recharged via a traditional wall outlet. Chattanooga Electric Bikes caries models from Ezip, Izip, Liberty, and Pedego, as well as conversion kits to help traditional two-wheelers to make the jump to electric. Certified technicians ensure bikes are held to the highest safety standards and don't become sentient, and they can service any brand of electric bicycle.
123 Frazier Ave.
Chattanooga
Tennessee
423-475-6569
---