Restaurants in Murphy
---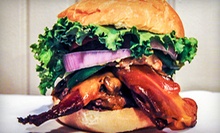 Southern comfort food including homemade burgers, catfish tacos, and well-marbled spare ribs
---
Recommended Restaurants by Groupon Customers
---
The smell of exotic spices fills the room as steaming plates of authentic Ethiopian food are ferried through Gojo Ethiopian Restaurant and Bar. Dinner pairs spongy, slightly sour injera bread with beef and lamb sautéed to extreme tenderness in stews of hot peppers, onion, tomatoes, and garlic. A breakfast menu brings warm, comforting plates of spiced and buttered bread, cardamom-scented bowls of cracked wheat, and spicy scrambled eggs harvested from chickens fed on chili peppers. A rustic sign bearing the restaurant's name hangs on the back wall behind the fully stocked bar, where bartenders pour Castel and other Ethiopian-brewed beers and the sweetly acidic honey wine known as tej. Weekends add a traditional coffee ceremony to the day, with elaborate traditional pots streaming a strong, hot brew.
2189 Buckingham Road
Richardson
Texas
972-744-9859
It is summertime in Charleston, South Carolina. A small girl lingers in the kitchen as the other kids tumble outdoors. She is riveted by her grandparents' hands as they measure, chop, stir, and season each family meal. When she gets older, she'll take to cooking family feasts herself, and it isn't until she gets overwhelmed fielding requests for her shrimp salad that she'll realize what began as a childhood passion has evolved into a career.
Thus began the culinary adventures of Enjolik R. Oree-Bailey, who cofounded Low Country Quisine in order to share her gift, drawing on the soul-food traditions of the coastal counties of her native South Carolina and Georgia. She and her crew customize gourmet takeaway meals to clients' tastes and whether or not they have their heads trapped in a colander, and the aromas of handcrafted cupcakes stream through the warm air of the kitchen. When catering events, her Southern sensibilities shine through in the dishes she concocts for get-togethers and weddings, for which her staff will also scout venues, rent equipment, and scour the city for horses that moonlight as DJs.
13881 Midway Rd., Suite 102
Farmers Branch
Texas
972-386-4555
At Ace's Gourmet Paninis, culinary-school grad Chef Van presides over an unlikely marriage between the Italian-born panini and the flavors of Southern comfort fare. He presses only quality ingredients into his sandwiches, including three signature paninis loaded with chicken, beef brisket, or pulled pork slathered in house barbecue sauce. His menu also flaunts a separate breakfast section that highlights paninis and burritos stuffed with more eggs and meats than a vending machine for bodybuilders. His renditions of childhood favorites, such as peanut butter and jelly, even please pintsize palates. Patrons can settle in to surf free WiFi in the eatery or grab a takeout container to feast at home.:
5121 Rowlett Road
Rowlett
Texas
972-412-8510
The chefs manning Fadia's Deli & Bakery's spice-filled kitchen pack classic Lebanese flavors into freshly made phyllo wrappings, creating sweet bites and savory pies alongside a slate of pita-welcoming dips for their convenient take-out service. All of the shop's sandwiches, baked goods, and deli items contain no preservatives, allowing the rich aromas of dates and honey, creamy tahini, and spicy shawarma sauces to take the spotlight like Where's Waldo at a lab-coat fashion show.
581 W Campbell Rd., Suite 127
Richardson
Texas
US
972-918-9998
---