Theme & Amusement Parks in Murphy
---
Theme & Amusement Park Deals
---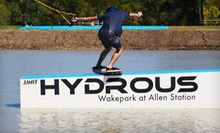 Cable systems pull wakeboarders around lakes at speeds of up to 18 mph
---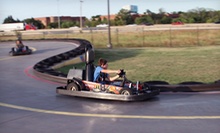 Selection of go-kart tracks accommodates drivers as young as 3, whereas two themed 18-hole courses host mini-golf competition
---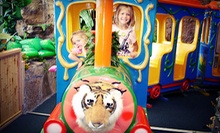 Tropical murals adorn walls, and giggling children scramble up safe jungle gyms, ride mechanical animals, and hop onboard colorful trains
---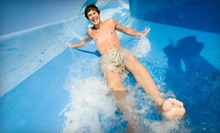 Water park allows visitors to float down the lazy river, ride twisting slides, and frolic at the rainforest-themed playground.
---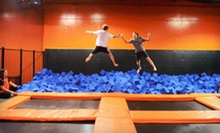 24,000 sq. ft. of wall-to-wall trampolines fuels sky-soaring bouts of open jump play and bounce-based sports
---
---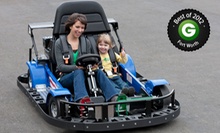 Family fun park boasts two 18-hole mini-golf courses with real water hazards and go-kart course with tandem karts for younger riders
---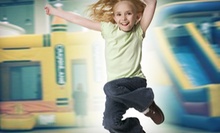 45,000 sq. ft. facility with 13 inflatable playhouses and four basketball hoops
---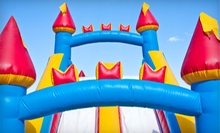 Kids bounce in 12,000-square-foot facility with 13 inflatables; party package includes unlimited play time and 45 minutes in private room
---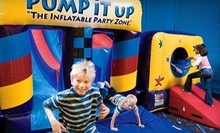 Tykes enjoy 5 or 10 pop-in play sessions in indoor inflatable playgrounds in a clean, climate-controlled environment
---
Recommended Theme & Amusement Parks by Groupon Customers
---
Drivers careen at a blinding 85 miles per hour around the track at Dallas Karting Complex. In order to take the wheel of a high-speed Rotax DD2 karts, racers must pass a few tests, including achieving a 74-second lap time on the 0.8-mile track, reaching 16 years of age, and being able to recite three quotes from The Fast and the Furious in iambic pentameter. Drivers who don't meet the high-octane criteria or are interested in a simpler ride can zip around the track's 17 turns in lower-speed karts, starting at the 30-miles-per-hour cadet carts for kids aged 7–15 or the karts for adults that burn rubber at highway speeds. The 25-acre facility has enough room to host racing parties for kids and adults, as well as corporate meetings to discuss the feasibility of commuting to work in a Rotax DD2.
5025 FM 1565 N
Caddo Mills
Texas
903-527-5278
Shrieks of laughter and the shuffle of sock-clad feet echo across the cavernous playroom at Royal Jump!, where tykes run freely through a lineup of cushy inflatables. The 45,000-square-foot floor houses 13 different structures, including a plush obstacle course, a double slide, enclosed bouncers for freeform leaping, and smaller areas where toddlers can flaunt their sharing skills in front of scouts from the big-kid leagues. In addition, Royal Jump! makes use of its spacious facility with four basketball hoops for kids to shoot on if they need a break. With much of the open facility visible from any vantage point, adult supervisors can keep track of their kids without sewing cowbells to their pockets. To help organize birthday celebrations, Royal Jump! arranges party packages that include a private party room, festive balloons, and disposable plates and plastic ware.
3811 S Cooper St.
Arlington
Texas
US
817-715-9107
Inflated structures, slides, and games fill the climate-controlled environs of the numerous BounceU locations that speckle the nation. At each site, staff members closely monitor all activities as little ones traverse obstacle courses or pull on oversized inflatable boxing gloves. The crew also invites parents to join in on the fun, letting them bounce alongside their kids or make sweeping edicts from atop a bouncy-castle throne.
In addition to open sessions, the indoor-play haven sets the stage for the Preschool Playdate program, where instructors lead games and activities. Special events include family-bounce night, which lets parents join in the bouncing or relax in the party room and do grownup things, such as eat marshmallows with a knife and fork.
2532 Summit Avenue, Plano
Plano
Texas
US
The calls of more than 100 exotic and endangered animals fill the air at Sharkarosa Wildlife Ranch, an educational, nonprofit wildlife reserve licensed by the USDA and featured on the Discovery Channel's Dirty Jobs. Knowledgeable staffers pilot a fleet of safari trams that ferry guests across the park's 126 acres of sprawling pastures, dispensing enlightening wisdom as they pass zebras, kangaroos, emus, bears, and monkeys. The staff brings patrons face-to-face with many of the exotic critters and often stops to allow guests to pet and get to know the animals. Interactive presentations and small-animal habitats further educate visitors on the menagerie of rare creatures.
11670 Massey Rd.
Pilot Point
Texas
US
Jump Zone gives children of all ages, including ones that accidentally got transformed into Tom Hanks, 14,000 square feet of safe, clean, indoor playground space that includes eight monstrous inflatable structures. Let the rambunctious rascals loose through Batman's blown-up bat cave obstacle course, or lead a natural history lesson down King Kong's 20-foot slide. Pint-sized and pint-shaped toddlers can explore the scaled-down train tunnel and jump area, or walk on stable ground in the age-appropriate interactive zone. Jump Zone even accommodates illustrious royalty figures with a Disney Princess Castle primed for reenactments of such House of Mouse classics as Beauty and the Beast, Snow White and the Seven Dwarves, and Goodfellas.
375 Commerce Street
Southlake
Texas
US
Both packages grant guests access to the following:
831 N Central Expy.
Plano
Texas
US
972-509-5253
---