Professional Services in Murray
---
Professional Service Deals
---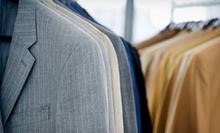 Garments are cleaned with eco-friendly detergents, which can extend the lifespan of your clothes
---
Recommended Professional Services by Groupon Customers
---
In addition to being a 2010 Gold Key Grower, Engh provides florist services, workshops, and events. Today's Groupon, however, applies only to in-store purchases of plants and supplies. Horticulturalists can stock up on vegetable pony packs ($2.99), individual premium annuals ($4.99), gallons of Martha Washington geraniums ($9.99), herbs ($7.99), and small hanging baskets ($19.99). Garden supplies for purchase include Black Gold earthworm mix ($7.99), peat moss ($17.99–$24.99), and black plastic pots ($0.19–$4.99).
8214 South 700 E
Sandy
Utah
Blooming Pearl's team of dedicated petal professionals takes great pride in spreading happiness, love, and very sexy pollen. They will whip up a creative floral arrangement for any occasion, be it a birth, anniversary, anniversary of a birth, wedding, or Monday. Treat your mom to a classy bouquet of roses ($29.99 for six), select one of Blooming Pearl's cool, daily designed arrangements from the store's refrigerated display, or consult with an on-staff florist to customize something extra special for a loved one. With your green thumb firmly on the mouse, browse Blooming Pearl's website for examples of past work and either call ahead to place an order or just stop in (Mother's Day orders must be placed in advance). The company will deliver anywhere within Salt Lake valley, but remember, delivery is not included in the Groupon.
1899 West 5400 South
Taylorsville
Utah
Val Westover and Stephanie Adriana, both authors and photographers, draw from diverse artistic backgrounds. Val once trained hundreds of photographers as the manager of a nationwide portrait studio, and Stephanie has seen her work featured in an array of photography and fashion magazines. Applying fine-tuned artistic styles, they snap candid photojournalistic compositions and posed portraits of new couples, newborns, mothers-to-be, families, and secret families.
They also pass on their skills through step-by-step workshops, during which they use a blend of professional tips and practice exercises to teach the basics of ISO, shutter, and aperture alongside applied artistic principles. They then give protégés free rein to practice what they've learned in hands-on, on-location photo safaris, during which students capture shots of wildlife and people.
822 S 1100 E
Salt Lake City
Utah
Trifecta Design's florists construct elaborate arrangements with blossoms sourced from around the world, earning Best Flower Shop accolades from City Weekly in 2010. Owners Pamela Ostermiller and Lindsay Vieta-Vest draw on their love of fashion, architecture, music, and visual art to stylishly arrange colorful seasonal blooms such as orchids, lemongrass, kiwi, and roses. Finished bouquets reside inside tinted glass cubes and handcrafted wooden boxes chosen to highlight their inventive compositions. The creative establishment also compiles edible gift boxes, which entice gourmands with artisanal breads and cheeses, smoked meats, and local chocolates nestled amid textured wrappings.
1940 S 1100 E
Salt Lake City
Utah
801-364-4606
The Dezember Photography team snaps vivid, full-color images ranging from shots of wide-eyed toddlers perched on antique chairs and high school seniors showing off their personalities with footballs or football-shaped calculators to action shots that tell a story—to a father tearfully walking his daughter down the aisle or newlyweds sharing a kiss neck deep in the ocean at sunset. They complement their keepsake shots with cutting-edge technology—after their shoots, subjects can showcase their images on the studio's custom smartphone app.
423 W 800 S
Salt Lake City
Utah
801-391-8553
Don Polo Photography owner Adilfa Ford named her business after the grandfather who raised her on a rustic farm in La Luz, Venezuela. The only surviving pictures of her late mother and grandparents were taken by Adilfa herself as she honed her shutter skills and nurtured the seeds of photographic passion into a blossoming love of the visual arts. Accompanied by her husband, Russ Ford, Adilfa travels the globe to teach photography seminars and add to an impressive resume of more than 800 weddings, returning to her Taylorsville studio to snap more portraits of familial love and newlywed bliss. An ample amount of studio and garden space accommodates small and large portrait groups as they have their contagious smiles immortalized, posing in front of vibrant backgrounds or flourishing greenery. After the team of professional flash dispatchers finishes capturing precious moments, they digitally enhance, retouch, and spellcheck each picture's 1,000 words.
8665 Sandy Pkwy.
Sandy
Utah
801-967-9106
---