Things to Do in Murray
---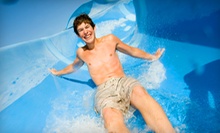 Pizza and soda refuel revelers during a day spent skating or splashing down water slides
---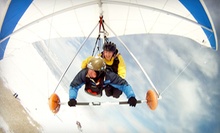 Year-round aerial adventures from the Point of the Mountain Flight Park–Southside
---
Recommended Things to Do by Groupon Customers
---
A true polymath, Leonardo da Vinci was never content learning a single subject at a time. Leonardo's expertise is renowned, as he honed his mind as an artist, scientist, inventor, and mutant ninja. In this same spirit, The Leonardo, his namesake museum, explores the ways that science, technology, art, and creativity connect. Each day, its exhibits bustle with activity as visitors examine thought-provoking installations, experiment with hands-on activities, and participate in ever-changing workshops.
The Dynamic Performance of Nature exhibit, for example, is a giant sine curve made of solar-powered LEDs that stretches the length of room. It flashes and changes its color in response to real-world factors such as solar radiation, humidity, and pollution. Artists, inventors, and other innovative thinkers work within the Lab@Leo, where they help museum guests make creative projects out of different materials. Some of the museum's other exhibits include I.D.: What Makes You, You?, which explores our genetic origins, and Render, where visitors can create their own short animated films.
209 E 500 S
Salt Lake City
Utah
801-531-9800
Birdman Academy takes its name from the pseudonym of its founder, Kevin Koonce. The Birdman estimates that he has trained thousands of hang-gliding lessons, and during that time he's taught nearly 8,000 first-timers. Currently, he nests at Point of the Mountain, a spot known for what the Academy calls, "legendary conditions." This means consistently smooth winds, which are ideal for training new hang-gliders, paragliders, and baby pterodactyls recently thawed from blocks of prehistoric ice.
South Side Point of the Mountain
Salt Lake City
Utah
801-448-2494
Alliance Theatre has staged ghost stories, fairy tales, and beloved Broadway musicals for more than four decades, earning it a Regional Theatre Tony Award for its memorable productions. Haled by ArtsATL.com as "an incredibly engaging and tightly focused evening at the theater," I Just Stopped By to See the Man casts a mysterious pall over audiences with its tale of three characters seeking redemption. Accomplished musician and actor "Mississippi" Charles Bevel pours himself into the leading role of Jesse "The Man" Davidson, a legendary bluesman playing possum from fame while living in a shotgun shack with his daughter Della. Like Robert Johnson, Jesse is fabled to have traded his soul to the devil for his musical talents, which now collect dust while his guitar gently weeps. When Karl, a British rock star, hunts down "The Man" in hopes of learning from the master and luring him back to the stage, conflicts unfold and secrets are revealed. Brimming with authentic Delta blues songs and a surplus of wry wisdom, the intimate character study works its mojo on music fans and theater buffs alike.
272 South Main Street
Salt Lake City
Utah
US
---