Beer, Wine & Spirits in Murrieta
---
Beer, Wine & Spirits Deals
---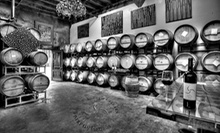 Premier vineyard grapes are crushed on-site to craft award-winning wines served in tasting room with local artwork lining walls
Use Today 12:00pm - 5:00pm
---
Recommended Beer, Wine & Spirits by Groupon Customers
---
Steve Andrews, a builder of off-road racecars, and wife Valerie Andrews, a painting contractor, never thought of winemaking as more than a hobby. Yet when one of their house blends boomed in popularity, they happily accommodated demand by planting varietals on 40 acres of high Temecula Valley hillsides. The husband-and-wife team now ferments a diversity of grapes—such as petit verdot, malbec, and cabernet sauvignon—into regionally focused wines using American-made gear, including barrels harvested from French oak but assembled in the U.S. and varnished with the juice of a cheeseburger.
Staff conducts tastings and classes in the main room, a Quonset hut construction with Tuscan accents, or on a sprawling glass-enclosed pavilion overlooking Temecula Valley's rolling green hills, where musicians also wrangle free-range harmonies on weekend afternoons. Tastings often incorporate rare, seasonal cheeses, chocolates from McCall's Toffee Company, and various flavored balsamic vinegars such as fig, apple, and dark cherry. The winery also produces avocado oils infused with roasted garlic, chili, and blood orange, chosen for their health value and mild flavor, much like exercise books.
Oak Mountain Winery is a dog-friendly vineyard, with proceeds from some canine-centric wines—such as 2009 Pete's Sake red—going to Cause for Paws, which helps dog owners pay for canine diabetes treatment.
36522 Via Verde
Temecula
California
951-699-9102
When Robb MacLeod's home ran out of room for his hundreds of batches of home brews—and the award ribbons they amassed—he turned to the casks of professional breweries. Now the head brewmaster at Alcatraz Brewing Company, MacLeod crafts signature and seasonal beers, such as Weiss Guy Wheat, Penitentiary Pilsner, and the caramel-laced Big House Red, which patrons can confidently imbibe as indignant wolves attempt to blow it down. In the brewery kitchen, chefs slather burgers with garlic puree, sage stuffing, and roasted peppers, smoke pork with dark ale, and hand-toss thin-crust pizza. Amiable waitstaff ferry plates and beer flights to Alcatraz's patio and around the San Francisco–themed dining room, which includes a to-scale replica of the Golden Gate Bridge and a stray wisp of ever-lingering fog.
20 City Blvd. W
Orange
California
Twenty-four wine bottles line the circumference of two stainless-steel cylinders, both of which add a futuristic flourish to the middle of the room. With the touch of a button, the machine dispenses a 1-ounce sample of any of the wines—red at room temperature, whites at 55 degrees Fahrenheit. Praised on Foodbeast, this self-serve tasting bar, called the Enomatic wine system, lets guests sample an array of wines before committing to a long-term relationship with a single—or several—bottles. This method is just one of several ways OC Wine Mart & Tasting Bar owner Julie Lim takes the intimidation out of wine buying.
At her boutique wine store, Julie fills the shelves with vintages from both well-known and under-the-radar vineyards, with some of her favorites including Silver Oak Cellars, Caymus Vineyards, and Cakebread Cellars. She and her team thrive on helping guests find the best bottle—whether they're hunting for wine, craft beer, or a fine liquor. Once guests feel confident in their selections, the staff can help them compile gift baskets for holiday parties or year-end performance reviews. Committed to green practices, the staff eschews foam packaging in favor of molded-pulp shippers, derived from 100% recycled materials. Such practices earned Julie a place on OC Metro's list of 20 Women to Watch, plus her boutique a place on Gayot's Top 10 Wine Bars in the United States.
2272 Michelson Drive
Irvine
California
949-250-0033
The early 20th century birthed the first incarnation of Mission Brewery, in which California newsboys and other pre-Jazz Era scallywags tossed back their sudsy concoctions before Prohibition closed its doors. Despite its short tenure since its reestablishment in 2007, Mission Brewery has already snatched medals from the Great American Beer Festival and other competitions for its pantheon of brews. In its tasting room, patrons claim bottles or sample draft beers that include the Bavarian-style hefeweizen with hints of banana, clove, and pear; a russian imperial stout; or the Shipwrecked Double IPA, a strong concoction that, like walking on hot coals, benefits from a liberal use of hops. Located just a few blocks from the San Diego Padre's Petco Park, guests can enjoy tours through the rows of gleaming vats in the brewing chambers, which are housed in the historic Wonder Bread Building, rumored to be haunted by multicolored polka dots.
1441 L St.
San Diego
California
619-544-0555
Uncorked Tours Megan Franks does all she can to separate stuffiness from wine connoisseurship. For tours of Temecula's wine country, she dispatches a Cadillac Escalade or a limo party coach with two flat-screen TVs and a dancer's pole, which she gaily poses next to in a photo on her website's About page. She also launches tipplers into the air during morning hot air balloon rides that begin, like the chauffeured tours, with a complimentary champagne toast. To contribute to the party vibe during each trip, a staff member continuously works a camera's shutter, producing digital photos that are then uploaded to Facebook for sharing and downloads.
33233 Rancho California Rd.
Temecula
California
US
Amid Temecula Valley's rippling foothills, equestrian farms, and estate vineyards, Frangipani Estate Winery has carved out a rural post of its own overlooking the Deportola Wine Trail. Since 2003, owner and winemaker Don Frangipani has fused French varietals with old-world Italian styles, exhibiting a passion for red wines along the way. Today, Don's facility produces 5,000 cases per year, and every day, it swings open the doors to its boutique tasting room so visitors can stop by and test drive samples.
39750 De Portola Rd.
Temecula
California
951-699-8845
---