Murrysville, PA Health and Fitness
---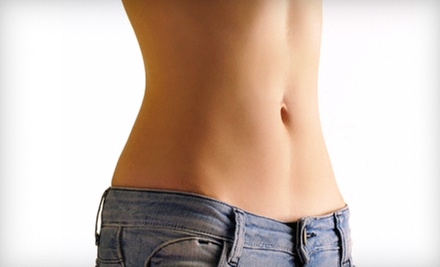 ---
Recommended Health & Fitness by Groupon Customers
---
The nine-hole course at The Club at Blackthorne stretches for nearly 3,000 yards of expansive fairways and receptive greens designed by Palmer Course Design Company, Arnold Palmer's namesake firm. Players tee off on the 400-yard par 4 first hole—with the eighth, one of just two holes 400 yards or longer—sending their golf balls flying against a horizon dominated by the Laurel Mountains in the distance. The fifth hole's huge arc of a dogleg presents golfers with a classic risk/reward shot off the tee, much like hitting shots over a pool of lava onto a green made of chocolate. Golfers can attempt to fly the cherry trees in hopes of reaching the green in one stroke—thereby risking a tight lie in the fescue grasses—or they can lay up near the fairway bunker for a short iron shot into the green. The signature ninth hole demands similar theatrics, as a lake and six bunkers team up to force a 200-yard carry just to reach the fairway, and an elevated green renders approach shots trickier than their short length might indicate.
Course at a Glance:
Nine-hole, par 33 course
Total length of 2,947 yards from the back tees
Course rating of 68.4 from the back tees
Course slope of 135 from the back tees
Four sets of tees per hole
Scorecard
The Club at Blackthorne's rates fluctuate throughout the week and year. Though The Club at Blackthorne sometimes features a discounted price online, this Groupon still offers the best deal available.
1028 Blackthorne Dr.
Jeanette
Pennsylvania
724-325-2052
The Madison Club's 18-hole, championship course develops over rolling hills and winds through trees for a layout engulfed in a spectacular setting that incorporates the natural landscape into course play. Multiple water hazards characterize a large chunk of the course, as highlighted on the challenging par 3 17th, a hole that forces golfers to carry a short-iron tee shot over open water and has been lauded as one of western Pennsylvania's best public holes by both the Pittsburgh Post-Gazette and the fish that cheer on golfers from the green-protecting pond. Though the course cuts through topsy-turvy terrain, the greenskeepers maintain relatively level fairways so accurate tee shots don't end up on unfavorable, sloped lies. After a day at the links, guests can unwind with a light meal from the course restaurant or toast to the memory of broken golf tees with a drink from its full-service bar.
519 Yukon Rd.
Madison
Pennsylvania
724-446-4000
Highly educated trainers—each of whom has a bachelor's or master's degree in exercise science—help clients at bodyXchange fitness tone their bodies and transform their lifestyles with nutrition and exercise programs. Rows of dumbbells weighing 5–135 pounds ring the walls of the 5,000-square-foot gym, where members can swing kettlebells, push sleds, or struggle with a 550-pound tractor tire as well as pumping iron on more conventional Hammer Strength and Icarian strength-training machines. Life Fitness treadmills, stationary bikes, and other cardio equipment populate a separate theater, where wall-hung plasma TVs keep minds busy as bodies sweat and mouths hum the theme to Chariots of Fire.
2319 Wharton St.
Pittsburgh
Pennsylvania
USA
412-481-3488
Doctor of Chiropractic Pamela Huston harnesses more than 20 years of experience—as well as her advanced applied kinesiology degree—as she administers FDA-approved Zerona technology to help clients lose unwanted inches. The noninvasive cold-laser system removes stubborn fat from the waist, hips, and thighs through emulsification without negatively affecting cholesterol or triglyceride levels. Zerona requires no strict diet or exercise program to see results, though professionals do recommend both for best results.
2020 Ardmore Blvd., Suite 202
Pittsburgh
Pennsylvania
412-273-3600
Doctor of Chiropractic Brent Shealer has been burgeoning the strength of his clients' backs for more than a decade, combining practiced techniques of diligent examination, gentle rehabilitation, and careful spinal adjustments. Specialized in helping bodies recover from distinct spinal ailments resulting from whiplash, sports injuries, or worm-dancing marathons, Shealer and his team work to smoothly manipulate dorsal landscapes and educate patients to help prevent future injury.
400 Penn Center Blvd.
Pittsburgh
Pennsylvania
412-823-5710
Using ophthalmological powers earned during prestigious studies at Case Western Reserve Medical Center and fellowships at Cornell and Tulane universities, Luna Vision and Laser's Dr. Rinku Dutt restores vision with high-tech LASIK procedures and ensures long-term ocular health with eye exams. With more than 7,000 LASIK surgeries under her belt, Dr. Dutt deftly executes bladeless procedures that help clients correct blurred vision or activate the ability to see into the infrared spectrum without glasses or contacts.
In addition to sharpening her patients' eyesight, Dr. Dutt also whittles away their facial and bodily imperfections with beauty treatments. She beautifies faces with Botox or Juvéderm applications, which safely smooth away nearby fine lines and wrinkles. With lasers calibrated to destroy hair follicles without damaging the skin, she clears away unwanted hair from virtually any area of the body during laser hair-removal sessions. Blepharoplasty treatments use a CO2 laser to remove fat and excess skin from the upper and lower eyelids.
6291 Rte. 30
Greensburg
Pennsylvania
724-527-9720
---