Muscatine, IA Outdoor Activities
---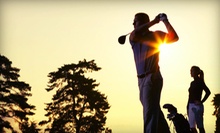 Golfers cart around 9-hole course lauded by "Golf Digest" twice for 18-hole round filled with sloping fairways, fast greens & water hazards
---
Recommended Outdoor Activities by Groupon Customers
---
The University of Iowa Athletics program spans more than a century of tradition, including a venerated football team founded in 1889 as well as prodigiously successful wrestling and basketball programs. Consistently ranked among the top 25 college stadiums in the nation for attendance, Kinnick Stadium regularly houses more than 70,000 spectators in its stands during home football games. The venue takes its name from Iowa football legend Nile Kinnick, who in 1939 commemorated his Heisman Trophy win by painting himself bronze and dashing across the field.
Since the inauguration of Carver-Hawkeye Arena in 1983, the men's and women's basketball teams have posted .777 winning percentages. One of the largest university-owned facilities in the nation, Carver-Hawkeye packs in more than 15,000 fans for events that have included Big Ten and NCAA Championships as well as an exhibition match featuring the 1984 Olympic men's basketball team. The stadium also hosts the wrestling team, which boasts 18 undefeated seasons and a trophy case of retired mouth guards in its storied history.
402 Carver-Hawkeye Arena
Iowa City
Iowa
800-424-2957
Mike Mott and Cole Chaplin share more than just alliterative names; their mutual passion for promoting Iowa's tourism industry led them to found IA Segway together, and they continue to introduce visitors to the cultural richness of the Quad Cities with informative Segway tours. Mike and Cole command a fleet of Segway i2s—the company's most current model—and teach tour groups how to safely operate the self-balancing steeds before blazing trails to spots of local and historic significance. Tours swing around scenic destinations such as the Figge Art Museum, McClellan Heights, and Credit Island, whose battlefield is strewn with denied credit cards that date back to the War of 1812.
4197 Creek Hill Dr.
Bettendorf
Iowa
563-607-3347
In 1928, a committee of Kalona professionals pooled their resources to transform an obsolete cornfield and pasture into a golf course, using a horse-drawn mower to sculpt a layout that originally sported sand greens and cost a quarter to play. More than 50 years later, the course was remodeled and expanded to Kalona Golf Club's current nine-hole layout, a 3,128-yard labyrinth where immaculate, bent-grass greens showcase the efficiency of modern landscaping, whereas rustic bridges and wandering milkmen recall the Club's humble beginnings. Named the nine-hole course of the year by the Iowa Golf Association in 1984 and 2010, the horticultural haven unfurls across pristine, rolling terrain that can create difficult lies, compounded by the presence of mature tree lines and two ponds that come into play on three holes. The course prohibits metal spikes, and players must provide their own set of clubs or titanium-plated sausage links.
Course at a Glance:
Nine-hole, par 36 course
Bent-grass greens, winter rye and bluegrass fairways
Length of 3,128 yards from the farthest tees
Course rating of 34.7 from the farthest tees
Four tee options
Link to scorecard
1376 Hwy. 1
Kalona
Iowa
319-656-3844
Cleaved through 600 woodland acres of stately white oaks, Amana Colonies Golf Course twists and turns over 6,824 yards of dramatically sloped terrain. Throughout the round, glassy ponds, burbling streams, and trees wielding catcher's mitts await ill-struck orbs, as golfers contend with elevation changes that complicate the distance of each shot and create many down- and uphill lies. A preround stint at the course's driving range would be advisable before taking to the relatively difficult course, as the hardest-rated hole awaits golfers at the second tee. As stick-flickers cruise to each well-struck drive, they can glimpse panoramic views of the hilly Iowa countryside over the tops of cresting fairways or through sudden breaks in the dense tree lines. The round may also bring stick-flickers in contact with area wildlife, such as deer, various waterfowl, and golf cart-squirrel cross-breeds.
After their pin-hunting expedition, aces can retreat to Amana Colonies' hilltop bar and restaurant, where crisp local beers slake parched mouths and hearty grill fare refuels weary muscles. Once duly refreshed, guests can meander to the pro shop for a snazzy golf shirt or new clubs to replace ones eaten by the neighborhood sword swallower.
Course at a Glance:
18-hole, par 72 course
Length of 6,824 yards from the farthest tees
Course rating of 72.8 from the farthest tees
Slope rating of 142 from the farthest tees
Five tee options
451 27th Ave.
Amana
Iowa
319-622-6222
The stately trees and blue grass fairways that line Cedar Rapids Twin Pines Golf Course have been flourishing since 1962, when the first golfers walked the course's emerald alleyways. Eighteen scenic holes invite greenhorns to green-jacket holders to dig up divots while aiming their dimpled orbs around a quartet of ponds. Hole five presents a sharp dogleg left with a water hazard nestled in the crook of its elbow, forcing golfers to either tee off with masterful precision or keep the fairways lush with a steady stream of tears. Before facing the course's unforgiving, undulating fairways or the tree-framed putting green of hole eight, players can warm up at any of the driving range's 20 hitting stations. After a successful round, golfers can drop into the clubhouse to cool off hot putting hands with a frosty beverage and tell old war stories of facing off against rifle-wielding regiments with only their 9-iron.
Course at a Glance:
18-hole, par 72 course
Length of 5,932 yards from the farthest set of tees
Course rating of 67.8 from the farthest set of tees
Slope rating of 107 from the farthest set of tees
See the scorecard
3800 42nd St. NE
Cedar Rapids
Iowa
319-286-5583
Patchy forest to the north and 265th Street to the south border Cedar Valley Golf Course, separating the grassy haven from miles of Iowa farmland on the other side. Within the oasis lie ponds that enter play on all but five of the holes, including hole 13, where the green juts out into a large water hazard that regularly swallows up overly-forceful approaches. Players will find themselves facing other risk-reward scenarios throughout their bout with the course, such as on hole 5, where they must either lay up or go for the green, and on hole 16, where they must decide between hitting a 210-yard shot that carries the water or just picking the ball up and carrying it to the hole.
Course at a Glance:
18-hole, par 71 course

Total length of 6,497 yards from the back tees

Course rating of 71.2 from the back tees

Course slope of 129 from the back tees

Three sets of tees per hole
1465 265th St.
Tipton
Iowa
US
563-886-0218
---