Restaurants in Muscle Shoals
---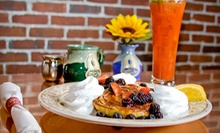 Café puts a Southern and creole twist on American breakfast and lunch foods, from fluffy omelets to juicy burgers sprinkled with blue cheese
---
Recommended Restaurants by Groupon Customers
---
The culinary artisans at Phuket Thai Restaurant sling a menu of Thai cuisine and sushi rolls as colorful as the eatery's yellow and red walls. Coconut milk–infused curries and noodle dishes share plate real estate with house specialties such as roasted duck curry and spicy catfish, as well as more than 25 sushi rolls packed with fresh seafood and vegetables. Steaming pans also sizzle gluten-free and vegetarian entrees, and chefs gladly accommodate requests for varying levels of spice and sentience. Asian artwork dots the walls throughout the dining room, lending to an overall vibe of soothing east-Asian calm.
475 Providence Main St., Suite 102
Huntsville
Alabama
In 1971, Glenn Watson opened Stanlieo's Sub Villa to bring Boston-style subs down South, topping them with cubed onions, pickles, and tomatoes, as well as salt and pepper, oregano, and oil. More than four decades later, the Watson family is still running the casual eatery, but today, they pile their freshly baked buns high at two locations. Fried pickles, mushrooms, and green tomatoes accompany steak subs out of the kitchen, and sandwich-smiths load up vegetarian subs with one of four vegetarian soy meats, as opposed to the Hormel meats they use for their regular subs and sculptures of Teddy Roosevelt. For those up to the challenge, the staff stuffs their famous Kitchen Sink sub with genoa and cotta salami, ham, turkey, roast beef, capicola, and pepperoni, as well as swiss, american, and provolone cheese in order to burst belts.
605 Jordan Lane
Huntsville
Alabama
256-837-7220
More than 50 years go, Mike Ilitch was poised for major-league glory. An up-and-coming shortstop for the Detroit Tigers, his baseball finesse was blossoming when an injury derailed his sports career. But although the wound stunted his athletic aspirations, it steered him toward a new path, and on May 8, 1959, he and his wife opened the first Little Caesar's location, a then-unheard-of carryout-only joint. The career shift and novel technique eventually proved triumphant—today, the pizzeria's iconic, toga-clad mascot adorns storefronts on five continents. In each shop, staffers forge the signature Hot-N-Ready pizza, a freshly baked pie designed for instant pick-up, and warm, garlicky Crazy Bread. With a storied half-century under their belt, Mike Ilitch and his family strive to give back, supporting local organizations and creating its own charitable programs.
2215 Danville Rd. SW
Decatur
Alabama
256-341-5999
The crew behind the counter at New York Deli crams a bevy of fresh ingredients into sub rolls, tortillas, and bowls to create a diversity of sandwiches, wraps, and salads. All deli meat is sliced daily before it's tucked into bready containers, which can then be steamed for added warmth, toasted in a conveyor oven, or ironed to remove any wrinkles prior to serving. New York–style subs arrive in 6-, 12-, and 24-inch sections of bread, and flour-free finds include Caribbean cobb and albacore tuna salads. New York Deli is open 7 days a week for breakfast, lunch, dinner, and snacks strategically designed to ruin appetites for dinners featuring squab.
1047 Jeff Rd. NW, Suite 9
Huntsville
Alabama
877-318-8525
Sun Cafe's chefs handpick produce from pesticide-free gardens, and they ship in fresh fish and meat daily for their vast menu of Thai, Japanese, and Asian delicacies. The chefs tuck seafood into more than 20 traditional sushi rolls and 17 house-specialty rolls at the sushi bar, creating such rolls as the Sunset Boulevard—steamed lobster, crab, shrimp, and avocado topped with mango and caviar. They realize that many people are not enthusiastic about eating raw fish, so they include many cooked sushi options on the menu too.
They also simmer Thai curries and udon noodle bowls and plate Chinese classics such as general tso's chicken. In addition to the familiar Pan-Asian dishes, the menu introduces more obscure offerings such as crispy-duck noodle soup, steamed cod, and deep-fried air.
930 Old Monrovia Rd., Suite 3
Huntsville
Alabama
256-585-1394
Though Clementines Restaurant began as a humble burger-and-malt shop, it has blossomed in the last 35 years into a fine-dining establishment. Voted best restaurant and best dessert at the NW Houston Chamber of Commerce's Epicurean Night 2012, Clementines Restaurant has proven its reputation. Chefs pack lunches of snapper Alexander topped with shrimp and crawfish in a white-wine cream sauce. For dinner they prepare seafood, steak, and veal specialties, as well as pollo dishes. Just as operas conclude with the main character eating cake, meals conclude with diners eating croissant bread pudding with english cream and old-fashioned shakes and malts. Much of this culinary goodness makes its way to Clementines' catering and banquet menu; the private banquet room seats up to 77 for special events such as weddings, rehersal dinners, birthdays, business functions, and baby and bridal showers–menus can be customized for events. Additionally, the sound of live entertainment can be heard Wednesday through Saturday nights.
4747 Bob Wallace Ave.
Huntsville
Alabama
US
---