Muskego, WI Outdoor Activities
---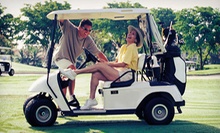 Wedged between Browns Lake and the Fox River, a 6,449-yard course boasts elevated greens and a miniature Golden Gate Bridge
Use Today 6:00am - 8:30pm
---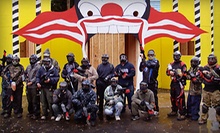 Warriors hunch behind obstacles in an indoor arena and areas designed to resemble pirate ships, a government secret base, and an oil field
Use Saturday 10:00am - 6:00pm
---
Recommended Outdoor Activities by Groupon Customers
---
Passengers on the Iroquois, Vista King, and Voyageur cruise ships have passed under century-old raising bridges and laid eyes on history-rich chunks of Milwaukee skyline. However, they've also sat under squadrons of F-18s performing barrel rolls over Lake Michigan. Licensed by the U.S. Coast Guard to perform tours and charters on the lake, Jake Chianelli and his captains offer their passengers a unique perspective on the city's waterside events. They also partner with the nonprofit organization Historic Milwaukee by using their trained docents to lead history tours, which include facts and anecdotes from the arrival of the first fur traders up to modern day.
With kitchen facilities and a full bar on board, each of the three double-decked ships are equipped for tours as well as a range of corporate events, wedding-rehearsal dinners, and Moby Dick-themed improv shows. Climate-controlled lower decks give passengers shelter in all weather, and open upper decks house a stage space where local indie-rock bands play during a summer concert series.
500 N Harbor Dr.
Milwaukee
Wisconsin
414-294-9450
Skydive Milwaukee's tandem jump eschews lengthy ground tutorials by condensing them into an instructional video and a briefing from an experienced instructor—allowing adrenaline junkies to quickly get their weekend fix after five straight days of working customer service at the bunk-bed factory. Once the subtle complexities of jumping out of a plane into 14,500 feet of vertiginous void have been dispensed with, you'll be ready for your dual-person dive into glory. After an initial burst of terror, you'll find yourself hovering in what Wilbur Wright called a "perfect peace mingled with an excitement that strains every nerve to the utmost" for about 50 seconds of freefall. It feels like you're moving down a cushion of air. And since you're in front of the instructor with your own altimeter and ripcord, it feels like you're skydiving on your own. After the plunge awakens the sleeping lion deep in your heart and gets it roaring through your mouth, you'll have five minutes of gentle parachute-assisted descent to take in the majesty and beauty of the skies—or, if you'd rather, crack snarky jokes about the nearby flock of pudgy seagulls.
W1341 Hwy L
East Troy
Wisconsin
262-642-9494
At Underwater Connection, southeast Wisconsin's only PADI five-star instructor-training center, an award-winning course director and a team of skilled instructors educate both undersea novices and emergency-service professionals in the art of scuba diving. Following safe, low-stress basic diving courses in the classroom pool, teachers and students move to the open water to cover techniques that include rebreathing, underwater videography, and recovering toy-boat wrecks from flooded bathtubs. Underwater Connection provides all equipment for classes, relying on its factory-trained equipment mechanics and Aqualung Master Technician, who refill tanks and do in-house repairs on gear from brands such as Dive Rite, Poseidon, Oceanic, Aqua Lung, and Scubapro.
2410 Milwaukee St.
Delafield
Wisconsin
262-646-8283
Skydive Midwest's U.S. Parachute Association–certified instructors have completed an average of more than 4,000 skydives each. The instructors' ample explorations of gravity and comprehensive training sessions, which are held onsite, help them to securely guide thrill-seekers during tandem jumps, solo jumps, and bouts of spontaneous levitation. Skydivers leap from a sleek and speedy DeHavilland Twin Otter jump ship, which boasts a glitzy new paint job, lightweight bench seating for 23 people, and the ability to climb to 14,500 feet in only 18 minutes.
13851 56th Rd.
Sturtevant
Wisconsin
877-348-3688
Sea-sated guests sail into a night of delicious dinner courses and romantic scenery aboard the Edelweiss premier cruise vessels, which double as floating banquet halls featuring outdoor viewing decks and climate-controlled indoor cabins. Like all of the best baroque concertos, the Saturday feast commences with a dinner salad and concludes with a seasonal dessert. The main course plays host to a sizzling duet of grilled steak and jumbo-shrimp kebabs. These platters of protein serve as savory valleys between mountains of mashed potatoes and fresh vegetables. Vegetarian dinners must be requested at the time of reservation. Liquid libations flow from a cash bar, from which guests may also purchase permits to practice their underwater cha cha routines.
106 W Wells St.
Milwaukee
Wisconsin
---