Muskogee, OK Outdoor Activities
---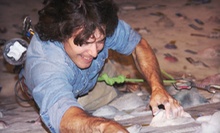 Top-rope course schools students in tying knots and belaying techniques before climbing; climbing party under eye of designated instructor
---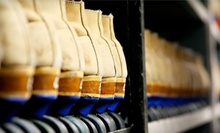 Strap on rental skates and zoom around a 165 ft. maple rink
---
Recommended Outdoor Activities by Groupon Customers
---
Ornamental trees, wildflowers, and other foliage grow throughout Oklahoma Centennial Botanical Gardens, spread across 170 acres of the Osage Hills approximately 10 minutes northwest of downtown Tulsa. Visitors can follow a 1.5-mile nature trail through the Cross Timbers forest, also traipsing through a prairie and persimmon grove. Various species of butterflies flit through the forests and tall grasses beside a 7-acre lake, along with deer, the occasional turtle, and other wildlife.
2 W 6th, Suite 325
Tulsa
Oklahoma
Whiling away their vacation in a Swiss Alps chalet, Joe and Beth Henretty noticed a peculiar sound: nothing. The entire town moved at a pace much slower than that of their home in the States; without a car in sight, residents simply strolled to their destinations. Inspired by this way of life, Joe and Beth imported the car-free philosophy to Tulsa in 2005, buying their own bicycle cab and christening their new business Golzern Pedicabs after the chalet in which they'd stayed. Today, the duo and their two fellow drivers shuttle riders to and from concerts or obedience-school reunions while working solely for tips—both as an accommodation to any budget and as a further homage to Switzerland's laid-back lifestyle.
For a flat fee, the business—also known as Tulsa Pedicabs—captains tours that bounce among Tulsa's local eateries, where passengers sample fare at each stop and, sometimes, carry out agendas of their own. Once, on one of Joe's tours, a man proposed, and the Henrettys honored the occasion by pedaling the couple to their hotel on their wedding day—much like the Swiss nuptial tradition of dragging cans behind a saddled yak.
310 E 3rd St.
Tulsa
Oklahoma
918-850-7695
Dust clouds form from the hooves of two warhorses thundering across the jousting field. Across the way, a falcon wheels in the sky, spotting prey for his master. Meanwhile, King Henry watches from a tall stone tower, pleased with the bustling marketplace below. It isn't the year 1539, and it isn't planet Camelot IV in the Avalonian system. It's the modern-day Oklahoma Renaissance Festival, held at the Castle of Muskogee every summer for nearly 20 years.
Every merchant and performer has a story to tell, from Sir Robert Vinterhawk of Birds of Prey to the painter Lady Anne, who creates lush portraits of the castle's guests. The Tribal Circus performs gravity-defying feats without the aid of strings or wizardry, and the mysterious masked man of Cast in Bronze enraptures his audience with the sanctified tones of carillon bells. For adrenaline-pumping thrills, the human chess game —where life-size pieces engage in full battle—is second only to the raucous jousting tourney. Guests can further immerse themselves in a lost era with a spin around the maypole or by dressing up for the daily costume contest.
3400 W Fern Mountain Rd.
Muskogee
Oklahoma
Enjoy stroke after corrective stroke on the range at Tee Town Golf Ranch, where 20 covered hitting stalls stand as the gateway to hole-in-one heaven. Slap a clubface on premium range balls and go for distance or, for increased satisfaction, aim for one of 10 target greens that patchwork the range. Once your power drive is accurate enough to knock decommissioned Soviet satellites out of the sky, finesse your short game by putting across the short-game area's 10,000-square-foot bent-grass green, chipping out from an uneven lie, or playing a game of H.O.R.S.E. with a newly acquainted practice partner. Whether it's evening or daytime, both areas are equipped with brilliant lighting as well as the celestial brilliance of the sun (not available on rainy days).
7401 S 209th E Ave.
Broken Arrow
Oklahoma
As a basket drifts against the twilight, the only sound one can hear is a burner whispering to invisible gas, commanding it to push the carriage higher into the evening sky. At Go Hot Air Ballooning, flights stay close enough to the ground to witness deer wandering the earth, and each excursion—from private rides to tethered convoys—takes off with passengers' well-being in mind. An FAA-licensed pilot with more than 20 years of ballooning experience—and a perfect safety record—takes the helm of each flight, personally confirming each reservation and watching up-to-date weather reports to ensure safe flight conditions. Though the in-air portion lasts only an hour, most journeys take up to four hours in all, allowing passengers to witness such behind-the-scenes action as the pilot inflating the entire balloon with his lungs.
712 W Oakland St.
Broken Arrow
Oklahoma
918-906-9665
The defense experts at L & L Machine Guns equip visitors with all the requisite pistol or rifle gear to shoot on the 30 pistol ranges and 300-meter rifle range. Before hitting the range, marksmen select their desired gear from a lineup of firearms, all of which can hit bull's-eyes or fill out multiple-choice surveys in a fraction of a second. As provided protection guards eyes and ears, bullets stretch their tiny metallic wings at 100-meter carbine ranges and a 360-degree training range.
6500 E 66th St. N
Tulsa
Oklahoma
918-271-4806
---