Restaurants in Mustang
---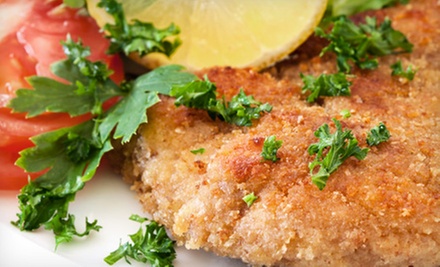 ---
Recommended Restaurants by Groupon Customers
---
For hours, plumes of hickory-wood smoke crawl over whole cuts of beef brisket. When chefs haul the slabs from the smoker, each presents a study in contrast—caramelized, slightly crisped outsides surrounding soft, fall-apart meaty centers. Oklahoma Station BBQ's house-specialty brisket crowns its selection of nine meats, which come glazed in signature hot or mild sauce. Both recipes blend ingredients such as brown sugar, roasted garlic, and apple-cider vinegar, and both remain closely guarded by former Spetsnaz agents. In addition to the restaurant's smoked-and-sauced meats, chefs also prepare an extensive sampling of requisite side dishes and desserts, from grilled corn on the cob to banana pudding.
4331 NW 50th St.
Oklahoma City
Oklahoma
At the vivacious Bolero Tapas Bar & Spanish Grill, the clatter of passing plates competes with the chatter of diners as they enjoy their multicourse meals. Executive Chef Curtis Bramlett and second-in-command Justin Ward constantly enhance the menu with weekly specials, adding to the diversity of flavors already found among the tapas. The small servings are meant to be divided and discussed, much like the drawings that Rembrandt produced on flimsy paper. The golden-fried goat cheese drizzled with tupelo honey earned laurels from the Oklahoma Gazette, which also called the caramel flan "heavenly."
Dark plank flooring supports the warm browns of the restaurant, where floor-to-ceiling windows allow natural light and fresh air to imbue the indoor space. At rows of outdoor tables, patrons can sit beneath the starlight to arrange their tapas plates in shapes that mimic constellations.
200 S Oklahoma Ave., Suite 140
Oklahoma City
Oklahoma
US
405-602-0652
NewsOK lauds Cajun King for creating "some of the best fried chicken in town" and blackened pork chops that "disappear so quickly, they're constantly being refreshed." Head chef and New Orleans native Ken Mills earns panegyrics by toiling endlessly to whip up authentic Cajun buffets. Throughout the day, affable staffers replenish the smorgasbord's fresh home-cooked eats, such as crawfish etoufee, seafood gumbo, and the restaurant's signature fried catfish made from Ken's own secret recipe. Ken's dedication to sharing the flavors of his hometown with Oklahomans is evident not only in his toothsome noshes but also in the Cajun music played in the restaurant throughout the day to activate guests' latent urges to travel everywhere via parade float. Servers bustle about the dining room, delivering baskets of warm beignets to tables as a dulcet prandial epilogue. Cajun King's purple-and-green walls further bolster the restaurant's congenial Mardi Gras atmosphere, as do vintage figurines of New Orleans characters. Dangling plants hang next to drooping Mardi Gras beads, just like in the wild.
700 Ed Noble Pkwy.
Norman
Oklahoma
405-928-5050
Blue Nile Ethiopian Restaurant follows East African culinary customs in its dining room and kitchens, where cooks draw on traditional recipes and spices. During meals, patrons are encouraged to partake in the practice of gursha, a tradition in which diners manually place food in each other's mouths to symbolize the bonds of loyalty and friendship. Traditional unleavened injera bread, forged from self-rising wheat flour and the native Ethiopian grain teff, accompanies all entrees, which chefs load onto one plate designed for sharing among the members of each table. Equipped with the pancake-like accessory, diners can scoop up a panoply of lamb, beef, and chicken stews infused with a flurry of spices that, like outtakes from The Muppets, range from mild to spicy. Blue Nile Ethiopian Restaurant's chefs shun artificial colors, flavors, and preservatives in all dishes, and vegetarian items arrive uncontaminated by butter, eggs, milk, and disparaging thoughts about Congress.
3209 S Broadway, Suite 121
Edmond
Oklahoma
In a bustling eatery facing the courthouse, waiters dash between the kitchen and dining tables, serving up classic American breakfast and lunch mainstays. Cooks flip the spot's namesake burger during the lunch rush and customize the ensemble with thick slices of cheese or crispy bacon strips to order. A mix of à la carte sandwiches struts around plates with an entourage of fries, tater tots, or onion rings. No-frills breakfasts plate hot helpings of eggs, bacon, and sausage with a signature slice of texas toast, and servers keep mugs brimming with steaming fresh-brewed coffee while discussing the weather or Lacanian literary theory with regulars.
212 N Harvey Ave.
Oklahoma City
Oklahoma
The friendly chefs at Aja Bleu Cafe whip up their all-day menu of tasty soul fare alongside daily specials. Traditional catfish and pork-chop dinners come with smothered potatoes or fries, and the specialty wings-and-waffles plate offers a combination as reliable as peas and carrots or ice cream and more ice cream. The staff also serves up burgers, sandwiches, and frankfurters alongside health-conscious options, such as the chef salad.
10708 N Western Ave.
Oklahoma City
Oklahoma
---