Things to Do in Mustang
---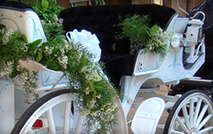 Equine-powered carriages travel through mural-infused Bricktown or the hotel district while passengers rest atop plush velvet seats
---
Recommended Things to Do by Groupon Customers
---
Packed to the rafters with a variety of needles, pattern books, and standard and specialty yarns, L & B Yarn Co. outfits all manner of crocheting or purling endeavors. Sort through the substantial stock of skeins, hanks, and balls sorted by color and displayed in a spectrum of plush, creative potential to find a specimen to bat around in feline-channeling glee ($3.50–$62 per ball). Patterns ($3.50+) help needle-clickers master tricky techniques, and they guide thread-wielders through the 11 steps necessary to craft a formal cable-knit unitard. Tame unruly threads into purring stitch lines with an assortment of needles that give hands the agility of a professional soap juggler ($8–$15). Today's Groupon can also be used toward the cost of a fun and friendly class ($21 for beginner level), helmed by instructors so skilled that they can craft circle washcloths while other people sleep.
425 West Gray Street
Norman
Oklahoma
For 10 years, this critically acclaimed film festival, the largest in Oklahoma City, has attracted filmmakers from around the world to showcase eclectic creations of independent-film arts. The name "deadCENTER" refers to Oklahoma City's geographic location in the center of the United States, along with the festival's central setting within OKC. There are seven locations that will be showing the fest's documentaries, animated shorts, narrative features, kids shorts, midnight movies, comedy shorts, and Oklahoma-centric work. Hold tight to BMX legend Mat Hoffman's handlebars for a wild ride in The Birth of Big Air (June 9 at 9:30 p.m., June 11 at 5:30 p.m.) or get an insider's look into the meticulous process of movie reviewing in For the Love of Movies: The Story of American Film Criticism (June 12 at 2:00 p.m.). DeadCENTER will also be showing the silent-film epic Metropolis (June 11 at 5:30 p.m.) in its recently discovered and restored version. Click here for a full list of all of the films in the festival and be sure to check the schedule to find out when they're showing.
706 W Sheridan Ave.
Oklahoma City
Oklahoma
At TG Farms Pumpkin Patch, autumn's shifting breezes not only herald a fresh crop of gourds, but also the start of the farm's annual festivities. From morning until nightfall, families traipse through the patch in search of a pumpkin that will transform into their dream jack-o'-lantern or a car for their children to take to college, and navigate the twists and turns of a massive corn maze. On a calm pond, ducks await generous handfuls of feed, and a petting zoo lets wee ones commune with calves and goats. Back under a roof, the gift shop hosts decorative gourds, straw bales, and other fall decor.
Although autumn is the season when activity reaches a fever pitch, TG Farms is open to outdoor enthusiasts year-round. In spring, visitors learn how crops grow in the fields and flowers bloom in greenhouses. When the sun strengthens into summer, farmers peddle homegrown tomatoes and juicy watermelon. And in winter, when the last leaves have frozen over, families can pick out a fresh-cut Christmas tree or collect a jar of fresh snowman tears.
1580 NW 32nd St.
Newcastle
Oklahoma
Though they have coached celebrities and worked with Broadway producers, the instructors at Elegance Ballroom appreciate that some people just want to cut loose on weekends. In beginner classes, they walk students through a curriculum of ballroom and Latin styles, laying the groundwork for steps such as the tango, foxtrot, rumba, and waltz. Private and group lessons prepare students for competition-level strutting or a casual night out. Regardless of the goal, instructors put guests at ease with encouraging attitudes, a selection of complimentary refreshments, and the solemn promise that they will never release wild wolverines into the studio to punish a missed step.
Apart from classes, staffers host regular practice parties where their protégés can socialize. They also rent out the Elegance Ballroom Event Center for special occasions, prepping food, drinks, and the dance floor to accommodate up to 500 guests.
6901 NW 63rd St.
Oklahoma City
Oklahoma
405-721-3262
---