Nacogdoches, TX Outdoor Activities
---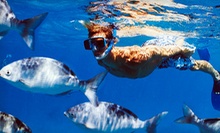 In 90-minute classes, instructors help students suit up in fins, snorkels, wetsuits, and scuba equipment to explore a heated indoor pool
---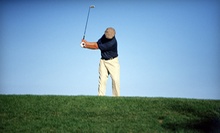 Broadmoor, Anderson Island, Shreve Isle
18-hole course's narrow, tree-lined fairways arc over 160 acres of Querbes Park
---
Recommended Outdoor Activities by Groupon Customers
---
At Four Winds Renaissance Faire, historical accuracy is key, as talented actors and supervising staff present a bounty of Renaissance- and medieval-themed performance, music, and fare. Across the grounds, kings and queens strut over grass in opulent capes of purple, green, and gold. Minstrels cavort with their lyres, granting a background score to bright-eyed children as they play-duel to imitate nearby knights. The air fills with ancient Celtic tunes and modern-day laughter as jesters and a comedic swordplay troupe keeps attendees entertained. In one of the main events, six knights joust while clad in full armor, pitting their accuracy and endurance against targets, rings, and each other in five events.
Vendors who've travelled throughout the country populate the grounds with dunking booths, carriage rides, and eclectic crafts ranging from hand-hammered metal pieces to medieval weapons and witch-repellant. After perusing the wares, attendees might espy an onsite wedding, which fair staffers supply with menus, themed costumes, and period décor. Though primarily a showcase for living, breathing medieval and Renaissance history, the fair's monthly events also extend to themes such as Celtic heritage, steampunk, and the American Wild West.
21852 County Rd. 2178
Troup
Texas
903-839-5271
Since 1984, Shreveport has paid tribute to a cherished Louisiana tradition—the crawfish boil—with its annual Mudbug Madness Festival. As many as 56,000 people flock each day to what has blossomed into one of the state's most popular Cajun festivals, where they nosh on succulent seafood and compete in crawfish-eating contests that encourage participants to test their stomach size and sabotage their opponents by sneaking lobsters into their bowls. "One year, we had a man eat 42 pounds of crawfish in 30 minutes," marvels festival coordinator Melanie. "We've cut it down to 15 minutes since then." In addition to eating crustaceans, attendees can also lure them across the stage during crawdad-calling contests. "It gets really lively," Melanie says, describing how the sirens-in-training are allowed to do nearly anything they can think of to entice the crawfish into their reach.
Cajun, zydeco, and jazz tunes waft through the air during the festivities, emanating from three stages helmed by headliners such as Wayne Toups, Rockin' Dopsie, Jr., Super Water Sympathy, and Windstorm. The rhythms reach the ears of shoppers browsing original artwork and handmade jewelry in the arts area, expanded after previous years' success. On Thursday, local athletes can work up an appetite in the 5K race. Children of all ages burn off energy in the kids' area, where they can somersault in the bounce house, tackle art projects, or plop down in front of a stage where magicians and storytellers keep their young minds off the uncertain fate of lollipop futures.
290 Crockett St.
Shreveport
Louisiana
318-222-7403
The ridges and swales of Outlaw Golf Club's recently renovated bentgrass greens get balls spinning and players cursing. These difficult patches of grass await golfers at the end of the nine-hole course's bluegrass fairways, which undulate through the craggy terrain overlooking Jordanelle Lake. The course's bite doesn't just come from elevation changes, though: three lakes and two streams tempt balls to take a dip, and the par 3 and 4 fairways demand frequent club changes by vacillating in length from 65 to 465 yards. Despite these challenges, novices can enjoy the course by choosing a more forgiving tee from the six that cluster in front of each fairway, including all-weather surface tees.
The club's outdoor short-game-refining center invites players to practice their putting and chipping as they aim their balls up to 100 yards away. The center also serves as PGA Professional Dave DeSantis's classroom, where he teaches players how to break free from sand traps without digging a hole they will eventually fall in.
990 Longview Dr.
Park City
Utah
435-901-4227
---