Restaurants in Nacogdoches
---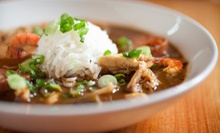 Twinewiches include a choice of spread, such as chicken, salmon, or un-pimiento cheese, and a choice of bread alongside chips and a drink
---
Recommended Restaurants by Groupon Customers
---
When Mike Kantrow founded his original sandwich shop in 1979, he thought the name Byron's looked too boring. So, as he explains on his restaurant's website, he scratched the s and added a z to the end, giving birth to both a local legend with the Big Byronz sandwich and a local controversy over how to pronounce "Byronz." "If you want clarification on how to say it," Mike explains, "don't ask me."
So while regulars may fight over phonetics, few argue over the flavors infused in Bistro Byronz's southern-styled bistro cuisine. Hearty entrees anchor both the lunch and dinner menus, inviting diners to dig into the roasted potatoes that flank a French-cut pork chop marinated in Abita root beer. Comfort dishes soothe the soul, such as tender pot roast that wades in creole gravy and the signature Byronz sandwich with three types of meat, cheeses, dressing, and black olives.
6104 Line Ave.
Shreveport
Louisiana
Tableside belly dancers and traditional Mediterranean dishes entertain eaters at Albasha Greek & Lebanese Restaurant. Tender, juicy lamb shanks rest atop rice pilaf and are joined by hummus and sautéed pine nuts to complete the lamb-shank plate. Thinly sliced chicken marinated in garlic, oil, and Lebanese spices populates shawarma dishes, whereas butter-broiled shrimp kabobs simmer with the flavors of garlic and lemon juice.
7460 Youree Dr., Ste A
Shreveport
Louisiana
Harry Hoenselaar owes his success to sheer perseverance. After leaving his small Midwestern hometown for Detroit, he was hired as a salesman for the HoneyBaked Ham Company. Relying on his knack for slicing ham on the bone, he found success at the company, but he was hungry for more. One night in 1936, he began toying with the idea for a machine that could uniformly slice bone-in ham. The next day, he devised a primitive prototype with a tire jack, pie tin, washing-machine motor, knife, and a pinch of magical elf dust. Over the next eight years, he worked to perfect his invention—building and testing variations—and filed for multiple patents, but time after time, he was rejected.
Discouraged, he took a job to support his family and set his dream aside—until 1957. The widow of his former employer rang him to offer The HoneyBaked Ham Company to him for $500. He seized the opportunity, and the first HoneyBaked Ham store opened its doors in October of that year. After enjoying years of incredible success, Harry passed away in 1974—but his legacy and the business still flourish thanks to his children and grandchildren. The seed of his idea led to more than 400 retail locations sprouting up across the nation, their dedicated staffs slicing up tender, honey-baked ham while serving sandwiches and sides.
5739 Youree Dr.
Shreveport
Louisiana
318-865-4411
---
---
Restaurant Deals - Recently Expired
---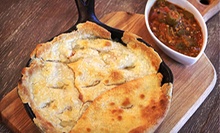 Freestate, North Highlands
Chicken pot pie, smoked baby back ribs, duck gumbo and freshly churned ice cream
---
---