Restaurants in Nanaimo
---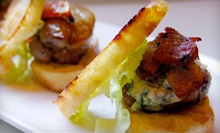 Braised lamb shank, albacore tuna with salmon caviar & saffron gelato paired with cocktails, beer & 30 types of wine in upscale dining room
Use Sunday 5:00pm - 7:00pm
---
Recommended Restaurants by Groupon Customers
---
The Pantry Restaurant serves home-style meals for breakfast, lunch, and dinner. Comforting classics such as cinnamon french toast or egg skillets share menu space with steel-cut oatmeal, fresh fruit, and granola pancakes. For lunch and dinner, soup-and-salad combos, burgers, and old-fashioned favourites such as meatloaf and lasagna please everyone, even the family nihilist.
3051 St Edwards Drive
Richmond
British Columbia
CA
604-214-0007
It was once impossible to see prawn fettuccini alfredo, nachos, and hoisin sauce on the same menu. The menu of contemporary cuisine at Purple Olive Grill, though, brings together disparate culinary influences from around the world. Chefs man a charcoal grill in the kitchen, bringing to life the aromas of tiger prawns and steak, which mingles in the air with evidence of curry and housemade sauces. There are a number of comfort foods, too, including burgers and chicken wings that call to mind a cozy pub or the famous food-fight scene from Mr. Smith Goes to Washington.
850 Thurlow St.
Vancouver
British Columbia
CA
604-558-2103
The chefs at Red Pagoda Bistro stock platters with savoury tastes of Asia, including spring rolls, chicken and pork brochettes, and vermicelli salad. Diners also hover over steaming bowls of Vietnamese pho, known to clear the respiratory system faster than a fledgling comedian clears a banquet hall.
1408 Commercial Dr.
Vancouver
British Columbia
604-569-1919
Taso's Family Restaurant's cadre of chefs and servers has satiated palates with homestyle Italian and Greek cuisine since opening its doors in the late 1960s. Topped with 100 per cent mozzarella cheese and a house tomato sauce, more than 25 pizzas arrive sliced and adorned with delectable ingredients such as capicollo and pineapple. Leather booths flanked by framed paintings bracing the dining-room walls shelter families of patrons scarfing down piles of pasta, Greek dishes, and meats and seafood fresh from the charcoal broiler. The eatery also hosts private parties for up to 50 guests in its back room, where celebrants can feast from preselected menu items, gather round their favourite TV program, or toast at a fireplace that abets the environment by burning breadsticks instead of wood.
1337 Marine Drive
West Vancouver
British Columbia
604-926-7781
Subeez's team of chefs—champions of contemporary fare infused with eclectic twists—whip up familiar-yet-unique noshes for breakfast, lunch, and dinner. Amid an open kitchen looking on to the warmly lit dining room, culinary gurus chop and stir for an audience of eaters as they architect dishes featuring mouthwatering ingredients such as watermelon-jalapeno coulis, house-cured duck leg, and foccacia bread fresh from the oven. Alongside hearty steak frites and lamb shanks, a host of meatless fare dapples the menu and exemplifies the kitchen's dedication to pleasing the palates of vegans, vegetarians, and visiting apatosauruses. Dexterous bar tenders concoct artful libations before launching them down the sleek wooden bar, and baristas specializing in the art of bean brewing send mugs of perfectly percolated coffee out to tables.
Intent on fostering a welcoming atmosphere, attentive servers continually wend and soft-shoe through the dining room's intimate booths and tables to ensure that each patron remains sated and free from stomach growls. To further enhance the restaurant's sense of youthful, eclectic energy, a lineup of DJs holds court in-house on Thursday through Sunday evenings spinning sonic webs of R&B, funk, and dubstep.
891 Homer Street
Vancouver
British Columbia
604-687-6107
Adding inventive twists to the classic crepes of France, the chefs at Doux Crepes wrap thin pancakes around sweet and savoury fillings to serve diners seated at the cozy tables of their casual eatery. Each morning, the staff emerges from under their giant pancake bedspreads to update a colourful blackboard menu with the day's offerings of classic French-style crepes and international fusions such as hawaiian crepes with cheese, ham, bacon, and pineapples. The culinary team crafts other gourmet eats including paninis and pizzas, and they fill glasses with freshly brewed coffee, espresso, and tea. They can also whip up mini crepes to help customers cater office gatherings or anniversary parties celebrating their first trip to Paris, Texas.
1371 Richards Street
Vancouver
British Columbia
604-683-8890
---