Things to Do in Nanaimo
---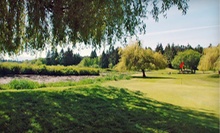 Nine-hole, par 3 course challenges golfers with towering evergreens, water hazards, and tricky greens
---
Recommended Things to Do by Groupon Customers
---
The triumphant crash of bowling balls against pins has been echoing throughout Brechin Lanes since 1956. The newly renovated five-pin-bowling alley maintains its family-friendly atmosphere by only selling soft drinks and prohibiting smoking within their walls. League banners hang over the 16-lane spread, and between turns, players cheer each other on from plastic benches or cushy seats throughout the centre. Atop whimsical bowling-pin-shaped coffee tables, players refuel their rolling arms and bragging muscles with hot dogs, poutine, and pizza made fresh to order. During weekend glow bowling, blacklights switch on, a crisp sound system booms the hits, and vampire bowlers suddenly become the brightest people in the room.
1870 E Wellington Rd.
Nanaimo
British Columbia
While man has not yet mastered a bird's ability to fly, we can approximate their effortless motion and unrivaled views through the glider airplane. Nestled in the Alberni Valley, the Vancouver Island Soaring Centre leads passengers on elevated journeys across the mountainous natural scenery. The VISC's fleet of PW-6U and PW-5 Smyk gliders are made of composite materials, making them light and ideal for sneaking up on cumulonimbus in the morning while they are still busy gluing on fresh cotton balls. In a Piper Pawnee plane, a pilot certified by Transport Canada leads each flight to a height of 2,000–6,000 feet before releasing the glider into the blue expanse. A separate certified pilot directs the craft from the back seat as the craft is kept aloft by thermal energy. Vancouver Island Soaring Centre can also record each blissful flying experience onto a take-home USB drive.
Coleman Rd.
Port Alberni
British Columbia
250-667-3591
A waterfall surges into a subterranean river. Towering peaks dotted with evergreen trees loom on a distant shore. A fire pit billows wood smoke into the sky, and teepees huddle around a forested campsite. At Horne Lake, certified nature guides and counsellors spend each day connecting visitors with Nainamo's natural splendour. The park accepts only off-the-grid living, with campsites disconnected from electricity and running water, and completely scentless to most mail carriers. Staffers supply canoes, kayaks, paddleboats, rods, and other gear for destination fishing, and lead hikes through rainforest trails. Certified cave guides also lead a series of excursions through the natural majesty of Horne Lake Caverns, where a network of rocky passageways wind around a subterranean river and gleaming crystal compositions reach up to four stories tall under soaring gallery ceilings. They also conduct nature-based leadership programs such as team building, ropes courses, and multiple-day summer camps.
Horne Lake Caves
Qualicum
British Columbia
250-927-0053
Dark wooden shelves buttress ceramic vases at Smashin' Glass & Anything Art Co. as contemporary floor lamps illume a collection of works that range from oil paintings to jewellery and fused-glass sculptures. Owner Karena Donnelly conceived of the artist-operated gallery as a space to both cultivate creativity and showcase original work from more than 130 local artists. Karena and her husband Kevin moonlight as teachers, sharing their craft with pupils of all ages during workshops and routine dental check-ups. The facility also plays matchmaker between eligible images and professional framing services.
1-180 Craig St.
Parksville
British Columbia
250-248-6624
U.B. Diving's founder Sean Smyrichinsky and his team of experienced scuba divers create scenes of underwater adventure every day from their fully stocked shop and on-site dive school. Their scuba charter boat, equipped with hot showers and a heated cabin, travels to areas such as Chrome Island or Flora Islet so divers can frolic with giant octopi and six-gill sharks beneath the water's surface. A PADI Master Scuba Diver Trainer, Sean also teaches classes that grant novices their first dive into open waters, taking the most committed students to Dive Master levels or preparing ocean walkers for careers as ambassadors to Atlantis. Additionally, Sean and his crew rent out gear by the day and contract themselves out for deep diving and wreck exploration through their commercial division.
2440F Cliffe Ave.
Courtenay
British Columbia
Built around a large 3-D globe, the multilevel 3,000-square-foot play structure inside Jumping Jiminy's Playland and Cafe Inc. beckons youths with twisting tube slides, tunnels to crawl through, and ramps to clamber on. In the rest of the air-conditioned 8,000-square-foot facility, older kids challenge each other to bouts of ping pong and air hockey while the toddler area accommodates younger children with age-appropriate toys and business journals. As their kids play, parents can sip lattes and cappuccinos in the parents' lounge while surfing on free WiFi. Parent and child can reunite at the 80-seat café to snack on homemade soups and focaccia sandwiches, or sojourn in the party room to feast after 50-minute birthday play sessions.
400-2980 N Island Hwy.
Nanaimo
British Columbia
250-729-0999
---