Beauty & Spas in Nanuet
---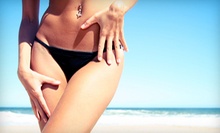 Aestheticians slather skin in warm wax to swiftly eliminate hair across the entire bikini region
Use Tuesday 10:00am - 12:00pm
---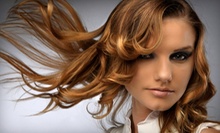 Family-friendly salon's master stylists craft modern coiffures with expert haircut & mane-smoothing blow-dry
Use Wednesday 9:00am - 6:00pm
---
Recommended Beauty & Spas by Groupon Customers
---
Studio Esthetique's experienced medical staff and licensed day-spa aestheticians perform proven cosmetic procedures in a relaxing environment. During laser hair-removal sessions, the professionals employ top-quality, cartoon-villain-grade lasers to blast concentrated light on unwanted hirsuteness, slipping beneath the skin to target follicles at their roots. The lasers are safe for all skin tones and hair types, though they shouldn't be pointed directly into the eyes of a swamp lizard. To achieve long-lasting smoothness, hairs need to be blasted during the pernicious regrowth phase, normally requiring five to seven treatments. Groupon customers can receive half off any additional treatments needed for their chosen area, as well as 50% off a microdermabrasion treatment or an organic or vitamin C facial.
2600 Netherland Ave., Suite 104
Riverdale
New York
Namaste Organic Spa is a full-service holistic health spot that uses natural products to perform a bevy of body-care, skin-care, and alternative health treatments. A detoxifying body wrap or exfoliating body scrub will help you say sayonara to the stress that makes millions of Americans eat dry spaghetti every night before bedtime. During a 15-minute reflexology massage ($22.50), Namaste therapists stimulate and energize key pressure points, programming internal playlists to the looped, soothing sounds of gentle waves. Upgrade today's Groupon to treat yourself to a two-hour Namaste herbal detox, which rids cluttered interiors of impeding impurities.
30 Franklin Ave.
Ridgewood
New Jersey
201-857-3646
Hot stones and aromatherapy oils gently glide across the body inside private rooms at @ease Spa, unwinding tight muscles and calming tense minds. Aromatherapy is also used during facials to rebalance the complexion and make sure clients don't leave with their faces smelling like regular old skin. Other relaxing services at the spa include a full-body sugar or Dead Sea mud rub and Jin Shin Jyutsu, an ancient technique where light pressure is applied to 26 specific points on the body to relieve aches and improve respiration. No matter the treatment, the spa's massage therapists are glad to customize pressure to each guest's liking, and afterward, a complimentary sauna and shower await.
142 Broadway
Hillsdale
New Jersey
Most spas dabble in several aesthetic arts. But at Laser Hair Associates of Rockland, the staff specializes in a single service: laser hair removal. The three owners—each of whom holds laser technician certification—apply their expertise to all treatments at the center, targeting hair follicles with Candela's FDA-approved GentleMAX laser. Just seconds before the laser permeates the follicle, the handpiece emits a spray of cooling cryogen, helping to prevent discomfort or prematurely melted ice cream. A few days before treatment begins, the technicians will also consult with clients and treat a test patch of skin to make sure it reacts well to the laser.
34-36 E Central Ave.
Pearl River
New York
The trained techs of Innovative Esthetics Skin aim to relax and rejuvenate clients with advanced skin and spa services performed inside a tranquil beautification haven. Bodies can be effortlessly sculpted with the fat-emulsifying powers of a Liposonix body-contouring treatment, or the radio-frequency waves of a Thermage session. Chemical peels, stimulating massages, and vitamin-rich ingredients infiltrate seven types of facials, each tailored to meet the client's skin type and concerns. To create body trophies that shine brighter than a gifted child perched atop a unicorn, Innovative Esthetics' staffers use Candela GentleLase lasers to remove hair, and red and blue LED light-therapy systems to help treat acne, hyperpigmentation, and rosacea.
274 N Middletown Rd.
Pearl River
New York
845-735-2610
Brushed Tanning Studio's skilled spray-gun wielders provide a healthy alternative to traditional sun worship with UV-free sunless-tanning treatments. Using an FDA approved, 100% organic formula derived from raw sugar cane, certified technicians carefully cover every curve and contour with a golden glow that gradually appears over the course of 24 hours. The entire process takes as little as 10 minutes and lasts an average of 7–10 days, though results can last up to two weeks for clients who exfoliate sparingly or are particularly adept at time travel.
Rte. 17 N
Ramsey
New Jersey
201-327-5155
---