Coffee & Treats in Napa
---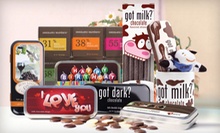 Customers can choose from a multitude of all-natural, gourmet chocolate products including organic and rainforest-certified items
---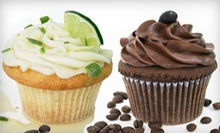 Along with her two daughters, the baker concocts cupcakes in more than 100 signature, vegan, and gluten-free flavors
---
Recommended Coffee & Treats by Groupon Customers
---
Though Andrea Ballus's wedding frustrations propelled her into reality-television fame, the camera never focused on personal drama—instead, it zoomed in on the cupcakes. As she planned her marriage, Andrea couldn't find a bakery innovative enough to cater her reception. Rather than settle for tired designs, she decided to create her own cupcakes, mixing confections in signature flavors and garnishing them with edible art. These concepts led to the first incarnation of Sift—a dessert venue whose ingenious edibles have since won first place on the Food Network's Cupcake Wars and returned to compete on Cupcake Champions.
Sift's current cupcake menu pays homage to classic tastes as well as cunning combinations, from the snickerdoodle and red velvet cakes to the Knock Your Sox Off—a bavarian-cream-filled vanilla cake dipped in chocolate ganache. Visitors can pluck their favorites from the onsite displays or order custom servings that suit a wedding or party theme. In the past, Andrea and her staff have festooned cakes with images of cheerful dragonflies, company logos, and Pink Floyd album art as well as holiday graphics for New Year's and Christmas. They can even infuse the cupcake batter with a chosen wine, resulting in nearly perfect food and drink pairings.
Alongside their signature item, Sift prepares a separate catalog of nostalgic desserts, including whoopie cookies, macarons, and ice-cream sandwiches.
404 Mendocino Ave., Suite A
Santa Rosa
California
707-703-4228
"My love of chocolate making came from my mother, who is from Newfoundland," says Vintage Sweet Shoppe owner Debbie Dever. To stave off boredom during the region's harsh winters, Debbie's grandmother taught her children to craft candy and treats. Her mother passed the skills she learned on winter days down to Debbie, who channels her passion into her handmade truffles, flavored fudges, and chocolate-drenched nut clusters. Her signature wine-infused truffles pair sips of champagne, port wine, and Napa Valley vinos with complementary chocolates chosen based on cocoa content and willingness to tell embarrassing stories about their compatriots. Dever's team of innovative chocolatiers has been making chocolates for more than 30 years and also hand-mold chocolate-covered wine bottles—featured on the Food Network—by shrink-wrapping full bottles of wine before coating their surfaces in dark or milk chocolate, leaving each label framed by an edible exterior. The shop also serves espresso coffee drinks, frozen yogurt, and ice cream.
530 Main St.
Napa
California
US
Just Cakin' It's executive pastry chef, Jennifer Anderson, with the support of fellow cake designer and business partner Shelly Bakosh, dug deep into her creative consciousness to conjure up more than 100 cupcake varieties handcrafted out of dark Dutch-process cocoa, fresh fruit, and pure butter. The pastel-colored bakery's lineup of cupcakes serenade sweet teeth with five permanent flavors, including triple chocolate and red velvet, and nine funkier flavors that rotate every Tuesday. The talented bakers also personalize regular-size cakes for life's momentous occasions, such as weddings, birthdays, and babies' first speeding ticket. Creamy milkshakes, frosty scoops of ice cream, and fresh-baked cookies round out the shop's saccharine selection.
179 Elmira Rd., Suite C
Vacaville
California
US
707-447-2201
---