Restaurants in Naperville
---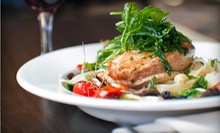 Italian dishes inspired by chef Giulio Fulgenzi, such as seafood risotto, tuscan-bread panini, and sausage pizza
---
Recommended Restaurants by Groupon Customers
---
Hand-carved tikis and 12-foot-tall stone Easter Island moai preside over Tiki Terrace. Seated under swaying palms at hard-carved booths and tables, dinner guests enjoy a regional menu that starts with traditional pupu appetizers, such as taro chips and housemade pineapple salsa, and proceeds to traditional seafood and pork specialties. In the party-friendly tiki tradition, groups of up to four can share the Hawaiian punch bowl, a powerful elixir that arrives in a volcano tiki bowl with a fiery surprise. On Friday and Saturday nights, the dining room's elevated center stage fills with the South Pacific's dances, music, and ceremonial red-rover matches.
1591 Lee St.
Des Plaines
Illinois
847-795-8454
When Rowena and Joe Salas bought the Hotel Baker in downtown St. Charles nine years ago, they knew they were taking on the pressure of not only being business owners but caretakers as well. The landmark hotel's founder, Colonel Edward J. Baker, built it in 1928 as an economic and communal anchor for his hometown.
"We have a responsibility to the city," Ms. Salas says. "People here know the hotel's story and we want to be true to the original vision."
The Salases have protected the hotel's legacy, carefully preserving its Spanish romantic revival architectural style while updating its amenities and polishing its décor. But they've also made their own mark by reconfiguring much of the ground-level space and making room for Rox City Grill. The Main Street eatery has itself become a fixture in downtown St. Charles's revival as a destination for nightlife and entertainment.
Like the hotel under the Salases' stewardship, Rox puts a modern spin on a classic setting. The business-casual grillroom makes a comfortable venue for dining on the prime steaks and fresh fish prepared with creative flair by Executive Chef David Hassan. Dinner crowds clamor for the 20-ounce bone-in angus rib eye and the pan-seared tilapia, served with crushed yukon gold potatoes and lemon butter. The starters menu changes with the seasons and is printed upside-down during a lunar eclipse, but it usually includes popular stalwarts such as tenderloin sliders and the jumbo-shrimp cocktail.
On weekend nights, Rox gets especially lively with live piano sing-alongs in the lounge and a bustling mix of locals and hotel guests mingling over martinis and wine chosen from the extensive cellar. The restaurant is closed Monday and Sunday, but the lounge remains open to serve drinks and the starters menu seven nights a week. Weekend patrons at Rox are also likely to spot Joe Salas himself, dining with friends or clients and keeping an eye on the new legacy he's creating in the heart of St. Charles.
100 W Main St.
St. Charles
Illinois
630-845-5800
The sandwich engineers at Rammy's Sub Contractors infuse savory breadstacks with house-made chipotle mayo and horseradish mayo. Meat mavens slow-roast Italian beef to lay the foundation for sandwiches including the Rammy's Radical, which houses a potent triumvirate of pesto, garlic spread, and provolone cheese. Guests can order at a counter backed with orange and black construction stripes, then settle into booths to dig into gargantuan oven-baked sandwiches with the help of tableside forklifts.
1022 East Higgins Road
Elk Grove Village
Illinois
847-981-7524
Mécénat Bistro and Gathering Place's menu is stocked full of seasonal American specialties. Guests can pair truffle fries, marinated skirt steak, or creamy crab and lobster risotto with one of 70 varietals on the bistro's wine list. Domestic craft beers also span the menu, accentuating flavors in seasonal specialties such as the pan-seared duck breast with braised red cabbage or the sautéed potato gnocchi with organic mushrooms.
821 W Burlington Ave.
Western Springs
Illinois
708-246-8668
The menu at Mother's Pancake House can sate breakfast cravings both sweet and savory. Plates such as the homemade banana-bread french toast and the banana split pancakes—topped with strawberries, bananas, and, of course, ice cream—awaken diners with an early-morning sugar rush. Meanwhile, chefs bake veggies, cheese, and breakfast meats such as ham, bacon, and sausage into hearty omelets. As time ticks into the afternoon, the staff begins serving sandwiches, burgers, pastas, and country-fried steaks.
2290 W Galena Blvd.
Aurora
Illinois
Pockets' health-conscious chefs have stuffed stomachs with fresh, all-natural ingredients for more than 20 years, creating low-fat, high-protein combinations of vegetables, fine cheese, and lean meats. Within freshly baked multigrain bread, selections such as spinach, salami, turkey, and tuna combine with edamame beans, crunchy noodles, dried cranberries, and a splash from one of more than 10 dressings, creating a snack more portable than a bicycle made of chocolate. Menu pages also brim with eight healthy salads, seven hearty calzones, and a kids' menu with pint-size portions and sides of magic. Not content with just challenging fast-food ideals, the locally owned Pockets furthers change in its community by regularly donating up to 50% of its profit to charities such as the Make-A-Wish Foundation and Fox Valley Heart Foundation.
2933 North Kirk Road
Aurora
Illinois
630-499-5123
---