Theme & Amusement Parks in Naperville
---
Theme & Amusement Park Deals
---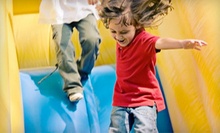 Facility houses 20,000 sq. ft. of private and semiprivate arenas with air-filled mazes, themed bounce houses, and a 50-foot obstacle course
Use Wednesday 9:30am - 7:00pm
---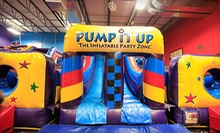 Inflatable playscape with trampolines, slides, and pirate-themed bounce stations
Use Monday 9:30am - 11:00am
---
Recommended Theme & Amusement Parks by Groupon Customers
---
The hum of Honda GX200 engines pervades both of Chicago Indoor Racing locations, where a duo of tracks takes Bowman go-karts through a series of turns and straightaways at speeds of up to 35 mph. When not trying to clock in top lap times from driver's seats perched 1 inch from the ground, guests can set other objects in motion at billiard tables and shuffleboard tables, which can be rented by the hour or millisecond. Clark's Café at the Addison location and Stewart's Bar & Grille in Buffalo Grove refuel guests with casual American fare and shots of motor oil.
2381 W Army Trail Rd.
Addison
Illinois
630-433-3700
In 1976, busy California mother Joan Barnes wanted nothing more than to find a play place where she and her kids could enjoy age-appropriate, educational activities. Finding none, she developed her own innovative play environment within a developmental-based program structure now known as Gymboree Play & Music. Today, kids tumble and learn in more than 650 locations in 33 countries around the world, engaging in open play and classes designed to build cognitive and motor skills. As parents participate in their children's development, their kids learn to paint, play music, and interact socially outside of their preschool knitting circles.
916 W. Roosevelt Rd.
Glen Ellyn
Illinois
Jump!Zone's indoor playgrounds envelop kids aged 2–12 in an inflatable world filled with challenging obstacle courses, fun slides, and cardio-boosting bounce houses. While navigating the plush courses under the watchful eyes of air-filled dinosaurs and superheroes, kids burn off extra energy and participate in activities that may help develop motor skills. Jump!Zone's energetic staff supervises all play as kids climb on pirate ships and trampoline inside princess castles. Specific inflatables may vary by location but often include towering bounce houses shaped like fire trucks or octopi as well as party rooms, games, pizza, soda, and other festive fare. The bouncy center also hosts birthday parties, fundraisers, and special events.
731 N 17th St.
St. Charles
Illinois
At any moment, visitors to Wilderness Falls might run into the resident moose. He isn't grazing: Maddux the Moose, the family fun center's fuzzy mascot, spends his time playing its two 18-hole, outdoor mini-golf courses and accepting high-fives and hugs from enthusiastic guests. Maddux isn't the only fixture that may make guests feel as though they've wandered into the woods¬; the two mini-golf courses are pretty rugged themselves. The Bear Course, which hosts the annual Chicago Mini-Golf Championship, leads putters past a 35-foot waterfall, into a dark cave, and across creaking wooden walkways, just like the race all of Harrison Ford's clones run to determine which one will get to play Indiana Jones. Alternatively, the Eagle Course leads players around winding rivers and on a climb to the top of a 40-foot mountain of rock.
Of course, it's not all roughing it. In the middle of the greens sits the tented arena that holds Wilderness Falls' batting cages, including six baseball cages and three softball cages. An arcade lights up the indoor space with the glowing screens of video games, and party rooms hold birthday and team celebrations.
145 South Clow International Parkway
Bolingbrook
Illinois
630-378-8888
The thwack of bats hitting balls squarely on their stitched faces echoes throughout The Hitting Zone, a 16,000-square-foot indoor baseball and softball training center. There, skilled trainers draw on their own experiences in the field to help batters achieve that satisfying sound during private and group lessons. Coach Rick DeHart shares what he learned while playing for the Montreal Expos and the Kansas City Royals, and Chris Wilmot's lessons are shaped by his time as a first baseman for the Cougars. Other trainers share stories of college ball and coaching high-school students while they demonstrate pro pitching and hitting techniques in six turfed training tunnels.
Budding swingers can also apply their newly learned skills in five baseball and fast-pitch-softball cages equipped with ATEC automatic pitching machines that aspire to play for the Yankees one day. A 12-inch slow-pitch-arc softball cage also awaits batters, who can fuel their efforts with refreshments from nearby vending machines. In addition, The Hitting Zone also welcomes birthday celebrants inside a 24'x27' party room, where they can eat cake in between whacking balls and listing all of the Great Bambino's nicknames in alphabetical order.
1540 Hecht Dr.
Bartlett
Illinois
630-289-9663
A child's laughter precedes her as she emerges from a rainbow-colored tunnel on her hands and knees before scampering up the steps to meet her brother at the top of the spiral slide. When kids first enter the indoor playground, they're tasked with deciding which activity to tackle first: the GyroCopter or the Yo Yo Ball? Perhaps the maze of tunnels? The center is open for two-hour periods throughout the week, giving kids enough time to try each activity as well as take unlimited rides on the carousel or conjure a competing carousel for friends to ride on.
200 Rev. Morrison Blvd.
Elk Grove Village
Illinois
847-228-3490
---