Naples, FL Outdoor Activities
---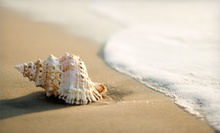 Naturalist shares knowledge about ecosystem and animals while guests collect rare shells on remote islands
---
Recommended Outdoor Activities by Groupon Customers
---
Guide Cheryl Dierken was driving her camouflaged tour bus down the swamp road when she felt a loud thud under the tires. Her passengers gasped. A ripple of water, and an alligator leapt from the water beside the bus. It splashed down, and then paddled away between thick trees and hanging vines. Though this was one of the most startling encounters that Cheryl has experienced leading a Babcock Wilderness Adventures tour, it hasn't been the only one; she's greeted snapping turtles in the bus stairwell and been approached by young wild hogs. Aboard a converted school bus with doors and windows removed, she and the other guides lead narrated tours through sections of the preserve's more than 73,000 acres of freshwater marsh, prairie lands, functioning cattle ranch, and pine forest, as well as the 10,000-acre Telegraph Cypress Swamp.
On many of these tours, guides may point out photography opportunities as endangered fox squirrels, wood storks, alligators, and rare Florida panthers saunter by. The bus also makes a stop by the territory of Saylow, a 19-year-old southern cougar who sometimes approaches the fence to inspect her visitors and silently judge their lack of fur. At the Crescent B Ranch, guides point out horse-mounted cowboys herding cracker cattle; the native breed introduced to the ranch in the early 1900s. Staffers also introduce visitors to the original ranch commissary building and museum; built in the style of a rustic hunting shack for the 1995 film Just Cause. Inside, visitors peruse ecological exhibits on local snakes and see a stuffed three-horned cow that once lived on the ranch. Walking trails free of traffic lights connect the piney woods and swamps with a central visitor's center, where picnic tables sit covered from the elements and a gift shop proffers barbecue sauce, alligator jerky, and local honey.
8000 State Rd. 31
Punta Gorda
Florida
800-500-5583
Crystalline waters lap at the powdery white sands of Tigertail Beach as guests lounge away, propped up on wooden foldout chairs acquired from Tigertail Beach Rentals. The business makes summertime fun its sole focus, renting watercraft as well as cabanas and other beach accessories. Aquatic explorers can jump into sea squirts and traipse through the gentle waves, spritzing family members or easily deterred merfolk with water cannons. Single or tandem kayaks leisurely glide through the lagoon, with riders enjoying close-up views of residents of the nearby wildlife habitat while maintaining a quiet atmosphere for those on the beach. Guests can recharge with breakfast or lunch offerings from the outdoor café, noshing on Angus burgers, grouper fingers, and kids' meals served in beach pails.
490 Hernando Dr.
Marco Island
Florida
866-703-1230
Like an Olympic athlete or a professional snipe hunter, Captain Joe's passion for his sport has taken him across the world. He began his angling career on fishing trips with his father, reeling in fish across the United States and internationally in Costa Rica, the Turks, and the Canadian bush. After settling in South Florida more than 25 years ago, Joe began studying the region's marine life in earnest, also taking up aquatic pursuits such as scuba diving, surfing, and attending merman fight clubs. Today, he employs his knowledge of the area as he leads anglers of all skill levels around Ten Thousand Islands, Marco Island, Naples, Bonita Beach, and elsewhere to snag fish such as trout, snapper, grouper, and tarpon. The USCG-licensed captain also leads sightseeing tours to view dolphins and manatees inside his clean, safe three-boat fleet.
525 Newport Dr
Naples
Florida
239-269-0695
Named to the World Golf Teachers Federation's list of the top 100 instructors, Earl Hines helps his students break bad golfing habits and build positive new ones. Along with fellow instructor Chris Jensen and a team of additional instructors, Hines aims to make golfers of all skill levels aware of their game issues, enabling them to diagnose and correct swing problems from evidence such as erratic ball flight, too-deep divots, or playing partners who wear motorcycle helmets. All instruction is provided by Academy Golf at Eagle Lakes Golf Club, with swing lessons on the driving range and playing lessons making use of the club's 7,150-yard championship course.
17985 Royal Hammock Blvd.
Naples
Florida
239-732-7727
---