Restaurants in Naples
---
Recommended Restaurants by Groupon Customers
---
With kitchen credentials that include Boston's Four Seasons Hotel and Le Bec-Fin in Philadelphia, executive chef Brian Martin presides over Evoo Bistro's culinary marriage of rustic Italian and modern American fare. Brian and his team craft seasonal lunch, dinner, and catering menus that highlight pastas, simply prepared meats and seafood, and sandwiches built on homemade breads. The refined, yet hearty entrees pair with wines by the glass or cups of the bistro's signature coffee, which is blended with sweet liquors. These flavorful creations arrive at white-clothed tables arranged amidst dim track lighting, pendant lamps, and domesticated glowworms that hover from the lofted ceilings.
13240 Tamiami Trl. N
Naples
Florida
239-444-2020
With its huge grass-roofed patio, The Sandy Parrot looks as though it ought to have ocean waves lapping up against the surrounding sand. The echoes of the sea are even louder on the menu, which features a huge collection of grouper, crab, shrimp, tilapia, and mahi-mahi dishes rounded out by steak, sandwiches, and chicken. Preparations span the globe, drawing in such flavors as garlic teriyaki sauce, parmesan-laced lemon butter, and mango-papaya salsa. Live musicians take the restaurant's stage six nights a week, performing tributes to Motown and Elvis, hits from the '60s through the '90s, and sweeping arrangements of the dessert menu.
17200 S Tamiami Trl.
Fort Myers
Florida
Sandy Stilwell is a Fort Myers native, and as such she has a passion for pouring her time back into the community—she serves on the advisory board for Gulfshore Life Magazine and is the former chairwoman of the Salvation Army's Christmas drive. Sandy brings the same altruistic vision to Sunshine Grille, one of the many local eateries she and her family maintain that give back through organizations such as the Ronald McDonald House.
Sunshine Grille serves its customers first and foremost, offering a menu of wood-fired steaks and seafood. From grilled filet mignon to sesame-crusted salmon and veggie-loaded flatbreads, most of the eatery's cuisine bursts forth unto the palate with a signature smoky flavor. The restaurant's voluminous wine list emanates sweetness, as do the live musicians that coax jazz-inspired harmonies from saxes, guitars, and keyboardists seven nights a week. These musicians work their melodic magic under soft lighting and between walls of auburn and stones stacked like the hundred-dollar bills that form the walls of the US Mint.
8700 Gladiolus Dr.
Fort Myers
Florida
239-489-2233
"Fisherman Charley," a wooden fisherman statue in a yellow rain slicker and hat, stands guard in front of Charley's Boathouse Grill, where chefs have prepared steaks and seafood for more than four decades. The kitchen wet-ages Angus beef for four to six weeks before hand-cutting each steak, which is measured by ounces and seared to taste. Seafood such as locally caught grouper also fills the menu alongside snow crabs, teriyaki chicken breasts, and house-baked breads.
For special events, patrons sup on some of the most popular menu items inside a converted boathouse. Up to 70 people can also gather at the "hideaway," which has back-bay views of Estero Bay, making it perfect for actually seeing the harbor seals you dressed in tuxedos.
6241 Estero Blvd.
Fort Myers
Florida
Situated along shorelines in Tampa, Naples, and Key West, Florida Marina Club keeps watercraft ready to crest the waves with docking services, fuel docks, and ship repairs. The marinas' terra firma amenities match the refinement of their seaside offerings. Restaurants and bars home in on local flavors and international atmospheres, from the Cuban and Caribbean recipes at The Club at Key West Harbour to the weekend pool parties at Tampa's Hula Bay Club. When not dining or enjoying drinks at Jack's River Bar or Gordon's On The River, members can sweat away cares in saunas, glide through heated infinity pools, or sketch the design for a hypothetical seventh chess piece in restive clubhouses.
475 North Rd.
Naples
Florida
With sautéed gator, housemade crab cakes, and coconut french toast, Sanibel Cafe doesn't let guests forget that they're dining on a tropical island. This selection continues the tradition of homestyle cooking that the café established when it first opened in 1978 as the Pancake and Omelette House. This stage of its life ended in 1984, and, like a butterfly emerging from its cocoon, the eatery reopened as Sanibel Cafe. For more than two decades now, Sanibel's kitchen has been keeping diners coming back with savory island-inspired cuisine for both breakfast and lunch.
In addition to signature items such as sautéed gator, morning diners fork into more traditional eats such as strip steak escorted by hash browns and stacks of pancakes that diners can scarf down or transform into smiley faces to convey the exact level of their happiness. At midday, the kitchen begins piling burgers and sandwiches with country-fried steak, charbroiled beef patties, fried shrimp, and grilled fish. Just like its seafood-laden kaiser rolls, the café's decor pays tribute to its tropical location: joining hanging plants and cerulean pendant lamps, one-of-a-kind tabletops feature intricate patterns of fossilized seashells handpicked and patterned by artist Sue Stephens.
2007 Periwinkle Way
Sanibel
Florida
---
---
Restaurant Deals - Recently Expired
---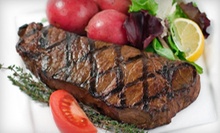 Gnocchi and chicken marsala anchor an Italian and American menu with fusion hints of Cajun and Caribbean spices; waterfront dining
---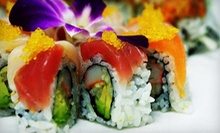 Chefs fire up hibachis at each table to cook filet mignon and lobster tails at restaurant with sushi bar
---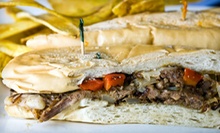 Eatery evokes Cuban villa with rustic murals, spanish sausage sandwiches, and platters with pork loin, grilled fish, and skirt steak
---
---