Beer, Wine & Spirits in Nashua
---
Beer, Wine & Spirits Deals
---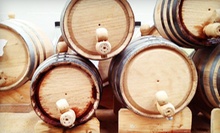 Tours travel past mash tanks & copper stills to see how the distillery produces rum, vodka & whiskey
---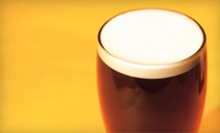 During 30-minute tours, guides tell tales about the brewery's history and explain the brewing process from start to finish
---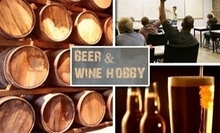 Use Today 12:00am - 11:30pm
---
Recommended Beer, Wine & Spirits by Groupon Customers
---
During the two-hour foray, samplers will tipple high-end wines with bite-sized pairings to match. Learn techniques for sampling wine, pairing tips, and which wine fits best in which glass (example: wine from a square box will not fit in a circular glass). There will be five or so wines to try, which you can read about in vivid detail here to prep your buds for the journey ahead. After your palatal field trip is complete, you can pick up a bottle of your favorite sampled wine for $10 off retail. Bottles range from $16 to $30.
632 Main Street
Winchester
Massachusetts
Owner Geoff Houghton transformed an abandoned 1830s mill into a bustling pub on Factory Island, a place dominated for centuries by the iron and sawmill industries. Today, the only things milling there are Houghton's handcrafted beers, which flow from The Run of the Mill's 14 barrels straight into the bar's taps. These lagers, ambers, and cask-conditioned ales complement classic pub meals of wings, crab cakes, and burgers. The Run of the Mill also organizes a Mug Club, which awards guests who drink 300 of its beers in one year with a handmade ceramic mug, an official hat or T-shirt, and a heartfelt, bar-top eulogy to all the fallen hops.
Home to more than 100 varieties of tea, Herbal Infusions Tea Co. immerses visitors in all things tea. Knowledgeable staffers stock the shelves with their own popular blends, including eucalyptus-grapefruit tea and organic cacao tea alongside a fleet of white, green, oolong, and black teas. They also sell tea-making accessories such as teapots and filters. In addition to offering advice on steeping the perfect cup to any customer who asks, they hold tea-themed workshops that range from pairing cheeses to developing pinkie-finger fitness regimens.
487 Moody Street
Waltham
Massachusetts
US
Owner Svetlana Yanushkevich has spent the majority of her life surrounded by wine. She grew up on the southern peninsula of Ukraine, in a territory renowned for its 2,000-year-old winemaking tradition. After moving to the US in 2002, she built upon that foundation by managing wine programs at prestigious restaurants and earning a diploma from the renowned Wine and Spirit Education Trust in London.
In 2010, Svetlana added "wine-shop owner" to an already impressive résumé when she opened the doors to WineNot Boutique, winner of The Hippo magazines Best Wine Shop in 2011, 2012, and 2013. Today, WineNot Boutique's visitors gather to enjoy tastes from around the globe and, perhaps most importantly, benefit from Svetlana's wealth of knowledge. This year, Svetlana has partnered with local merchants to host a 7-night guided tour of one of the world's most renowned winemaking regions, as well. Collectible wines, artisan cheeses, and gourmet foods parade across the shop's shelves, and wine education events, such as weekly complimentary tastings, let novices ingest loads of wine-related facts without having to eat the pages of their Wine for Dummies book.
170 Main St.
Nashua
New Hampshire
603-204-5569
Aaron Mateychuk, head brewer at Watch City Brewing Company, makes playful twists to time-tested beer styles, earning his pub accolades and press mentions including a three-year streak of awards at the Great International Beer Festival. The stolid Titan ale is a balanced American brown ale, and the vivid Hops Explosion IPA employs a backbone of malt to keep a covey of hops in check. A posse of seasonal beers allows the brewer to keep experimenting by crafting citrusy summer ales to match cascades of sunshine and autumnal pumpkin brews the deep red-brown of changing leaves. Mateychuk also tracks down various strains of European yeast to create limited-run series, which in the past have included abbey-style Belgian beers and German-style lagers.
Inside the bright brewpub, servers carry upscale pub fare to a wall of wooden booths and benches exactly like those used in professional sitting competitions. Surrounded by vintage beer posters and paintings, patrons dine on pulled-pork tacos, housemade crab cakes, and reubens on pretzel rolls. The kitchen integrates beer into dishes such as the IPA-infused lamb burger and a deep-fried burger wrapped in beer batter and topped with chipotle-lime mayo.
256 Moody St.
Waltham
Massachusetts
781-647-4000
---