Education & Classes in Nashua
---
Education & Classes Deals
---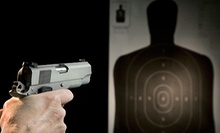 Armed with a replica pistol that fires laser beams, take aim at targets and scenarios that unfold on a 70-inch high-definition video screen
Use Wednesday 8:00pm - 9:00pm
---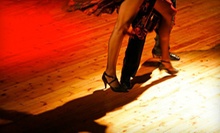 Use Saturday 10:00am - 6:00pm
---
Recommended Education & Classes by Groupon Customers
---
Stacey Sparrow has a knack for teaching art. A graduate of Massachusetts College of Art with a teaching certification, Sparrow has been helping students locate their inner Rembrandts for a decade while also creating her own commissioned works. With the help of a dedicated staff, she helms workshops and classes for adults and youngsters alike, rolling out specialty sessions such as vacation art programs that study the techniques and quirks of various artists, such as Picasso's Blue Period and Michelangelo's tendency to sleep on the ceiling.
853 N Main St.
Leominster
Massachusetts
978-728-4646
The word "bead" has multiple meanings at Bead Fiesta The Shoppe. It can mean—among other things—tiny seed beads, handmade glass beads, wooden beads, pearls, crystals, gemstones, and silver trinkets. Housed in the rustic 19th-century Cider Mill Building, the shop also stocks jewelry-making supplies, which are now considered highly valuable to pirates. To complement its wares, the venue hosts a variety of jewelry-making classes, on topics from working with precious metal clay to forging accessories from ice resin.
15 Waushacum Avenue
Sterling
Massachusetts
978-870-8864
Inside a historical downtown Quincy home that dates back to the 1850s, chef and baker Lisa Tavakoli crafts signature dishes and scones for guests to savor in a Victorian tearoom. Lisa gathers 8–15 students around her countertop to demonstrate how to top plates with multiple courses and drinks. She emphasizes the gustatory roles that all senses play, creating visually appealing dishes and steeping teas that appeal to the drinker's sixth sense. Curricula include Persian cuisine, Italian cuisine, and courses on raw cooking and seasonal ingredients.
25 High School Ave.
Quincy
Massachusetts
617-479-2259
An FAA-approved helicopter-flight tour operator, North Andover Flight Academy employs five licensed instructors with combined flight and teaching experience that numbers in the thousands of hours. Fledgling aviators can begin their aeronautical journeys at Lawrence and Marlboro Airports, which serve as home bases for services that range from tours and photography flights to full pilot-certification courses and agricultural applications. The team commands a fleet of six Robinson helicopters, including one R44 and five R22s, and keeps Robinson factory-trained mechanics on staff to ensure their safe operation and to ice down their blades after particularly vigorous training flights.
436 Sutton St.
North Andover
Massachusetts
US
978-689-7600
DeAngelis Studio of Music and Arts is staffed by working rock, jazz, and classical musicians, and accordingly, they make sure students have a chance to get onstage as soon as possible. In addition to recitals for students of private and group lessons, kids and teenagers can sign up for Rock School and learn to work as a group, run rehearsals, and headbang without a helmet; alternatively, the chorus joins many young voices in harmony. Every weekend, the studio hosts jam sessions for any student capable of playing a song all the way through. The studio has recently added kids dance classes to it schedule such as jazz, tap, ballet, and hip-hop. Adult Zumba and yoga classes are also available.
Even the most laid-back sessions are led by players with tons of experience packed into their instrument cases—each of the school's teachers boasts either university music training or at least 15 years as a professional performer. Parents are welcome to watch the teaching relationship develop by sitting in on their little ones' lessons, but they also can relax in one of the waiting room's comfy chairs while sipping bottled water, flipping through magazines, or getting work done via free WiFi.
35 Lafayette Sq., 3rd Floor
Haverhill
Massachusetts
978-374-5262
From their nests at Plymouth Municipal Airport and Norwood Municipal Airport, New England Helicopter Academy's Schweizer Model 300 helicopters lift fledgling aviators into the skies for flights ranging from introductory runs to intensive training courses. Combining the choppers' precise handling with academy president Rick Smith's rigorous training regimen, pilots-to-be learn to expertly handle real-life flying situations such as landing at uncontrolled airports, flying in inclement weather, and airlifting bananas to King Kong. In addition to serving as mid-air classrooms, choppers also treat students to sky-high sightseeing, with training flights often motoring over New England landmarks including the Cape Cod coastline and cities such as Boston and Providence.
101 Access Rd.
Norwood
Massachusetts
508-813-9704
---