Things to Do in Nashua
---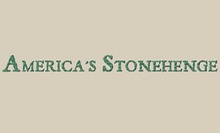 Outdoor, 4,000-year-old stone observatory whose maze of stone structures feature inscriptions and artifacts; adjacent alpaca farm
Use Friday 9:00am - 4:00pm
---
Recommended Things to Do by Groupon Customers
---
The Webster opened as an art-deco movie house more than 70 years ago, and in 1992, the theater and its employees' slang were both restored to their original condition. Today, the stage monopolizes a major portion of the big-name acts passing through Hartford, with previous headliners including Whitesnake, Henry Rollins, and Cake. A wide-open orchestra invites dancing, and a more-relaxed loge area lets guests coolly survey the action onstage and in the audience.
300 Martin Luther King Jr. Way
Lowell
Massachusetts
978-934-5738
Chunky's Cinema Pub has been mixing the polished glimmer of modern technology with the gauzy glow of yesteryear for almost two decades. Eight screens mingle first-run blockbusters with themed throwback classics catering to children of the '50s or '80s. There, in the glow of the previews, is another testament to the melding of time—a contemporary dinner-and-a-movie setup brings with it the nostalgia of old-school drive-ins. Instead of traditional cinema chairs, individual cushy Lincoln Continental surround communal dinner tables, and the seats roll and recline to let guests maximize their comfort and customize their sightlines as they catch the onscreen action and pretend to be backseat drivers. At their tables, American pub snacks and entrées from the extensive menu spread out, combining movies with burgers, quesadillas, and steak tips.
While the theater blends old with new, Chunky's Bio Truck zooms into the future with a gas tank full of the 100% trans-fat-free canola oil used for cooking in the kitchen. The bio-fuel reduces the truck's greenhouse emissions and helps to decrease its carbon footprint, spreading an eco-conscious message to the community.
151 Coliseum Ave.
Nashua
New Hampshire
Divided between two locations in Manchester and Nashua, Vertical Dreams' 15,000 square feet of simulated mountainside are packed with obstacles and tough sections to challenge climbers of all skill levels. At the Manchester gym, gutted elevator shafts lined with hand grips extend four stories upward, creating 70-foot vertical surfaces. The Nashua location boasts 10,000 square feet of wall space, with textured surfaces that respond realistically to climber's hands and feet and fill their nostrils with simulated rock smells.
Vertical Dreams' staff of veteran climbers teaches students one-on-one or in groups. In beginner lesson packages, instructors show aspiring climbers the figurative and literal ropes involved in belaying, climbing, and knot tying, and the teachers in advanced top-roping and sport-climbing classes push their students' abilities to climb solo or in a lead position.
25 E Otterson St.
Nashua
New Hampshire
603-943-7571
With five distinct courses etched into the New England countryside, Sterling Golf Management promotes pin-hunting recreation for Boston-area golfers of all abilities. The longest and most difficult of the four, The Shattuck Golf Club's 18-hole course kicks off with a 409-yard par 4 where players hack their way toward a green that is visually wreathed by the rising red rocks of Mount Monadnock, setting the tone for a scenic, 6,764-yard round. Groves of trees ensconce the fairways and barter over carbon dioxide at Norwood Country Club's recently renovated course, a relatively flat layout characterized by smallish greens and flanked by a lighted driving range. Designed in 1921 in the Donald Ross tradition is Maynard Golf Course, a picturesque par 70, 9-hole course with a full-service clubhouse. The same sylvan makeup returns at Newton Commonwealth's course, where lush tree lines cast shadows over a creek as it snakes across the fairways of seven holes. Rounding out the grassy quartet, Chelmsford's nine-hole course takes golfers careening across 2,467 yards of narrow fairways, placing straight drives or skilled golf ball pilots at a premium.
66 Park Rd.
Chelmsford
Massachusetts
978-256-1818
Handcrafted by its nimble-fingered staff, Beadles' voluminous selection of handmade jewelry began to burst the seams of the 1,500-square-foot Chelmsford store, prompting the launch of the newly minted Rockport location. The new location broadens Beadles' epic spread of Swarovski crystals, acrylics, and kaleidoscopic glass, allowing browsers to purchase bauble ingredients by the piece or pre-assembled bracelets and necklaces. Crafters of all skill sets can put their purchases to use during free workshops or fashion their own custom creations during parties ideal for birthday girls, girl-scout troops, and newly chosen presidential nominees.
18 Central Sq.
Chelmsford
Massachusetts
978-244-0233
Since 1965, the family-run Ski Haus has kept customers coming back by adhering to the family motto: "Make sure we keep a fun environment and give everybody a fair deal. They get a ton of stuff for their money and we stay in business for a long time." Patrons can still expect the same low prices and see the same friendly staffers' faces year after year while shopping for winter gear.
Racks stocked with apparel by brands such as The North Face and Marmot, skis and snowboards by brands such as Atomic and K2, and a team of skilled technicians have earned Ski Haus accolades from Ski magazine, SnowSports Industries America, and New England Winter Sports Representatives, Inc. During tune-ups, technicians polish skis, stone-grind ski edges, apply hot wax, and repair bases damaged by treacherous slopes and sharp snowman noses.
317 S Broadway
Salem
New Hampshire
---