Museums & Galleries in Nashville
---
Recommended Museums & Galleries by Groupon Customers
---
Located in the former main post office of Nashville, the Frist Center is an architectural feast of classicism and Art Deco style containing more than 24,000 square feet of gallery space. The non-profit museum hosts an ever-changing array of exhibits that pop in and out of its halls each 10-12 weeks, so commitmentphobes and the easily bored will always have something new and fresh to run their eyeballs across. Fashionistas frustrated by their failure to institute Really Formal Fridays at the office will want to flee to the Frist Center's current Golden Age of Couture exhibition (June 18–September 12, 2010), with its collection high-glamour vintage wares, while fans of ornate glass sculptures can check out the Chihuly at the Frist exhibition (May 9–January 2, 2011).
919 Broadway
Nashville
Tennessee
US
The Adventure Science Center is located just outside downtown Nashville and features many interactive exhibits for budding cosmonauts. Boldly go where thousands have gone before with exhibits such as the astronaut-training simulation, known to earthlings as Space Chase, or the Adventure Tower, which is a series of activities aimed at stimulating minds and sparking creativity. Spend some time poking around the center, finding wonderment around every bend, and possibly a penny on the floor. Keep an eye on your cosmo-watch and get discounted general admission to the Sudekum Planetarium or to one of the planetarium's laser shows with your family membership.
800 Fort Negley Blvd.
Nashville
Tennessee
A log cabin sits huddled in the woods as breezes sway rolling grasses and flowerbeds across the 1,120 acres that surround it. A Federal-style mansion stands tall against the sky, its columns flanking a towering front door and presidential balcony. Carrying on a 200-year tradition, The Hermitage tells the story of the presidential family, its plantation's slave population, and the atmosphere of the time through 32 historic buildings and more than a dozen archaeological sites.
The mansion and visitor center boast 3,000 original objects and 800,000 archaeological artifacts on display, as well as 1,200 printed items, 3,000 photographs, and 800 manuscripts bearing the president's original handwriting and cappuccino stains. The mansion's Greek-revival woodwork and mantels frame original wallpaper, and glass cases hold Andrew Jackson's authentic glasses, slippers, top hats, swords, and canes. Inside the visitor center, the Jacksons' actual private carriage guards a hallway leading to collections of artifacts from the plantation's slave families and communities. Most items in the collections were purchased directly from the Jackson family, though many artifacts were uncovered in the late 1800s by the historic Ladies' Hermitage Association when they broke ground for a new Olympic-sized swimming pool.
On the outdoor grounds, trained guides usher visitors to the first Hermitage, a log cabin where the Jackson family lived while the mansion was being built, and Alfred's Cabin, the preserved 1840s quarters of the former groundskeeper. In the garden, winding trails take visitors past period plants and the Grecian-style tombs of Andrew and Rachel Jackson. The rest of The Hermitage's grounds contain a network of winding walking trails, as well as grassy areas and cabins where museum staffers host events, weddings, and birthday parties. Across the grounds, interpreters in authentic period dress direct visitors to the sites of historic events and often train grade-school students to do the same through the center's special school programs.
4580 Rachels Ln.
Nashville
Tennessee
Residing in the restored 1925 L&N Depot, where Bowling Green–bound trains tenaciously chugged toward, The Historic Railpark and Train Museum educates rail revivalists on the train cars and culture of a departed, but still kicking, era. Toot your own horn if you can correctly identify five subtly different sounds of passenger cars during an aurally pleasing exhibit, or ask an interactive conductor mannequin if passengers groggily tucked their own handlebar mustaches into their eardrums to quietly rest in the sleeping car. Although entry for children 4 and younger is free, a family membership to The Historic Railpark and Train Museum makes for an economically priced getaway, where children can expend energy excitedly pointing at cabooses and parents can relax watching informational railroad films. Put on the old conductor hat, brush up on railroad lingo, and learn about the monorail's supremely cooler uncle at The Historic Railpark and Train Museum.
401 Kentucky St.
Bowling Green
Kentucky
---
---
Museum & Gallery Deals - Recently Expired
---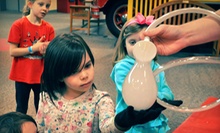 Hands-on children's museum and nature center with interactive exhibits; kids meet turtles, dig for fossils, paint, and more
---
---