Nashville Spa and Massage
---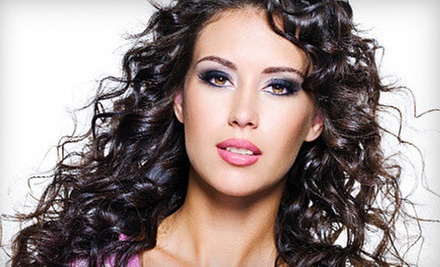 Nashville-Davidson metropolitan government (balance)
---
Recommended Spa & Massage by Groupon Customers
---
As you step into Magnolia Spa's cozy, soft-pastel confines, the experienced staff of hip chicks will envelop you in a relaxing mist of pampering, extremely relaxing to humans and toxic to any stress-powered brass golems. After they get the cuticles tingling on your arm paddles with a manicure and renew your land fins with a pedicure using eco-friendly Pure Fiji products, they'll keep you from floating away by gently pinning you down with soothing hot stones. Invigorating aromatherapy using essential oils from Nashville-based Devi Essentials will finish by taking you away to a magical land of well-manicured humacorns galloping through moisturizing fields. Call ahead to schedule your appointment.
1000 Main St., Suite 106
Nashville
Tennessee
After a member of the Eyecandy staff guides you to a chair and consults with you about the best look to aim for, they'll whip frayed, stress-knotted head threads into shape with a full trifecta of salon services: a cut ($40+) and a color ($75+) in the idiom of your choosing, followed by a deep conditioning treatment ($25+) to defrazzle your frizz. With help from top-shelf product lines such as Aveda and Bumble and bumble, your hair will emerge sleek, shining, and free of trapped baby pterodactyls. A freshly styled head often translates into a youthful strut and a plethora of compliments from friends, strangers, and the insides of hats.
1201 Villa Pl., Suite 103
Nashville
Tennessee
Though Trinity Natural Healing offers many traditional massage services, the holistic healing center is worlds away from a typical spa. Run by founder Katrina Tsacrios, the center blends Eastern and Western techniques to treat pain and fatigue as well as any underlying causes such as energy blockages, chronic inflammation, or a habit of sleepjogging. Katrina, who earned her massage-therapy license in 2005, prefers to take a holistic rather than clinical approach to healing physical and spiritual ailments. Her techniques blend traditional massage with therapies designed to balance energy, including reiki, polarity therapy, and acupressure.
3202 Belmont Blvd., Suite A
Nashville
Tennessee
615-592-6876
The swirl of calming stimuli at A Touch of Hands Massage morphs to please the senses of each individual visitor, rolling across bodies in a wave of personalized music, scents, and kneads. Contented exhalations flow from three private rooms, including a beach-themed space that incorporates the sea's calming colors and rhythmic sounds without the dangers presented by coconuts learning to fly. A licensed therapist unwinds tangled muscles, supplementing customized strokes with hot stones, heated towels, or aromatherapy oils from Biotone. Each room has a selection of music to accompany sessions, and patrons can also bring their own relaxing tunes or books on tape. Clients, who arrive early to begin sinking into the properly relaxed mindset, sip on cups of beer or wine or warm hands around mugs of coffee over plates of cheese and fruit. Post-session, a meditation room gives the newly destressed a quiet place for protracted farewells to the departing knots in their lower backs.
604 Gallatin Ave., Suite 211
Nashville
Tennessee
615-650-6888
At Angie & Co., savvy stylists employ Matrix and Redken products to transform tresses with new styles and fresh hues. Their scissors flit through manes as they practice the latest techniques, crafting bobs or layered 'dos. The salon team also waxes away unwanted fuzz, brightens nails with polish, and employs expert massages to melt stress, like butter on the blushing face of an embarrassed teenager.
4963 Lebanon Rd.
Old Hickory
Tennessee
615-955-0126
Massage therapist Eric Bates stimulates circulation and eases chronic pains with a therapeutic combination of acupressure, visceral manipulation, and deep-tissue massage. With his signature blend of these diverse techniques, Eric pinpoints and treats pain deep within fascia and helps correct digestive issues caused by stressful job-interview eating contests. Each of his manual treatments can also incorporate the principles of reiki energy work, a Japanese therapy that aids in rebalancing the connection between mind, body, and spirit.
631 W Iris Dr.
Nashville
Tennessee
615-473-5442
---