Natick, MA Spa and Massage
---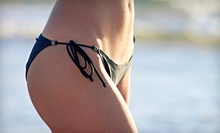 Dexterous hands deliver long, gliding strokes to coax tension out of muscles & stimulate circulation
Use Thursday 10:00am - 7:00pm
---
Recommended Spa & Massage by Groupon Customers
---
Read more about the specific benefits of each of these massages here. With the combined focus of resolving your acute pains and relieving your stress, you'll come away feeling like a new man, a new woman, or a new cylon). (And let's face it, the new cylons are awesome.) NEMM is located at 147 Milk St, 8th Floor. That's a nice location. Way better than the Crack House Medical Massage Center, whose customer testimonials are all pretty terrifying. But these NEMM's customer testimonials are like testaments in the Massage Bible. Here are a few:
147 Milk St.
Boston
Massachusetts
US
Everyone knows that Swedes use a lot of oils in their famous massages, but did you know that Sweden is the world's second-largest consumer of lubricating oils? A 2006 study in The American Examiner of Suspicious Swedish Behavior reported that Swedes annually consume 1,460 gallons of lubricating oils per person. That comes out to exactly four gallons per person per day (leap year not factored in to avoid over-complication). And taking into account that children require less oil to become slick, it appears that adult Swedes may be lathering themselves with up to 12 gallons a day.
40 Charles St.
Boston
Massachusetts
US
This will go down as the worst period in the history of mankind. First, the economy tanks and forces everyone to buy less Pringles. Then, gas prices force people to walk more, causing foot and back pain. Then, as the foul icing on the crap cake, seasonal allergies get slightly worse across the globe. With the end of the world near (never doubt the Mayans), there's only one way to cope—acupuncture.
581 Boylston St., Suite 301
Boston
Massachusetts
US
The press doesn't lie. Well maybe about foreign policy, but when it comes to spa reviews, Melt's hot reviews in nearly every publication you can imagine are indisputable evidence of the media's awesomeness.InStyle listed Melt as one of five spas that provides the best facials in all of America. Boston Common said, "Taking luxury and relaxation to a whole new level, Melt spa and salon is sure to pamper even the most discerning of spa-goers." And The Boston Globe called Melt "a mind-riveting thriller". Wait, actually it said that about The Dark Knight, but it called Melt "gorgeous". We're always mixing those two up since they're both so awesome.But what about the people? Citysearch users give Melt a five-star average. Here are a few cyber-pontifications:
172 Newbury St
Boston
Massachusetts
US
---