Massage in National City
---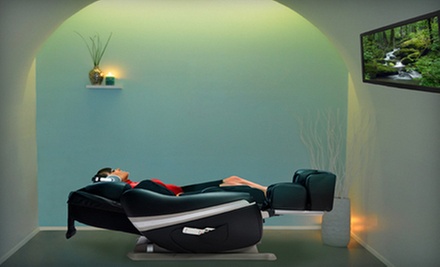 ---
Recommended Massage by Groupon Customers
---
Whether you need to relax, relieve stress, or manage pain or injuries, a massage at IPSB Massage Therapy Center will get the job done. For $45, today's Groupon side deal gets you one IPSB-licensed professional massage (a $60 value). Or if you prefer, for the same $45, you can get two one-hour student massages at IPSB for the price of one (a $90 value) with today's featured deal (click here for this option).
1414 Garnet Ave.
San Diego
California
US
Though they don't serve food, the professionals at Healing Arts Massage & Wellness Center do oversee a buffet. Their Massage My Way package lets clients pick from a menu of enticing modalities and add-ons, including aromatic essential oils, warm stones, and hot towels. This muscle-sating feast functions as just one draw to the relaxation haven, where practitioners believe that massages should be a recurring investment. To help encourage repeat visits, they've also created special services such as the Island Escape, a tropical-themed treatment that adds mango-scented oil, coconut-lime foot-massage butter, and a scalp massage to Swedish or deep-tissue kneads. Visitors can even pose for a custom airbrush spray tan to complete their beachy, stress-relieving session.
Of course, guests can also elect to keep appointments simple with a single modality. In addition to classic massage styles, the calming techniques of craniosacral therapy and the pinpointed pressures of reflexology alleviate the body's more focused tensions. Licensed acupuncturist Robin Kohler often pairs her trade with massage appointments, striving to correct energy imbalances within each physique.
The center has fostered restfulness for more than 20 years and exclusively employs licensed massage therapists rather than relying on students or friends who give very encouraging back pats. Situated a mere three blocks from the ocean, its locale mirrors the serene atmosphere behind its doors.
1001 Garnet Ave., Suite 220
San Diego
California
US
Urban Skin Care's speed-waxing specialists eradicate unwanted hairs with gentle waxes that leave formerly furred regions silky smooth. Before their session, clients can sink into big, comfy couches in the waiting room or call up dolphin acquaintances to ask what it's like to be hairless. A Brazilian wax ensures a more thorough and longer-lasting smoothness than shaving, plus it saves ladies the hassle of performing razor-juggling vaudeville acts in the shower. Although not included with this Groupon, clients can also purchase a prewax lotion that numbs skin prior to the treatment.
2326 India St.
San Diego
California
US
619-233-0306
Like a professor knowledgeable on tulip mania, alien black oil, and a myriad of seemingly esoteric subjects, Massage Envy's certified body therapists ably converse with the gamut of muscle ailments. They'll unravel tense coils of accumulated inner stress through a perfectly catered treatment for individual clients' needs. Swedish massages offer gentle rubbing for muscular soothing and improved circulation, whereas reflexology focuses on a patient's crawling paddles, delivering relief to hands and feet to extend goodwill throughout the entire body. A prenatal massage is ideal for expecting mothers who could use a little relief from carrying another person inside them, and a sports massage provides tension relief and injury prevention for an athlete's body.
3713 Avocado Blvd.
La Mesa
California
Across three locations, Doctors of Chiropractic Jeremy von Buelow and Jason Morrison cosset aching frames with chiropractic, massage, and health-counseling services. The doctors specialize in spinal misalignments caused by auto accidents or repetitive stress to the body—such as commuting via somersaults or hunching over computers. To prevent these pains from developing into debilitating conditions later in life, they realign the spine and relieve nerve interference with gentle chiropractic adjustments, The duo also offers lifestyle coaching, where they make recommendations on food choices and nutritional supplements to foster whole-body wellness.
2831 Camino Del Rio S, Suite 209
San Diego
California
619-295-0077
With more than 15 years of massage experience, including a stint at the five-star Grand Del Mar resort, licensed massage therapist Keno pampers clients with an array of massage modalities. Massage techniques apply a range of kneads, from gentle to deep pressure, and can be enhanced with a heated, extrapadded table covered in soft, organic sheets. Organic eucalyptus, candlelight, and soft music soothe the senses, and hot towels and eye pillows convince guests they've finally entered a lucid dream.
3752 3rd Ave.
San Diego
California
858-277-2739
---