National City, CA Outdoor Activities
---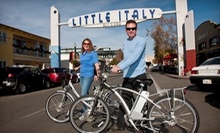 Comfy bikes equipped with swift electric motors whisk riders down streets & along scenic San Diego Bay
Use Sunday 10:00am - 1:00pm
---
Recommended Outdoor Activities by Groupon Customers
---
As he trains his eye on the target's innermost ring, the archer retrieves an arrow from his quiver. He exhales, crooking his fingers around the bowstring and pulling it back until the feathery fletches tickle his cheek. He will only have one shot to win the contest and finally earn his family's respect—but his elbow is off, and his aim will suffer. "Cut!" comes the call from the director, and the cameras stop rolling for a moment as an archery coach enters the scene. She tilts the actor's arm and adjusts his stance so that his form is truer to life, breathing accuracy into the portrayal. When "Action!" sounds, the archer is ready, and the tension achieves new heights.
Sending its nationally certified coaches to such television clients as CSI: Miami and The Discovery Channel is just one way that Archery House spreads an appreciation of the sport. Company leaders Lorinda Cohen and Tara "Robey" Folz—both of whom hold national titles—ally their combined 36 years of archery experience with marketing savvy to plan classes for all ages, promotional events, and athletic counseling. At multiple outdoor ranges, they outfit beginners with the equipment and know-how to pop a balloon at an impressive remove, and challenge advanced archers to do so with a balloon that's farther away and filled with wasps.
750 Paseo Del Rey
Chula Vista
California
Leaving the bustle of the 805 freeway, visitors to Sweetwater Farms are swiftly transported to a pastoral scene alive with the sound of hoof clopping and constant horse-centric activity. The riding school has been tutoring riders in English-, Western-, and trail-riding styles since 1985, with programs that range from beginning horsemanship to hosting full-fledged hunter/jumper shows. Trail rides saddle guests atop steady, gentle dude-ranch horses or rehabilitated mechanical bulls for tours through nature, and horse camps immerse young riders in the world of horses to build riding skills, as well as confidence and responsibility. In addition to welcoming guests to their programs, Sweetwater Farms also boards and sells horses.
3051 Equitation Ln.
Bonita
California
619-475-3134
The instructors at J World San Diego, a US Sailing--certified school, furnish students with the know-how to safely traverse the seas while manning a sailboat. Teaching sailors of all levels, the professional instructors employ the world-renowned J boats, which are known for their quick responsiveness—appealing to beginners—and their ability to summon playful dolphins to their vicinity. Pupils can tackle the basics or learn advanced-racing techniques during group classes or opt for private instruction to hone transatlantic escape skills. The handpicked vessels are also available for chartering for corporate events or sunset cruises.
2240 Shelter Island Dr.
San Diego
California
619-224-4774
Pacific Sunset Cruises rims evening jaunts around MIssion Bay and the Sunset Cliffs coastline. Cast in the orange and purple hues of dusk, passengers aboard the Privateer pass the waning moments of daylight searching for wildlife sightings or kicking back with refreshments purchased from a fully stocked galley. The ship's resident naturalist comes along, too, sharing insights on the sparkling water and the life within it.
1717 Quivira Rd.
San Diego
California
San Diego Sailing Tours' crews guide patrons on oceanic adventures aboard the Lei Lani, a restored 36-foot sailing yacht hailing from 1967. Their two-hour tours and all-day sailing excursions give visitors a taste of the midday sun, sunset, or twilight on the San Diego Bay. Once out on the water, tour-goers witness the breath-taking sights that surround the San Diego skyline, including naval aircraft carriers, the Coronado Bridge, and Star of India trading ship that loom in the foreground while skyscrapers and the endless sparkling ocean line either horizon. Dolphins, harbor seals, and pelicans have been known to make appearances, frolicking and trading decorating tips in their natural habitats. To ensure patrons enjoy a comfortable ride, on-board drinks and snacks are on hand, in addition to gear including sunglasses, binoculars, and an iPod-compatible stereo.
1450 Harbor Island Dr
San Diego
California
Arcadian Ascents helps students to master the art of open-air rock climbing with guided excursions and onsite lessons for all experience levels. The maximum student-to-instructor ratio for each class is 4:1, and all guides and instructors have earned certifications as single pitch instructors from the American Mountain Guides Association and as wilderness first responders from the Wilderness Medicine Institute. Private and group courses cover material from basic rock movement to custom-designed courses on speed climbing, self-rescue, and advanced rope technique. Arcadian Ascents provides all equipment for most courses, including climbing shoes, helmets, ropes, and mountain-goat bribes.
Rock-ascending buffs can also expand their experience and strive for new personal achievements on guided trips to Mexico or Spain. Veteran climber and guide Josh Wieberg leads his charges with experience climbing from Canada to Italy and wields his BA in history and philosophy to teach in public schools when not scaling their brick walls.
1 Father Junipero Serra Trail
San Diego
California
760-586-0744
---