Things to Do in National City
---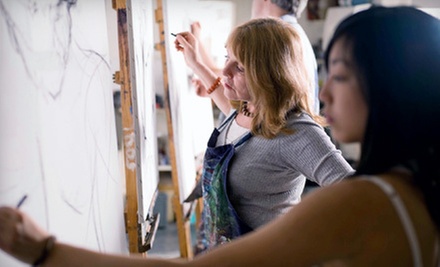 ---
Recommended Things to Do by Groupon Customers
---
The paddle wheels of The Sternwheelers' two signature boats churn through the blue-green waters of Mission Bay, transporting passengers back more than a century to when steamboats dominated America's rivers. Across the 100-foot-long William D. Evans, festive events with up to 600 passengers unfold under ornamental pressed-tin ceilings, handcrafted lamps, and the astronaut-crafted stars viewable on the open-air top deck. Handmade masts at the bow lead the ship's way, and its hundreds of decorative bulbs illuminate the bay at night. Bahia Belle, William D. Evans' smaller sibling, offers a more intimate space for gatherings. Its Victorian decor and architecture make way for a stained-glass skylight that beams vivid colors across its interior, resplendent with cast-iron staircases and red-velvet curtains. Weddings, banquets, and other events also take place on the boats between public cruises, each craft's rich detailing setting the tone for trips to remember.
998 W Mission Bay Dr.
San Diego
California
Fusionglass Company, is a local gallery and working studio focused on promoting the arts through exhibitiing, teaching, & hosting Art events. Come tour our gallery & studio or book an event, from Afterhours shopping to birthday parties & fundraisers. Groups up to 20 people. Bring your own snacks and make it an event
8872 La Mesa Blvd.
La Mesa
California
619-461-4440
[[m:####South Sun Products
Bursting with beads and jewel-crafting necessities, South Sun Products' inventory equips do-it-yourself jewelers with the tools to craft delicate adornments at home or in myriad classes. South Sun Products manufactured jewelry for two decades before opening its enormous retail store, giving the public access to its colorful treasure trove of rare and natural gemstones and beads. The staffers also stock chains, earwires, and other necessary parts to help crafters easily affix their beaded creations to a loved one's wrist without painful hot glue. An ever-rotating schedule of classes keeps curious beaders enthralled with wire-working, beading, and other jewelry-smithing workshops.:m]]
8601 Aero Dr.
San Diego
California
858-309-5050
From two outposts on the shores of Mission Bay, Adventure Water Sports, LLC launches vessels and seafaring classes to introduce customers to the joy of cutting through veils of spray and sunshine. Both launching points are near the bay's full-speed zone, so captains hoping to tote skiers behind powerboats or do donuts on a scuba diver's lawn in waverunners don't waste valuable time idling through the no-wake zone. Kayaks, pedal boats, and paddleboards cut across the steel-blue mirror of the no-wake zone, an ideal stretch for learning and exploring.
Instructors from Adventure Water Sports impart nautical wisdom to youngsters in summer youth classes that focus on anything from waterskiing and wakeboarding to riding aqua cycles. The waterfront retailers also rent out single and tandem terrestrial bicycles for those looking to cruise the Mission Beach boardwalk or simply explain the motorcycle noises they are making with their mouths.
2211 Pacific Beach Dr.
San Diego
California
858-581-9300
Speed Boat Adventures combines the excitement of piloting a speedboat with the ease of a guided tour. Slipping up to 10 guests into the cushioned seats of 13-foot F-13 mini speedboats, guides lead them on tours and communicate via two-way radio and fire beacons atop buoys. For those aged 18 and older, the business requires no experience or boating license to pilot the vessels, which can seat up to three and are equipped with a simple throttle-and-steer system. Swaddling each participant in US Coast Guard–approved life jackets, guides whisk them along 13 miles of the Big Bay while pointing out sites such as aircraft carriers, historic ships of the Maritime Museum of San Diego, and Seaport Village, with the San Diego city skyline as their backdrop.
1450 Harbor Island Dr., Suite 205
San Diego
California
619-294-5852
Possessing nearly 30 years of experience, Captain Nathan Beall guides anglers on The Long Run, a 42-foot six-pack sportfishing charter. Venturing into waters off San Diego and Mexico, Beall and his crew cast out live bait or plastic lures during both trolling and drifting trips. Catches vary by season, and may include hauls of lingcod, halibut, and multiple species of tuna. For trophy hunters, Beall takes anglers on excursions for shark and marlin. Trips can last from a few hours to 2.5 days, and The Long Run enhances guests' comfort with a full galley, sound system, and eco-friendly engine that minimizes fumes and noise.
Cleaning is included with most trips, though crews enforce a catch-and-release policy for protected species, such as shark and scuba divers. In addition to guided fishing trips, Beall charters The Long Run for private parties, sunset cruises, and whale watching.
1880 Harbor Island Dr.
San Diego
California
808-250-4968
---