Restaurants in Naugatuck
---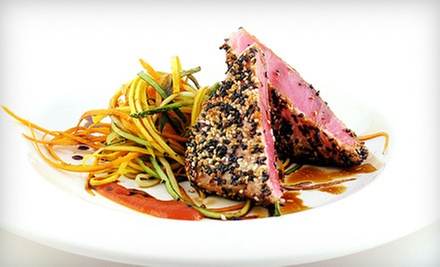 ---
Recommended Restaurants by Groupon Customers
---
Having already earned back-to-back spots on Connecticut Magazine's Best of Connecticut in 2009 and 2010, Liquid Lunch keeps bellies full and spoons out of the unemployment line with a slurp-worthy twist on midday meals. Culinary Institute of America graduate and owner Fred Bialek and his wife, Michele, were inspired to open the first Liquid Lunch in 2004, when they'd grown tired of lunchtime standards such as pizza, burgers, and lightly salted printouts of old PowerPoint presentations.
Today, at Liquid Lunch's still-growing roster of locations, a rotating lineup of gourmet soups cascades across the menu alongside six staple soups, including vegetarian lentil and split pea with ham. For an extra crunch, diners can plunge fork-first into salads, or explore healthy Sammiches, which escort taste buds around the globe with names influenced by their ingredients and spear-pickles engraved with necessary passport information.
6 Research Dr.
Shelton
Connecticut
Christian and Antonio Setaro's parents immigrated to the United States from Salerno, Italy, in the 1970s and opened Antonio's Twin Oaks, an Italian eatery known for its homestyle cooking. Growing up around the kitchen, the brothers developed a liking for cooking that ultimately led to the opening of their own Italian eatery, The Original Antonio's in Woodbridge. Later, they added locations in Beacon Falls and Ansonia.
At each restaurant, pasta headlines the menu. Shreds of romano cheese dust orders of homemade cheese ravioli, pappardelle with duck ragu, and rigatoni with plum tomatoes and italian sausage. Cheese also bubbles atop specialty pizzas and accentuates entrees built around shrimp, salmon, chicken, veal, or pork chops. The drink menu lists a bevy of dessert drinks, beer, martinis, and wine, nine of which are available by glass or cupped hands.
208 Amity Rd.
Woodbridge
Connecticut
The menus at Sakimura's two locations change regularly in order to incorporate the freshest seasonal ingredients and the chefs' newest culinary muses. The Simsbury location is known to intermingle traditional Japanese flavors with contemporary flourishes, with specials taking forms such as foie gras with sweet miso sauce. Both locales' sushi chefs also invent their own creative rolls, such as a deep-fried Godzilla roll and an Out of Control roll filled with shrimp tempura and topped with seared pepper tuna.
Diners seeking a hot dinner can gather around hibachi grills and watch as chefs sear their choice of shrimp, chicken, scallops, filet mignon, or any number of other gourmet ingredients. The hibachi rooms' smokeless grills and modern yet warm decor combine to create a pleasant dining experience.
496 S Broad St.
Meriden
Connecticut
Glowing sconces line the crimson and cream walls inside Namaste India, where traditional Indian dishes adorn linen-topped tables and fill the air with spiced aromas. Marinated lamb, chicken, and seafood slumber inside a clay tandoor oven until they're mildly smoky and tender throughout, while other proteins and vegetables steep in rich curry sauces, aptly scooped up with fresh-baked naan bread or ladled over delicate basmati rice. Patrons can wash down meals with sweet, salted, or mango-flavored lassi drinks, or snatch a classic dessert such as gulab jamun—deep-fried milk dumplings that are soaked in syrup and delivered to tables via an air gun.
151 Queen St.
Southington
Connecticut
Lauded in the New York Times for its "clean and delicate" flavors, Peking Duck House's menu earned the restaurant a coveted spot on the list of the 100 best Chinese restaurants in the country. The kitchen's Cantonese-style dishes come courtesy of Chef and owner Harry Wu, who––according to Times reporter Stephanie Lyness––often appears tableside to serve his signature Peking-duck dish. The namesake feast––available as a whole or half duck––arrives in two distinct courses, opening with crispy, grilled slices of duck, waiting to be snuggly wrapped up in homemade crepes, sprinkled with scallions, and drizzled with a special sauce. Then, colorful slivers of seasonal veggies are sautéed with more tender morsels of meat, and paired with a side of rice, which may be eaten or thrown at nearby newlyweds.
Other Cantonese favorites include classics such as kung-pao chicken and pan-fried dumplings as well as house specialties such as clams in a spicy black-bean sauce. Spicier dishes are noted with a tiny chile-pepper icon to warm sensitive taste buds or hungry snowmen, while five steamed entrees are prepared sans salt, oil, or cornstarch to cater to the calorie-conscious.
500 Boston Post Rd.
Orange
Connecticut
Purple tablecloths bloom with vases of cut flowers as petal-like fans whir overhead. Their regal hue symbolizes one of Zaroka Bar & Restaurant's guiding principles: that guests are akin to royalty. Inside the dining room, traditional Indian meals unfold amid ornately carved picture frames, vibrant music, and colorful conversations. To explore India's nooks and crannies, chefs craft dishes from far-flung regions such as Punjab, Gujarat, and Bengal. House specialties range from spiced chicken kebabs baked in a clay oven to curried shrimp simmered in a coconut pot. The kitchen also prepares an array of vegetarian dishes, such as savory garlic naan and three types of lentil dal. An ideal dessert or palate cleanser, the rosewater lassi teems with sweet, floral hints, like a game of charades with a potpourri sachet.
148 York St.
New Haven
Connecticut
203-776-8644
---
---
Restaurant Deals - Recently Expired
---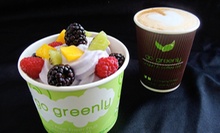 Earth-friendly shop pours out Toby's Estate roasted coffee and tops 80+ types of frozen yogurt with fresh fruit and chocolates
---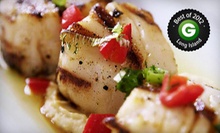 Classic Greek culinary traditions served at a BYOB restaurant; freshly caught, charcoal-grilled whole fish, organic chicken, and lamb chops
---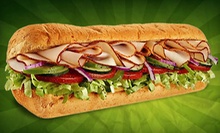 Meal for two includes two footlong subs, two bags of chips, and two soft drinks; 6 in. sandwiches include BLT and Meatball Marinara
---
---