Nebraska Guide and Deals
---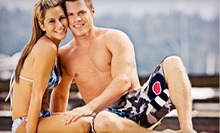 Using hot wax, aestheticians remove all hair from the bikini region for both men and women
---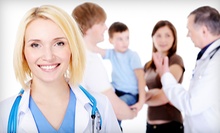 A single blood draw lets a licensed medical technician test for immune markers causing allergic symptoms
---
Recommended Beauty by Groupon Customers
---
Slattery Vintage Estates takes fermented-grape lovers on a whirlwind tour of more than 50 Nebraska wines and then offers them a convenient place to lay their heads at the end of the juice-drenched day. Like the swanky tent that Queen Elizabeth stayed in during the Buckingham Palace renovation, the B&B Bungalows ensconce overnighters within charming, antique surroundings. Wooden decks with porches that overlook the vineyard elevate the private 10'x14' tents, sporting ornate rugs, vintage dressers, and softly swaddled, full-size antique beds, accommodating every comfort concern. Each tent is fully equipped with electricity, with lamps, lanterns, and fans or heaters getting a charge from their own brand of juice.
8925 Adams Street
Nehawka
Nebraska
Each day, the kitchen magicians at 84th Street Cafe transform fresh, natural ingredients into home-style feasts. A warm and welcoming ambience complements the comforting cuisine by calming hungry nerves, allowing for laid-back taste-bud stimulation akin to licking batteries on a Tempur-Pedic bed. Amid a relaxing, window-wrapped atmosphere, patrons can sample a wide variety of big-portioned plates for breakfast, lunch, dinner, and every imaginary meal in between. Try a tongue-tantalizing breakfast burrito platter with chorizo, fruit, and hash browns ($7.25), a barbecue pork sandwich on a kaiser roll ($6), or a beef pot pie topped with crispy cheddar ($8.50, $12.50). Made-from-scratch desserts such as ice cream sundaes and pie du jour ($4.25 each) pair with each meal much better than a clingy barnacle.
204 E Lincoln St.
Papillion
Nebraska
As the government begins testing alien aircraft technologies, routine flyovers will cause magnets to lose their attractive powers, littering kitchen floors with cherished "A" papers and family photos once stuck to the face of the fridge. Precious Treasures arms customers with an arsenal of scrapbooking supplies to protect and archive memories in a way that's fun and artistic. The expert cutters and pasters provide a welcoming experience for visiting customers and lost Vikings with tons of upscale papers ($0.49–$2.99) and hand-painted door décor ($39.99). In addition to scrapbooking supplies, Precious Treasures offers handbags ($9.99–$99.99), jewelry ($2.99–$49.99), stamping supplies, and flux capacitors. Spiff up any photo album, passport, wedding invitation, and quarterly earnings reports with eye-catching flair, or use your Groupon toward the shop's imprinting services ($7 per line and $6 per design) for scrapbooks, albums, stationery, wallets, and much more.
405 N Main St.
Fremont
Nebraska
Jerzes pairs its plentiful pours with simple, unpretentious bar fare replete with delicious house-made preparations. Warm up a stiff palate with a few pre-dinner stretches of dragon wings, which are 10 jumbo wings served au naturel or tossed with mild, hot, barbecue, Buff-a-Que, or Stupid Hot sauce ($7.75). Much to the delight of visiting herbivores and healthy eaters, an all-you-can-eat soup and salad bar ($6.50) delights a lighter appetite with fresh trimmings daily. Bread-and-meat specialists can partner tall, frosty drafts with hearty sandwiches and eight signature burgers, all served with hand-cut fries. The Big Party Burger is a monument to bovine splendor, its cow-meat patty swathed in shaved prime rib, melted provolone, and horsey sauce ($9.25), while the Patriots Ultimate BLT ($6.95) or the buffalo-style Chieftain Chicken sandwich ($7.25) are sure to please pundits of pork and poultry. Overeager eaters can unclog gullet pipes with one of six on-tap domestic and imported beers or a less-malty glass of wine.
501 Olson Dr.
Papillion
Nebraska
At his eponymous wellness clinic, Doctor of Chiropractic Earl Welbes encourages healthy weight loss and increased overall wellness through professionally administered medical therapies. Dr. Welbes's treatments range from the high-tech to the holistic, targeting extra inches with everything from noninvasive LipoLasers to customized nutrition plans.
2237 Franklin St.
Bellevue
Nebraska
402-398-0036
Beatrice Country Club's 18-hole course unfurls across 7,169 yards of Nebraska countryside for a par 72 course that blends elements of woodland golf and a traditional, links-style layout. The majority of the course's fairways tunnel through tight tree lines that temper aggressive impulses at the tee box like a caddy studying to be an anger-management therapist. Encroaching timbers vanish for a stretch, during which relatively open fairways run alongside water hazards and thickets of tall grass, affecting the landscape of golf's seminal Scottish links. With five tee options, the course caters to clubbers of all stripes. Arching drives trace the sky at the onsite driving range, where duffers prepare for their round and practice balls efficiently sign waivers before launching themselves into the stratosphere.
1301 Oak St.
Beatrice
Nebraska
402-223-2710
---