Needham, MA Outdoor Activities
---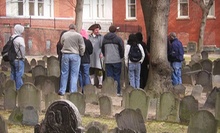 Follow a guide in a tricorn hat on a 90-minute exploration of colonial Boston through the uprisings that led to American independence.
Use Today 8:30am - 11:30am
---
Recommended Outdoor Activities by Groupon Customers
---
Boston's historical skyline sets the backdrop for aquatic adventures aboard Boston Harbor Mini Speed Boats' fleet of F-13 speedboats. The two-person vessels require no boating license, letting customers steer their own way across Boston Harbor and the Charles River. Kept on-course by a team of guides piloting the lead boat, excursions speed past well-known sights such as the John F. Kennedy Presidential Library and Museum, Fort Independence, and the USS Constitution, whose wooden masts stretch towards the sky like a ballerina who let go of her birthday balloon.
85 E. India Row
Boston
Massachusetts
617-725-0900
Three history buffs founded Boston Strolls with the goal of highlighting their city's fascinating and often hilarious forgotten tales. Launching in Beacon Hill, the tours have now expanded into the Back Bay and North End. Today, guides lead all tours past historic brick and stone facades, as well as the occasional Bruins shrine, and immerse participants in an interactive exploration of Boston's lesser-known history.
In addition to their sometimes dark and often humorous anecdotes, they also personalize the tour to each group by judging the knowledge base of their participants and accommodating anyone who is allergic to Boston. Even with their careful planning, the tours often take surprising turns. On one tour, a homeowner invited the group around a private wall to see the house's private garden that, in traditional Beacon Hill fashion, was completely hidden from all other passersby.
1 Park St.
Boston
Massachusetts
617-383-9255
HipHost taps into the teeming river of local pride that runs through every city to power its huge range of sightseeing tours. Locals eager to unveil the true history and hotspots of their beloved home can contact the company to become tour hosts. Once new guides have set up their tour and peppered the website with pictures of the many sites to be seen, HipHost directs guests their way. Visitors might learn the history of an important historical figure such as Paul Revere on a Boston walk fueled by Little Italy's pizza and local craft brews, or they might skip the history lesson and, like a centipede in search of a stool, crawl from pub to pub in New Orleans. HipHost encourages guests to thank, review, and tip the local hosts for sharing their time and expertise.
50 Dalton St.
Boston
Massachusetts
617-520-4922
Cambridge Historical Tours unearths nearly 400 years of history during informative jaunts that cast light on the area's captivating, funny, and sometimes gory past. Sheathed in authentic puritan attire, guides lead groups on 90- and 120-minute treks back in time, fusing wholesome doses of humor with laboriously researched facts. Guests raise an imaginary glass at the house of John Hicks, a participant in the Boston Tea Party, and absorb the eerie ambiance of the Cambridge Burial Ground, where many of Harvard's early presidents are buried. The extended 120-minute tour reveals such sights as the picturesque Longfellow House, which was seized in 1775 to become George Washington's quarters, presumably so he could practice his putting game on the property's lush lawns.
Harvard Square
Cambridge
Massachusetts
617-520-4030
A floating dining and entertainment center, the Odyssey I cruise ship was constructed with open decks for hosting elegant cruises that drift by Boston's scenic vistas. Cruises pass by historically significant sights, including Charlestown Naval Yard and Castle Island, or drift under an illuminated night sky on full-moon cruises. A cappella brunch cruises combine music from an a cappella quartet with champagne and chocolate, and, on the Fourth of July, the world's oldest commissioned warship—the _USS Constitution_—offers a view of history during its trek across the harbor while guests enjoy a lunch of lobster and mussels. Regular lunch, dinner, and brunch outings serve guests with delectable multicourse meals. Live music accompanies evening cruises, which means guests can hit the boat's dance floor and show off their Nobel Prize–winning dance moves before the night's end.
60 Rowes Wharf
Boston
Massachusetts
866-845-3463
---