Things to Do in Needham
---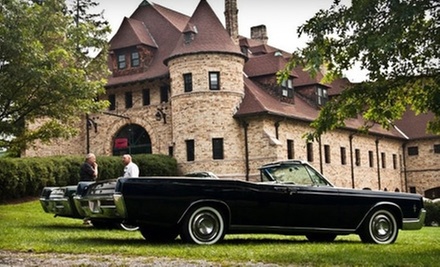 ---
Recommended Things to Do by Groupon Customers
---
Ceramics a la Carte's more than 500 unfired bisque pieces invite amateur painters to decorate coffee mugs, serving dishes, and piggy banks with food-safe glazes in a rainbow of shiny colors. Blank ceramic canvases await the kiss of paint applied with the use of a variety of delicate brushes or indelicate trebuchets. Alternatively, patrons can confer with the store's accomplished staff artists, who enrich ceramics with custom designs that center on children's handprints, wedding and teacher gifts, or paintings of family homes.
95 Washington St.
Canton
Massachusetts
US
781-828-6660
Color Me Rad stages 5K races that transform runners into mobile rainbows by launching cheerful barrages of colored cornstarch. Each color station along the racetrack flings a new, nontoxic pigment at passersby, who wear white shirts to enhance the chromatic onslaught's costuming effects. Brilliant neon-blue, green, purple, and yellow clouds dapple participants along the way, and the race concludes with a prismatic finish-line finale as sprinters chuck colors at each other in celebration. The race's noncompetitive credo shifts the emphasis from speed to silliness, and a portion of its proceeds go to local charities.
Upon registration, each runner collects a Color Me Rad T-shirt, sunglasses, sponsor gifts, and a race bib. Though they don't receive a gift packet, runners younger than 8 years old can sprint for free, provided they have a waiver signed by a guardian and won't give in to demands for gold from confused leprechauns.
250 Granite St.
Braintree
Massachusetts
A floating dining and entertainment center, the Odyssey I cruise ship was constructed with open decks for hosting elegant cruises that drift by Boston's scenic vistas. Cruises pass by historically significant sights, including Charlestown Naval Yard and Castle Island, or drift under an illuminated night sky on full-moon cruises. A cappella brunch cruises combine music from an a cappella quartet with champagne and chocolate, and, on the Fourth of July, the world's oldest commissioned warship—the _USS Constitution_—offers a view of history during its trek across the harbor while guests enjoy a lunch of lobster and mussels. Regular lunch, dinner, and brunch outings serve guests with delectable multicourse meals. Live music accompanies evening cruises, which means guests can hit the boat's dance floor and show off their Nobel Prize–winning dance moves before the night's end.
60 Rowes Wharf
Boston
Massachusetts
866-845-3463
Native Bostonians and Mass Art graduates Caterina Urrata and David Weintraub share a passion for the sinuous geometries of glass. They've shaped that passion under some of the top blowers and lampworkers in the field. Their preferred aesthetic emphasizes intricate form, in stemware and vessels that incorporate the delicate curve of a seahorse's back or mischievously twisting horns over a devilish visage. Sculptures range from eerily suspended bowls held up by their frozen contents to monolithic forms bearing tribalesque patterns. And Weintraub's vetrographs are, if possible, even more inimitable: he devised the process himself, flashing light through carefully constructed glass forms onto photo paper to create images that evoke primitive life forms growing in caves or under subway seats.
The couple practice their delicate craft in a studio-cum-gallery in Newton Upper Falls. Besides providing an eyeful for any glass-loving gawker, they occasionally also offer introductory classes to the multifaceted art.
293a Elliot St., Upper Falls
Newton
Massachusetts
617-875-8649
Nestled on a 34.5-acre tract of pastureland and wooded trails, North Gate Farm invites riders of all ages and abilities to improve their equitation on the backs of resident horses. The farm's lesson program develops well-rounded horsemanship in each of its students, encompassing proper riding form in addition to effective grooming, tacking, and handling techniques. The farm conducts its lessons Monday–Saturday in either the outdoor riding arena or inside the 72'x170' riding arena, which offers protection from inclement weather and horse thieves who have learned how to hang-glide.
999 Concord Rd.
Sudbury
Massachusetts
978-443-0999
Bastions of the abolitionist movement, Boston and its progressive citizens helped motivate activists across the nation to stand against slavery, thus fanning a flame that contributed to the Civil War. During a 90-minute Boston Civil War tour, groups walk among historically significant sites where figureheads such as Frederick Douglass and William Lloyd Garrison publicly asserted their outrage and sought refuge from enraged mobs. While strolling through Beacon Hill on Sunday, knowledgeable guides point out the African Meeting House—a recruitment center for Massachusetts' all-black regiment—and the homes of famous authors such as Louisa May Alcott, who pulled from her experience as a Union Army nurse to write Hospital Sketches in 1863.
139 Tremont St.
Boston
Massachusetts
617-413-6998
---