Restaurants in Neenah
---
Recommended Restaurants by Groupon Customers
---
Only after slow-roasting leaves them piping hot and full of their natural juices do the prime ribs at Marty's Place earn their titles of Queen and King. The respectively 16- and 26-ounce steaks headline a rich menu that unites surf, turf, and Italian food. The lengthy selection includes lobster tail, Alaskan king crab legs, baked lasagna, barbecue ribs, and Italian stuffed tenderloin, filled with mozzarella cheese that melts before you can read the fortune written on it.
210 N Main St., Suite 54136
Kimberly
Wisconsin
Owners Brian Glassel and Tim Nicholson eventually teamed up to bring Glass Nickel Pizza Co. to fruition in 1997 after spending their teenage years working around the nostalgic aromas of baking pizzas in Wisconsin eateries. They met while working in the same pizzeria and shared a passion for gourmet pies, so they spent a year planning and dreaming. Then they gathered a small but dedicated team to flip the saucy dough and accommodate patrons with first-class customer service, including the provision of tall glasses brimming with cold beer. Their dedication to this modus operandi helped the restaurant to bloom into a statewide fixture with several locations throughout Wisconsin.
While keeping pizza the star of the menu, Brian and Tim augmented it by adding battered-fish baskets, meaty lasagnas, stacked sandwiches, and crispy chicken. Committed to quality, the duo uses house-made sauce and dough, as well as Boar's Head deli meats. With an equal commitment to their community, they help to support various nonprofit organizations and keep all their restaurants green through the use of ovens that shut off when not in use, energy-efficient appliances, LED lighting, and cars that run on used vegetable oil and time-travel only when absolutely necessary.
2120 W College Ave.
Appleton
Wisconsin
920-734-4000
Savory scents beckon diners to the 14 hibachi tables inside Osaka Japanese Steakhouse & Sushi. Like gymnasts tired of the same old floor routine, morsels of steak, chicken, or seafood tumble atop sizzling tappan grills as personal chefs prepare each meal. Alternatively, tables in the traditional dining room fill with fine pan-Asian fare, from pad thai and General Tso's chicken to a wide selection of sushi. Osaka also boasts a full bar, a carryout menu, a private party room, and caters to families by offering kids their own exclusive bill of fare.
4421 W Wisconsin Ave.
Appleton
Wisconsin
920-733-7685
TJ Thai and Japanese Steakhouse's chefs slice and dice fresh ingredients over hibachi grills in dishes pulled from lunch and dinner menus that include more than 15 traditional sushi rolls. Grill masters craft flame-kissed shrimp, new york strip steak, and mahi-mahi dishes as diners look on, supporting main courses with an entourage of veggies and fried rice. Chefs bundle up compact sushi rolls, including spicy crab jalapeño and vegetable tempura, and pack Japanese lunch with california rolls, fried dumplings, and the ghosts of juice boxes past.
W6157 Lorna Ln.
Appleton
Wisconsin
920-831-8330
As a high-school student working at a local pizzeria, John Schnatter often pondered how he would do things differently if he owned such a business himself. After graduating from college in 1983, he got his chance, knocking down the broom closet in his father's tavern to create his own pizza-delivery business. Since then Papa John's Pizza has grown to 3,500 restaurants in 50 states and 29 countries. At each location, cooks cover the signature hand-tossed crusts, made with high-protein flour and clear, filtered water, with tomato sauce from vine-ripened California tomatoes, then pile on locally sourced ingredients such as green peppers and onions. The emphasis on fresh ingredients extends to the 100% mozzarella cheese, beef, and pork, which are never artificially inflated with fillers or undeserved compliments.
In addition to delivering pizzas, Papa John's reaches out to the community with charity involvement, including partnering with the Boy Scouts of America and Junior Achievement to teach US students about entrepreneurship and the best method of capturing a wild roma tomato.
1130 S. Commercial St
Neenah
Wisconsin
US
920-720-5646
Papa John's has carefully crafted a menu of specialty pizzas to satisfy any taste or mouth shape. Order a Hawaiian BBQ Chicken, or go all-out and get The Works, a top-heavy combination of pepperoni, ham, spicy Italian sausage, fresh-sliced onions, green peppers, gourmet baby portabella mushrooms, and ripe black olives. Satisfy herbivores and herbivoyeurs with a Tuscan Six-Cheese or Garden Fresh pie. The full list of specialty pizzas includes several more; take the hassle out of haggling over individual ingredients and boldly cast your straight-ticket ballot for the pizza party that your conscious dictates.
150 Wisconsin St
Oshkosh
Wisconsin
US
920-232-7272
---
---
Restaurant Deals - Recently Expired
---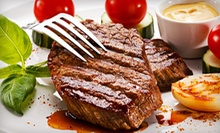 18-ounce porterhouse steaks, baby back ribs, and tenderloin with broiled scallops
---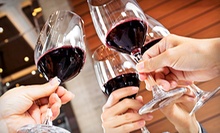 Taste small-batch varietals within a winery housed in a restored mid-19th-century home
---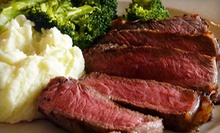 The carnivorous menu includes rib-eye, fillet, sirloin, and new york strip steaks and build-your-own burgers
---
---