Education & Classes in Nesconset
---
Education & Classes Deals
---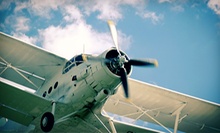 Students learn the basics on the ground before taking to the air for flights toward Long Island Sound, Jones Beach, or Fire Island
---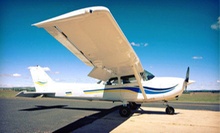 After a one-hour ground orientation, teacher oversees an introductory flight that covers takeoff, landing, and flying fundamentals
---
Recommended Education & Classes by Groupon Customers
---
Peter Goldfarb sits watching his mother, who holds a textbook with one hand while churning cookie dough with the other. As she pulls double duty as a mom and graduate student, she unwittingly alters the course of her son's life. The young Peter will soon grow up, move to Los Angeles, and pursue a career in television production—but his friends won't care about his industry stories; they'll want to know where his shipments of ridiculously tasty cookies are coming from.
This true tale is what inspired Peter to eventually enroll in culinary school and coax his mom into cofounding Chip'n Dipped. Today, the duo and a crew of bakers make all-natural cookies, chocolates, and confections—including gluten- and dairy-free options—in full view of customers, as well as for impressed reporters from large publications such as the New York Times, Newsday, and the Candyland Gazette. Using kosher ingredients and minimally processed chocolates, the mom-and-son team creates treats loaded with bioflavonoids and free of hydrogenated oils and preservatives.
342 New York Ave.
Huntington
New York
631-470-2579
With high-tech, modern flight simulators and a fleet of advanced aircraft at their disposal, the instructors of Empire Flight Academy lead a host of trainings in the invigorating art of airborne transit. Authorized as a Cirrus, Diamond, Cessna, and Garmin G1000 education facility, Empire Flight holds courses that shuttle would-be cloud kickers toward their Private Pilot Certificate and Instrument Ratings through combined training on the ground, in the cockpit, and careful study of footage from Airplane!. Additionally, Empire Flight Academy's offshoots—Empire Airways and Skyline Tours—offer ride-along sight-seeing jaunts of New York, as well as privately chartered flights.
Republic Airport
Farmingdale
New York
631-777-5030
The professionally trained fencing instructors at Rhode Island Fencing Academy & Club seek to develop their students' mind, body, and character through participation in the centuries-old sport. During the academy's classes, students of any skill level may choose to learn on all three Olympic weapons: foil, sabre, and épée. The one-hour sessions generally last for six weeks and each builds on prior material to help students improve their skills on the strip. Two meetings are composed entirely of competition with fellow classmates, allowing students to show off their newfound skills, and the last session is a class tournament.
Rhode Island Fencing Academy & Club, which originally operated as a two-location enterprise, consolidated into one 12,000-square-foot full-time professional fencing studio in March of 2012. The air-conditioned facility features 15 electric strips and zero chandeliers from which swashbuckling fencers may swing. Though the sport finds its roots in the practice of sword fighting, modern fencing is much safer, and the academy has advanced equipment and instructors that hold CPR certification just in case.
101-32 Dupont St.
Plainview
New York
US
516-576-0646
A 99-year-old great-grandmother trades her cane for a unicycle and rolls smoothly across the floor of a vibrantly colored studio. Made possible by an innovative uni-trainer device, similar feats occur regularly during group unicycle lessons held at Just One Wheel's 5,200-square-foot facility. Cofounder Adam Cohen turned to one-wheeled cycling to stay active after being diagnosed with Crohn's disease, then began teaching the entertaining sport of unicycling to any student over the age of 4. During each lesson, groups of up to 12 helmeted students spend 60 minutes laughing, strengthening cores, and ducking prospect scouts from street-performance leagues. Just One Wheel also offers unicycling schools and camps, birthday parties, and miscellaneous open-play sessions.
191 Newtown Rd.
Plainview
New York
516-586-8444
In 1998, School of Rock's first location was built in Philadelphia to strengthen kids' self-confidence, develop their musicianship, and most importantly, spark an insatiable enthusiasm to learn. Today, the School of Rock franchise has branched out to more than 65 locations throughout the United States and Mexico. During the school's music lessons, encouraging instructors well versed in methods of rocking and rolling—such as strumming guitars, tickling keyboards, and causing avalanches with yodels—demystify music theory for mini Mick Jaggers of all skill levels.
School of Rock's Rock 101 program acquaints beginners with the instrument of their choice using a curriculum of weekly private lessons and group band rehearsals. Virtuosos ready to hit the stage can participate in the performance program, which prepares students for live performances that pay homage to beloved rock icons such as Queen, Led Zeppelin, and Mount Rushmore.
540 Smith St.
Farmingdale
New York
US
631-425-5191
In the late 1970s career educators Eileen and Raymond Huntington opened the first Huntington Learning Center in Oradell, New Jersey. Their goal was to take an individualized approach to education, adjusting instructional tactics according to each student's set of needs. Their success in helping K–12 students prepare for exams and improve grades and study skills quickly spawned franchises across New York and New Jersey.
Today, the certified Huntington tutoring staff utilizes testing and rubrics for assessing each child's skills, academic needs and potential for growth. The teachers even note the student's behavior in different testing and academic situations to craft a methodology sensitive to each child's learning style. Teachers also adhere to the company's code of ethics that stresses professionalism and confidentiality and encourages pupils to improve their grades honestly through dedicated study rather than shortcuts.
607 E Main St.
Bay Shore
New York
---