New Albany, IN Spa and Massage
---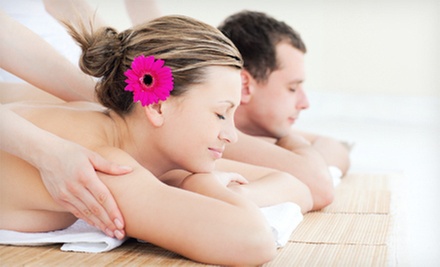 ---
Recommended Spa & Massage by Groupon Customers
---
Whether you're an athlete with muscle pain from strenuous activity or just suffering from the aches of office work, Lyons will tailor your massage to suit your needs, varying techniques as necessary. The soothing environment of Relax Renew Revive is an ideal place to partake in full-body puttification. A private treatment room, simply furnished, with walls of deep teal, relaxes the mind and soothes the senses, priming torso and tailbone alike for relief.
130 Fairfax Avenue, Suite 2A
Louisville
Kentucky
502-523-2513
Stocked with an experienced staff and shelves upon shelves of all-natural Aveda products, Salon DeLonjay offers a full list of luxurious services. Haircuts for women ($48+), men ($30+), and children ($30+) keep the whole family properly sheared for the summertime, while all-over color treatments ($60+ for women, $45+ for men) or highlights ($87+ for women, $45+ for men) can help freshen follicles after spending too much time inches from the sun. To fake a flawless finish, enjoy a 30-minute makeup application session, including a thorough facial cleansing and toning or a date with some UV-free sun ($45), or an airbrush makeup application session for a long-lasting look ($50–$75). Call ahead to schedule an appointment.
12113 Shelbyville Rd.
Louisville
Kentucky
The licensed massage therapists at Light Hands Therapeutic Massage East focus on medical massages to help prevent injury and foster the muscular foundation for healthier, more pliable backs. The staff's gliding effleurage and smooth strokes supplement traditional medical treatments to flush the bloodstream and muscles of toxins, tension, and miniaturized submarines manned by overly ambitious research scientists. Therapists analyze clients' everyday habits for signs of trending problems and then proceed to address individual areas of tension to boost spirits and overall range of motion.
3002 Eastpoint Pkwy.
Louisville
Kentucky
502-794-4559
Licensed massage therapists, rehab therapists, and certified Kinesio Taping practitioner Lane Alexander entered the world of therapeutic massage after suffering from the aches and pains of his former job as a commercial contractor. More than 600 hours of training later, he now helps his clients incorporate massage as an integral part of making sure bodies and minds function properly and handle stress healthfully. Specializing in athlete care including athletic-performance-focused and injury-treatment-geared massages, he works to treat injuries and maximize biomechanical function with assessments and bodywork treatments.
4800 Sherburn Ln., Suite C
Louisville
Kentucky
502-994-9096
Licensed massage therapist Sarah East takes a holistic, personalized approach to massage as she kneads out knots at her studio, which is located inside Powerhouse Louisville. Sarah draws on an academic background in psychology as she treats customers recovering from such experiences as car wrecks, sexual abuse, chronic illnesses, and PTSD. Her compassion dovetails with the fluid strokes of Swedish massage, medical massage's isolated work on scar tissue and targeted muscle groups, and the intense pressure of deep-tissue massage, which drives away bodily stress as thoroughly as receiving a pep talk from Morgan Freeman.
12001 Shelbyville Rd., Suite 104
Louisville
Kentucky
502-408-4923
EcuaBella Skin Care Spa owner Geovanna Ortega believes that the impact of cosmetic treatments can be more than skin-deep. "Caring for our appearance and looking our best helps us feel better about ourselves," she writes on her spa's website. A licensed aesthetician herself, Ortega works with her staff to help inspire this sense of confidence in her clients.
Many of EcuaBella's treatments incorporate organic skincare products or advanced cosmetic technology like that which astronauts use before press conferences. Ultrasound waves and LED light can lend their salutary benefits to facials, helping to improve circulation, even out skin tone, and conceal signs of fine lines and wrinkles. The jade rollers of thermal massage beds are gently heated with far infrared heat before they start to knead muscles, helping relieve tense joints.
1310 N Dixie Hwy., Suite 100
Elizabethtown
Kentucky
270-360-0846
---