New Baltimore, MI Indoor Activities
---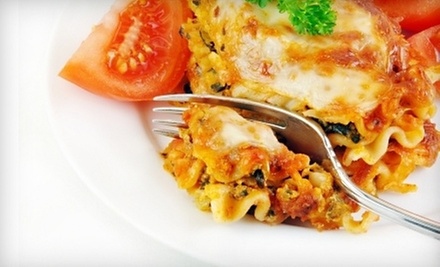 ---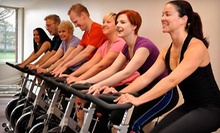 Pedals churn in unison with bass beats as athletic instructor cheers riders to fight resistance & charge up 45 minutes of imaginary hills.
Use Thursday 6:30am - 9:30am
---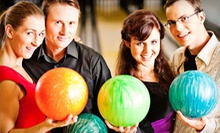 Gleaming lanes beckon bowlers to don borrowed shoes & hurtle three-holed spheres toward waiting pins at family-owned establishment
Use Wednesday 12:00pm - 5:00pm
---
Recommended Indoor Activities by Groupon Customers
---
The sounds of tapping heels and swiveling soles ricochets off The Dance Pavilion's lush red draperies and twinkling chandeliers as social dancers, aspiring ballroom instructors, and professional dancers alike show off moves from more than 18 styles. With help from a team of 10 teachers, founder Ron Brown, whose dance career spans more than four decades, leads private and group lessons in the hustle, waltz, and cha-cha, prepping feet for weekly parties on the 2,800-square-foot hardwood dance floor.
An array of specialty sessions, such as wedding-dance classes, and workshops with visiting teachers, rounds out the studio's vast curriculum. Brown and his instructors also helm the Teachers Ballroom Dance College, which transforms dabblers into expert instructors through a ballroom-dance training-program syllabus developed by renowned dancer Diane Jarmolow. An onsite store stocks men's and women's shoes, beaded clutches, Gene Kelly masks, and other dance essentials.
1918 Whittaker Rd.
Ypsilanti
Michigan
734-369-9700
Perfect for ringing in autumn with the calming clack of lobster shells, the Back East Feast offers a taste of Atlantic seafare in the heart of Michigan. The feast itself starts at 5:30 p.m., so before getting in line to load up on corn on the cob, guests can stretch their hunger muscles while listening to the live tunes of Hidden Agenda Band and drinking one of the house wines or a Miller Lite.
53503 W Ten Mile Rd.
South Lyon
Michigan
The Detroit Symphony Orchestra's gifted tunesmiths squeeze euphonious notes through their woodwind, brass, string, and percussion instruments, building upon a 125-year history of symphonic sounds in the Motor City. The orchestra's performance of Franck's Symphony in D Minor pollinates the air with soaring French classics, swaying back and forth to the baton semaphoring of guest conductor Hélène Bouchez and the piano mastery of 17-year old prodigy Conrad Tao. A pair of Debussy compositions inaugurates the evening with ear-swooning melodies that bounce of the antique theater's ornate, golden structure, which was built in 1919. During the evening's main and final piece, Franck's Symphony in D Minor, Chinese-American Conrad Tao showcases his full repertoire, which has earned him ASCAP's Morton Gould Young Composer award for eight consecutive years, just two notches shy of earning him a free carrying case for a grand piano.
3711 Woodward Ave.
Detroit
Michigan
313-576-5111
The 17th-annual festival boasts an impressive lineup of esteemed musicians and emerging artists performing work from the classical chamber repertoire as well as contemporary compositions. The festival's theme this year is "The Poet Speaks," and the June 12 performance features the music and poetry of Lera Auerbach in a piano, cello, and soprano trio, as well as the Haydn Piano Trio in C Major and Schumann's Piano Quartet in E-flat Major. Forty-five minutes prior to the concert, which begins at 8 p.m., Auerbach will present an educational prelude about her music and writing.
22305 W 13 Mile Rd.
Beverly Hills
Michigan
On November 19, 1928, the Detroit Historical Society opened the Detroit Historical Museum in a one-room suite on the 23rd floor of the Barlum Tower, earning it the nickname of highest museum in the world. These days, Detroit's Cultural Center accommodates the museum in an 80,000-square-foot space, where interactive exhibits preserve more than 300 years of city history. Frontiers to Factories traces Detroit's transformation from French-frontier outpost to industrial city, while America's Motor City celebrates its automotive dominance with a changing display of classic vehicles and a 1903 Model T that guests can sit in. Streets of Old Detroit brings the 19th century to life with recreated cobblestone streets that wind past stores of the era such as a five-and-dime, a soda shop, and a barbershop for powdered wigs.
Thanks to recent renovations, the society has expanded its chronicle of Detroit with three new permanent exhibitions. Detroit: The Arsenal of Democracy covers the ways the city's industrial infrastructure adapted to demands of World War II, and The Gallery of Innovation includes videos about renown innovators and hands-on activities of trial-and-error. As The Allesee Gallery of Culture examines the city's cultural history, its Kid Rock Music Lab lets visitors create and share their own music using interactive displays. Outside, the Detroit Legends Plaza honors the city's sports, entertainment, and media legends with cemented handprints and signatures from stars such as Lily Tomlin and Martha Reeves.
5401 Woodward Ave.
Detroit
Michigan
When Kelle Ilitch turned her dream Pilates studio into a reality, she spared no consideration. The airy blue space is instantly calming, although its abundance of high-tech Reformer machines makes it clear that she and her fellow instructors mean business. The space accommodates many class styles, from classic mat Pilates lessons—including specialized sessions for seniors and kids—to ballet-barre-based workouts. Like Pilates and cummerbunds made of cement, the barre workouts strengthen cores while lengthening and toning thighs. The staffers also teach Kinesis, a form of strength training that allows for an entirely free range of motion, making it easier to tone muscle groups across bodies simultaneously.
7001 Orchard Lake Rd.
West Bloomfield
Michigan
248-862-2200
---