Museums & Galleries in New Bedford
---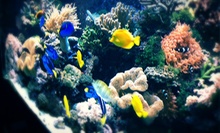 Explore the oceans through interactive tanks, encounters with baby sea creatures, and a 3-D projection of the earth as it appears from space
---
Recommended Museums & Galleries by Groupon Customers
---
Save the Bay started in 1970 to combat the raw sewage and industrial toxins that littered Narragansett Bay. Since that time, Save the Bay's staff and volunteers have steadfastly revived the bay and its surrounding ecology by using a sustainable-ecosystem approach. The heart of their operation is the 15,000-square-foot Save the Bay Center. Its stormwater management system contains a vegetated roof, a coastal-buffer zone, swales, and basins that can absorb and filter 164,826 gallons of rain water. Made from recycled steel and metal, the center's interior hosts an array of educational programs for adults and kids. The center also features an aquarium, camps, and marine-life tours aboard its 45-foot U.S. Coast Guard-certified vessel Alletta Morris or its 27-foot vessel Swift.
142 Long Wharf
Newport
Rhode Island
US
401-272-3540 x133
The Isabella Stewart Gardner Museum has been a bastion of art and culture since it was founded in 1903. The building, inspired by and designed after a 15th-century Venetian palace, contains three floors of galleries surrounding a garden courtyard that remains verdant with plant life from the dawn of spring through the darkest, most subatomic depths of winter. Gardner, who founded the museum, spent her life curating and encouraging the art collection, which contains more than 2,500 objects, including paintings, sculpture, textiles, illuminated manuscripts, and rare books lifted everywhere from ancient Rome to 19th-century France. While visiting this citadel of scintillating visions, witness landscapes by Whistler, Renaissance-era Flemish tapestries, and religious wood sculptures from 16th-century Germany. Exhibitions provide specific, detailed glimpses into varied subject matter; an exhibit on terracotta sculpture of the Italian Renaissance runs until May 23.
280 The Fenway
Boston
Massachusetts
A comprehensive compendium of the world's art, the MFA lets guests take a gander at the earliest art of ancient Egypt, musical instruments from every celestial sphere, and the Impressionist art of Claude Monet, Edgar Degas, and Paul Gauguin, to name just a few 19th-century masters. Additionally, be sure to see the beautifully restored ceiling mural by John Singer Sargent above the palatial upper rotunda.
465 Huntington Ave.
Boston
Massachusetts
Founded in 1866, the Peabody Museum is one of the oldest anthropological museums in the world, with an in-depth collection of artifacts spanning prehistory to present. You'll learn about the evolution of cultures through a variety of current exhibits. Head into the Pacific Islands Hall to find carvings, shields, and shadow puppets from Hawaii, Micronesia, and other islands, and get a dose of colonial life in the early Harvard Yard with Digging Veritas, where you can scope out framed papyrus LSAT scores. The Wiyohpiyata display treats guests to distinct scents, motions, ambient sounds, and more to evoke the character of original 19th-century Lakota drawings collected at Little Big Horn. Your Groupon also affords you admission to the nearby Harvard Museum of National History, where muzzled opera singers can get a glimpse of the famed Glass Flowers exhibit, a collection of more than 3,000 highly realistic glass-blown models of flowers and plants.
11 Divinity Ave.
Cambridge
Massachusetts
---